The Telegraph spotlights five Maneskin gigs that sizzled and dazzled
From busking on the streets of Rome, to belting out hit numbers at Lollapalooza, the four-piece band has been on a brilliant steep rise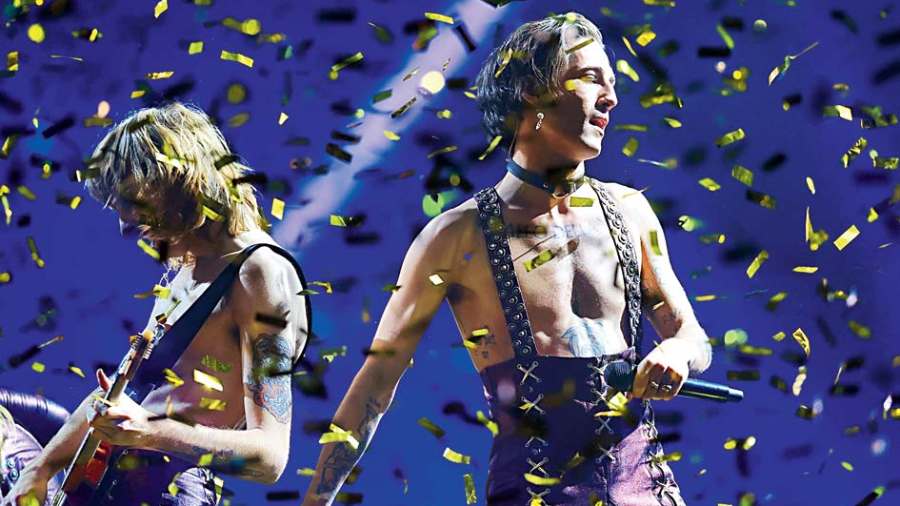 ---
Published 19.09.22, 04:48 AM
|
---
There is nothing hotter in the music industry at the moment than Maneskin. From busking on the streets of Rome, to belting out hit numbers at Lollapalooza, the four-piece band has been on a brilliant steep rise. Basking in the unabashed flavours of glam and pop rock with a generous dose of funk and frivolity, the band comprising of vocalist Damiano David, bassist Victoria De Angelis, guitarist Thomas Raggi and drummer Ethan Torchio has amplified their music with sinful seduction and outrageously dazzling fashion. Maneskin came to be recognised after finishing second in the eleventh season of Italian X Factor in 2017, however they peaked and became the talk of the rock and roll town on winning the Eurovision Song Contest 2021. What followed was a boom, as Maneskin became the first Italian rock band to reach the UK Top 10 chart. The Telegraph picks five Maneskin performances where the verve and quality quite seamlessly fused with their radiating sex appeal. Zitti E Buoni, Live at the Sanremo Music Festival 2021
Perhaps the song and the performance that turned it all around for the band, Maneskin performed Zitti E Buoni (translates to Shut Up and Behave) at the Sanremo Music Festival which confirmed their representative place at the Eurovision Song Contest. The song which was initially written as a ballad and developed into a hard rock track, has been described by the band as "referring to a cathartic anger, our anger transformed into something positive, which leads to change things." At the 2021 Sanremo Music Festival, Maneskin dressed in matching glittery black fits, knocked it out of the park with unmatched energy and swagger. Beggin', Live at Rock Werchter, Belgium
Thousands at the Festivalpark Werchter sang together, and jumped in unison as Maneskin blasted one of their best performances of their hit cover, Beggin'. Originally sung by the Four Seasons in 1967, Maneskin cooked the song with otherworldly flavours, with delicious zing, riffs and temper, in tune with Madcon's cover of the same. Trending like wildfire, Beggin' topped charts across the world and Maneksin became a rock 'n roll force to reckon with. In Belgium, dressed in a loosely fitted white shirt and matching trousers, middle-parted hair falling casually on his face, Damiano made the arena jump and scream, while the others worked the groove to near perfection, making it one of their best performances of the hit number.
Back to Black, Rooftop Sessions
Raspy, unfiltered and real on a muted palette, Maneskin covered Amy Winehouse's classic Back  to Black in an intimate 2017 rooftop session. Originally shot in a monochromatic noirish temper, with a retro jazzy vibe to it, the song was written by Amy about her broken relationship with Blake Fielder-Civil and the pain that followed. Casually smoking a cigarette, Damiano gradually builds up the energy resonating Winehouse's soulful, unapologetic and heartbroken tenor. One could imagine Damiano and Amy performing this acoustic rendition together. Torna a casa, Live Performance, Vevo
Part of the debut album Il ballo della vita, Torna a Casa is a rock ballad about addiction and dilapidation, where Marlena, the central character, stands up without crutches, which arrives as a metaphor for drugs serving as a window of escape from the cruelty of the world. In another intimately arranged acoustic rendition, the band proved their mettle and ability to mount equally flavoursome raw acoustic performances as their high-voltage live stage performances. This rendition of Torna a casa was controlled and shaped by Damiano's immensely evocative vocals which pushes one into a compulsively imaginative world of fancy and escape while holding one back to the originality of the composition. I Wanna Be Your Slave, Live at SiriusXM
From their second studio album, Teatri d'ira: Vol 1, the hard rock track grooves strong and talks about duality in relationships and the emotional enslavement one chooses to go through in the course of falling in love. Written by Damiano, the song talks of sexuality in its fragile and crudely honest shades. Playing with their usual monochrome contrasts and see-through shirts, Maneskin blasted out one of the sultriest performances of the number with  familiar swagger and a tantalising vocal temper. Controlling and elevating the sound were De Angelis, every bass note reverberating through the landscape of the song and Torchio's drumming holding  it together.
Pictures: Getty Images