The story of four friends — Chris Barton, Philip Inghelbrecht, Avery Wang, and Dhiraj Mukherjee — has turned 20 years old. And though they are no longer a part of the company, Apple, which acquired it in 2018, has made Shazam an integral part of the experience.
The idea took wings because it was a simple one though the technology behind it is extremely complex. The London-based company Shazam Entertainment caught the imagination of the public because customers finally had a music-searching service that ran on the most basic of cellphones. At first, it was available only in Britain. The user had to dial a four-digit number on a cellphone and point it at a source of recorded music, be it the sound system in a nightclub or a commercial on television. Shazam's computers immediately swung into action, filtering out background noises and comparing the audio sample against a database of 1.6 million songs (back then) in less than a second. Next, a text message appeared on the phone, identifying the song and the artiste.
Though the service took off in 2002, the idea began to blossom in 1999 when digital library of music that was needed didn't exist and there wasn't a business model for making any of it profitable.
Dhiraj Mukherjee, who was born in New Delhi, did his growing up all over the world because his father worked for Air India. "I lived in Athens, Paris, Calcutta, Geneva, and Bombay growing up, with an unusual cocktail of languages and education systems. At heart, I am Indian; culturally, I am European; and professionally, I am largely American, since I have lived and worked there for 11 years," he had said in a 2015 interview.
Ultimately, he went study for a degree in Mathematical Economics in Dartmouth College and an MBA at Stanford Business School. It was his love of analytics that led him to co-found Shazam.
Shazam's growth was phenomenal to the point that it became a verb. Making Britain the base was a good choice because it was then the world's third-largest music market after the United States and Japan. In 2017, Apple stepped in and the next year, the acquisition was completed. Perhaps a partial reason behind the start-up's success was its design philosophy. Mukherjee told iGB in 2019: "Our design philosophy at Shazam was elegant simplicity; inspired by Steve Job's philosophy. I think it's true that in an increasingly digital world where we have so many products and services, it can be difficult to get one's head around. I believe that simplicity in the experience and elegance in the interaction is the one aspect which makes a truly distinctive digital product."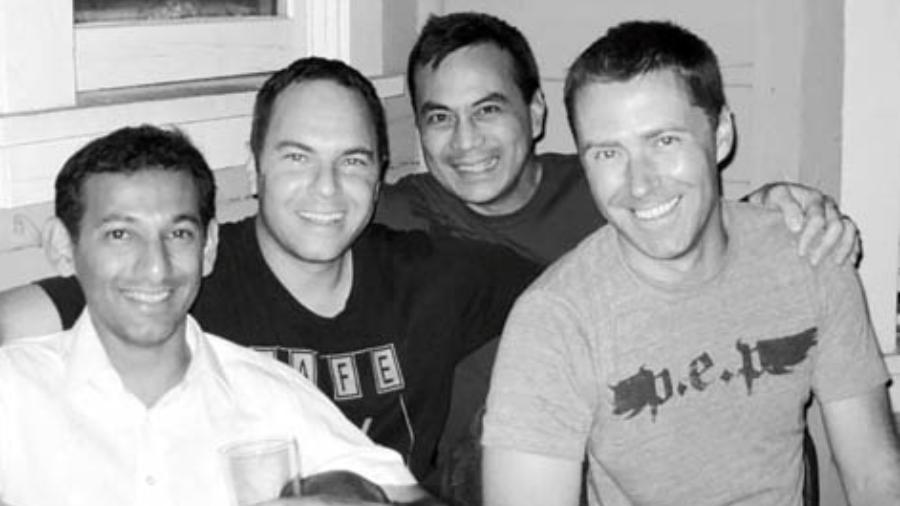 Shazam founders (l-r) Dhiraj Mukherjee, Chris Barton, Avery Wang and Philip Inghelbrecht
Notable firsts
First-ever Shazamed song: Jeepster by T. Rex (April 19, 2002)
First Shazamed song on the iOS app: How Am I Different by Aimee Mann (July 10, 2008)
First track to reach 1,000 Shazams: Cleanin' Out My Closet by Eminem (September 2002)
First track to reach one million Shazams: TiK ToK by Ke$ha (February 2010)
First track to reach 10 million Shazams: Somebody That I Used to Know by Gotye feat. Kimbra (December 2012)
First track to reach 20 million Shazams: Prayer In C (Robin Schulz Radio Edit) by Lilly Wood & The Prick and Robin Schulz (October 2015)
First artiste to hit one million Shazams: Lil Wayne (February 2009)
First artiste to hit 10 million Shazams: Lil Wayne (June 2011)
First artiste to hit 100 million Shazams: David Guetta (May 2015)
Milestones
August 2002: Shazam launches as a text message service based in the UK. At the time, users could identify songs by dialing "2580" on their phone and holding it up as a song played. They were then sent an SMS message telling them the song title and the name of the artist.
July 2008: Shazam launches on the brand-new App Store. Shazam later launched its Android version in October 2008.
April 2015: Shazam becomes available on the first Apple Watch.
September 2018: Shazam joins the Apple family.
June 2021: Shazam surpasses one billion Shazams per month.
May 2022: Shazam surpasses two billion lifetime installs.
August 2022: Shazam celebrates 20 years of music discovery and hits 70 billion all-time Shazams