Shakti@50 is about joy and spontaneity, says John McLaughlin
The 'Mahavishnu of guitar' reflects on his connect with India as he launches the band's anniversary tour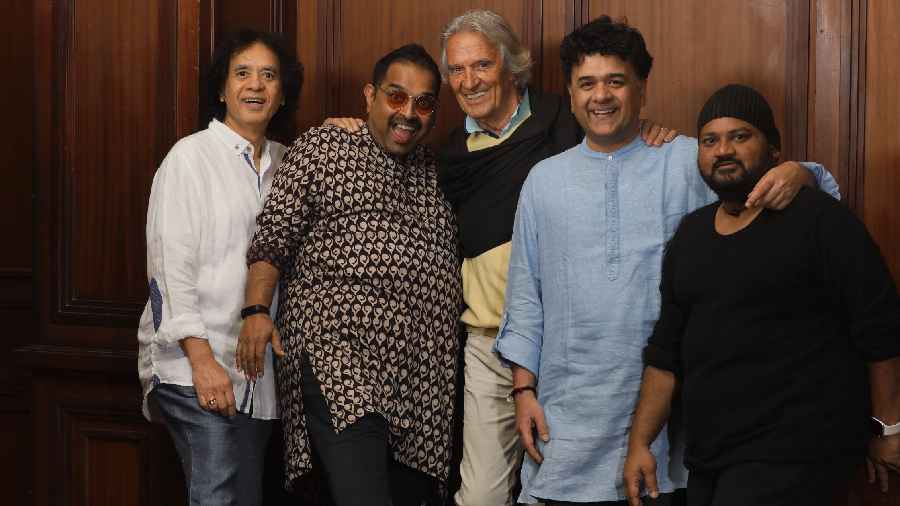 Shakti@50 John McLaughlin (centre) flanked by Shankar Mahadevan and Zakir Hussain (left) and Ganesh Rajagopalan and V. Selvaganesh.
Picture courtesy: Abstract Logix
---
Published 19.01.23, 09:53 PM
|
---
The last time I met John McLaughlin, along with Zakir Hussain and all the members of Shakti, was in 2020, when the band played at the Saturday Club here. He had then explained why India has been at the heart of his creative process. "I think I was Indian in one life. And I think we're connected somehow," he had said.
Two years later, Shakti is back in the country, celebrating 50 years of a path-breaking musical idea, a crucible of cultures, exploring improvisation _ the one common element in Indian music and jazz _ and bringing together not just the Indian classical traditions of the East and West, but also North and South.
Shakti, which McLaughlin says, has an innate character of "joy, spontaneity and love", launches the anniversary tour in Bangalore on Friday but will be playing in Kolkata on Tuesday, January 24. In an email interview with The Telegraph Online, the "Mahavishnu of guitar" talks about his music, the "quantum leap" the band has taken musically, his own zen-like focus on life with its myriad shades, and his deep connect with the city of Kolkata, recalling his first visit to the room where Ramakrishna Paramahamsa lived. Excerpts
TTOnline: The 50th anniversary tour of Shakti is both a time to reflect on its origins and look ahead and consider what other explorations it can undertake in its present avatar. What led you to embark on this tour?
JM: We have been so busily involved in the creation of our new album I personally haven't had time to reflect on Shakti's origins, nor other explorations we could make. In addition, the preparation of this tour has been very time consuming. That said when I stop to think about the origins, I am thrilled that a spontaneous idea behind the creation of Shakti could be here alive and well 50 years later. It's amazing. The idea of touring came because a new album will come out in the near future. What other explorations will be made in the future is unknown to me at present. Can you share with our readers something about the new studio album?
Shakti is a unique group and its innate character is joy, spontaneity and love. Now while we have evolved as musicians and as human beings, these essential characteristics are the same after all these years. Musically, we have made a quantum leap. The integration of two different musical cultures has progressed remarkably with new conceptions in form and content.
You just turned… But you retain the same enthusiasm for discovery, musical and otherwise. You are able to stay focused and tour around the world. How do you do it?
You forget to put my age in the opening of your question. Were you being polite or discreet? J First of all, I love my "Job". I feel so privileged to be a musician I don't have time to get bored. I am also perpetually in awe at being alive in this fabulous and mysterious Universe in which we all live. I am fascinated by existence and I work at cultivating my awareness of it and how much depth I can discover in it.
You have mentioned before that you are influenced by the teachings of Ramakrishna Paramahamsa and Swami Vivekananda, who happen to come from this part of the world. Anything you would like to share?
Sri Ramakrishna, Swami Vivekananda and Swami Brahmananda have been a strong influence on my life since the 1960s, particularly the two Swamis: personally, Vivekananda was the incarnation of spiritual strength and Brahmananda of absolute love. However, since they both are disciples of Ramakrishna, I revere him.
Finally, a short anecdote: The first time I visited Kolkata I took time out to visit the Kali temple but more importantly, I wished to see the room where Ramakrishna lived. I can never forget seeing his room for the first time and I went into a kind of trance. I went to the wooden barrier and fell to my knees out of emotion. There were many people around me but I was unaware of them until I heard a voice behind me saying "bloody hippie". It makes me laugh to this day.
It's wonderful to have you back in Kolkata time and again.
This and the earlier questions are connected deeply. It may be my last visit to Kolkata, one never knows what the future will bring especially for people my age. First of all, Kolkata is a great music city. You have great musicians all over India but Kolkata has always been a source of marvellous musicians.
Shakti plays in Bangalore (January 20), Mumbai (January 22), Kolkata (January 24) and Delhi (January 28). A world tour follows, but dates are yet to be announced.