Shakti: a conversation of tradition and the art of making music
Hours before their concert in Kolkata to celebrate 50 years of the band, Messers John McLaughlin, Zakir Hussain and the others open up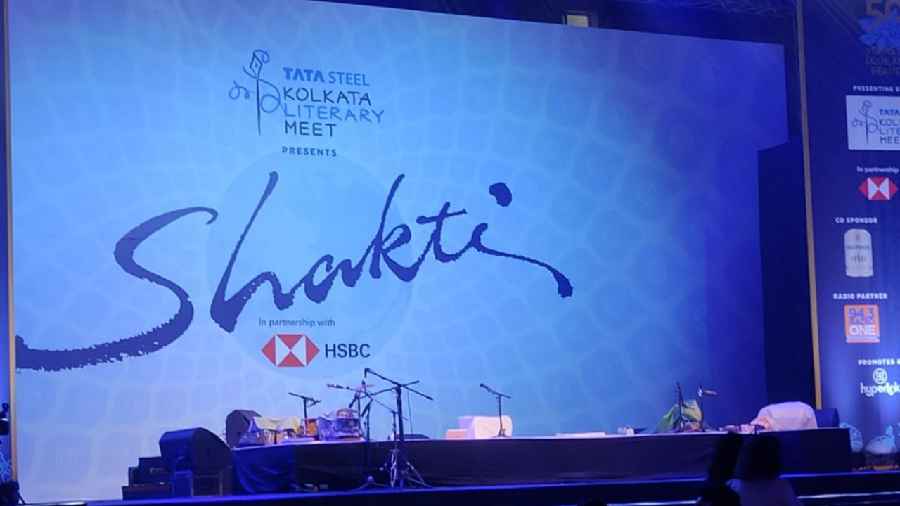 Stage set, Shakti is about to come on
Shantanu Datta
---
Calcutta
|
Published 24.01.23, 06:59 PM
|
---
It's the afternoon of the Shakti gig in Kolkata. The band is in a great mood, talking of the how it all started and where it is headed after 50 years of magic weaved on a double violin, mandolin, guitar, tabla, ghatam, mridangam and the kanjira.
The quintet, John McLaughlin, Zakir Hussain, Shankar Mahadevan, Ganesh Rajagopalan and Selvaganesh Vinayakram are at the Tata Steel Kolkata Literary Meet, or Kalam, the annual books bash and more in association with Victoria Memorial and The Telegraph on Tuesday.
Moderating the discussion is an amiable Arunabha Deb, a musician himself, who is able to fish out exciting details of the band's early years _ the meeting between 'Mahavishnu of guitar' McLaughlin and Hussain where the first notes of what has become an enduring symphony of collaborations were played; how, Indian classical traditions found a melting pot with jazz, sur, sargam and taal; the genius of the late Mandolin Shrinivas; the inclusion of Shankar Mahadevan's vocal inspirations; Ganesh Rajagopalan's violin and why JM has a soft spot for it; and how Vikku Vinayakram's son Selvaganesh, who was born the very year when that JM-ZH meeting took place in California, came into the fold.
Zakir Hussain set the tone at the outset. "Let's pay our dues to two great musicians we lost recently, Mr Jeff Beck and Mr David Crosby," he said. What followed was a conversation of love, respect, tradition and the art and philosophy of making music. Excerpts
Thank you for the music and waiting for more this evening.
.#shakti #shankarmahadevan #music #musiclovers #musicband #kalam #kolkatalitmeet #kolkatabuzz #Kolkata pic.twitter.com/Cn2set0Pbb

— Kolkata Literary Meet (@TataSteelKalam) January 24, 2023
Early years.
John McLaughlin: I wanted a music lesson. By the end of the '60s, I was already studying Indian music and I was hungry for more. So, Zakir gave me a vocal lesson. This was in a music shop in New York where I had gone after being told that he was there. Something happened between us, and we continued to meet, despite the fact that Zakir was living in California and I in New York.
The very crucial meeting happened in 1972 when I was in California playing a charity show for the Ayappa College of Music where Zakirbhai was teaching. Zakirbhai came to Los Angeles for the concert. The following day, we met at Ali Akbar Khan Saab's home where after dinner, I noticed he had his tabla. I was with my guitar too. So I asked, wanna jam? Everything was free in those days of the '70s.
So, we sat down and played. And in a space of five minutes, it was one of the greatest experiences for me. Things happened later with L Shankar and the other members of the band. But that meeting was, in my heart, the principal foundation in the formation of Shakti.
Zakir Hussain: When he did start to play in front of Ustad Ali Akbar Khansaab, a daunting task for any musician, it felt like it was right. It felt that this had happened before. I don't believe in anything being perfect. But if anything came close, in terms of a musical conversation, that was it. How they joined Shakti.
Shankar Mahadevan: I had Shakti albums in cassettes (recorded by a music shop in Chembur, Mumbai). And I used to study it. What is this? How can anybody play music like this? It was like a university in itself. My intention was just to, may be, meet them for a picture. But as luck would have it, 30 years later, I am getting to play with them, thanks to the maestros who thought I was worthy enough. The best part, is how they allow you to shine on stage. That is the mark of a true maestro.
Selvaganesh (kanjira, mridangam, ghatam): As Johnji was saying, he met Zakirbhai in 1972. That was the year I was born. The first music I ever heard was Shakti. Because during 1976-78 when they toured, Dad would record his concerts and hear them later to find mistakes and correct them. So when he would come back home and play that music for my grandfather, I was 3-4 years old. And that was the first music I heard.
When Shakti was playing in Chennai, I was standing with them. Back stage. In my school uniform. So, how can I believe that I can be in this group? Now, everything about being with them is a learning process.
Ganesh Rajagopalan (violin): It's a privilege and honour. I have learnt and progressed (as a musician) from the music of Shakti. I have been fortunate. Every time, I play with them, it is a learning.
JohnM: My mother played violin. So I have this affection for violin players.
On Vikku Vinayakram's son joining the band now.
JohnM: After Vikkuji, to have Selva here is the unbroken line. So, in a sense, Vikkuji is still here, but he is here in spirit. But Selvaganesh with the kanjira has pushed the envelope in technique and the concept of the kanjira to a completely new level.
ZakirH: He (Selva) does everything and more with one hand than we do with two.
On Shakti the band.
ZakirH: A lot of the Shakti melodies and patterns happen at a pretty happening clip. It is actually an impossible ask in some ways for a vocalist to be able to do the sargams and do it exactly right and in pitch. So hats off to Mestro Shankar!
JohnM: Everytime we play a concert we are giving our lives to it. When you are improvising or are in the middle of a piece, what are you really saying? What can any artiste, musician say? We can only tell the story of our life. Our eternal relationships and the love we share with our colleagues, the love we share for the people who come to see us and the love we have for the world, the universe. So, every one of us is telling our individual life story. But with Shakti we have a collective life story.
JohnM: I have had only wonderful experiences in Russia. For me, it's breaking my heart to see what's going on at the moment. Because this is not the Russian people's war, the invasion of Ukraine. This is one man's war.
On virtuoso playing, the musician becoming one with his instrument.
JohnM: When people sense that you and the instrument are not together, there's a problem.
ZakirH: My father told me when I was learning from him that every instrument has a spirit, a living, breathing spirit inside of it. And half the battle in terms of learning music is to be able to have that spirit accept you, befriend you and bring you in. And if that happens, then the connection with the instrument is almost like a re-attachment of an umbilical cord and you become one body, one thought, one soul, one expression. You must be able to interact at breakneck speed. And before thought emerges, both of you must already know what's coming. When that happens the music flies. Then, the story is told.
On the music of Shakti.
ZakirH: Shakti is a live band. It's a band that believes in spontaneity, it believes in a thought emerging on stage and then blossoming. And it blossoms because each one of us is not individually attached to instrument and the spirits are not individually working. It's a collective. And so when that happens music transcends into a different level of existence that allows us to have magic happening. Oh, it's been two hours, but it felt like five minutes, you say.
On John McLaughlin's India connect.
Zakir H: He is more Indian than anyone of us. It's a fact. It's true. Sometimes, I think I should address him as Pandit McLaughlin or Hindustan John. He did not grow up sitting cross-legged and doing riyaz for hours. But he sits on stage for an extended amount of time, like two hours, three-and-a-half-hours; and he plays like an Indian musician, he dresses like an Indian musician. He thinks like an Indian musician. He honoured this tradition, our tradition, by actually taking the time to learn the tradition, the sargams, learning the raga structures, learning the taala structures, he did all that. And all that came together.