Nine Musicians with eight One-Minute Original Music Videos for Instagram aim to win millions of hearts
The Telegraph chats with Neil Roy, founder-director of FFACE that has done the planning and production of this project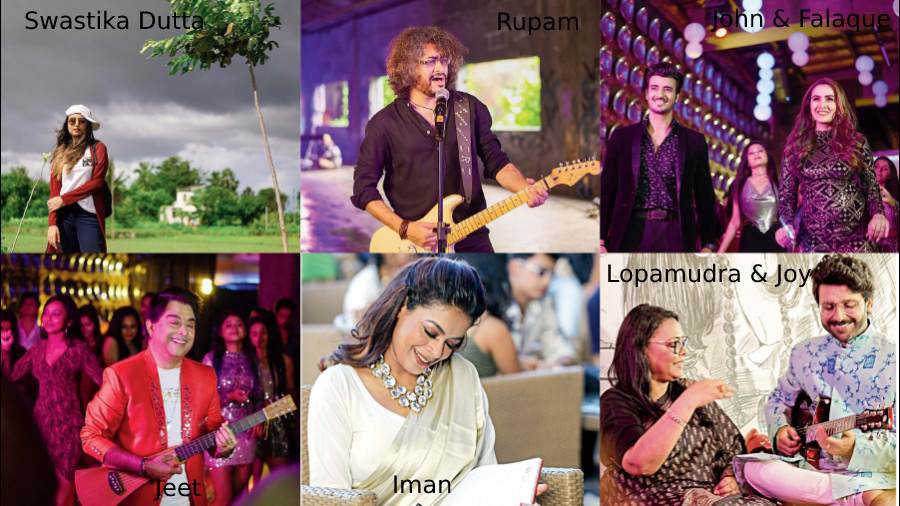 ---
Published 04.08.22, 02:46 AM
|
---
The band Take That felt it takes only a minute to fall in love. Author Willie Jolley wrote a book called It Only Takes A Minute To Change Your Life. And now, here's a music project that aims to articulate thoughts, visuals and emotions in only a minute! With that in mind, nine musicians came together for the project One Minute Original Music Videos that'll come on Instagram as Reels. The Telegraph chat with Neil Roy, founder-director of FFACE that has done the planning and production of this project from the East.
How did the tie-up with Instagram happen?
FFACE has been the media and marketing partner from East for Meta (Instagram + Facebook) for over four-five years now. It's been a long association and we have worked together on multiple projects over these years, including this One Minute Music Video project.
How did  the concept of One Minute Videos come up?
This was a pan-India initiative by Instagram and the responsibility of the East was given to FFACE for planning and production.
Why One Minute Videos?
It is believed that if music at one point in time was for a duration of seven-eight minutes, later reduced to five-six minutes and now around two-three minutes, why can't an original piece of music be within one minute. With this in mind, the experiment was initiated to create One Minute Music Videos for Instagram Reels.
What is the theme of each video?
There is no specific theme to the music videos. Each of them is unique and is completely different from the other. Baba Yadav (director and choreographer) has done complete justice in shooting the videos and creating a storyline keeping in mind each song's emotion portrayed by the musicians.
How did you zero in on the singers and actors?
It was a challenge to choose musicians as I had to balance between the artist's popularity and their Instagram presence. The latter was important as the videos will be released from the Instagram handles of the musicians. I had shortlisted a few names on this basis and Instagram gave us a final nod. Baba Yadav had conceptualised Somlata's song as a travelogue where there was a need of an actor. I had proposed Swastika Dutta's name and Baba agreed promptly as she perfectly fit the bill.
For Jeet Gannguli's song, it demanded a glamourous girl and a boy who could dance really well. The song is a very peppy number and has a hook step which needed justice. Jeetda and Baba unanimously agreed to cast Falaque (Rashid Roy) in it. Baba suggested John Bhattacharyya's name as the male lead in the song opposite to Falaque. Both looked outstanding in the video. What did they have to say about the concept?
Everybody was kicked with the concept and took it up as a challenge. Creating an original one-minute music piece was not easy as I was told by the musicians. But whoever I approached agreed and moved ahead with the project. Each artist gave their best and created their unique music. Jeetda was so excited that his song was written, composed and sung by him. This was his first exposure as a lyricist.
How was the shooting experience?
Shooting was not easy as this was being shot for Instagram Reels, and as we know reels has an aspect ratio of 9:16 (vertical) compared to our conventional shooting aspect ratio which is 16:9 (landscape). We did a lot of homework on the way to shoot, hold the camera, what camera to be used so that it could do justice. It was a new thing for all of us.
Where did Baba shoot the songs?
Joyda and Lopadi's (Joy Sarkar and Lopamudra Mitra) song was shot in a cafe in south Kolkata. It was more of a fun rock 'n' roll song. Iman Chakraborty had a blend of folk in her song and we shot that at a beautiful rooftop location of Fairfield by Marriott. Somlata's song was kind of a travelogue and it was shot across two locations. Highways, country roads and a night club for the hook step.
For Sahana Bajpaie's song Baba gave a rural touch and the song was shot in a village 50 kms outside the city limits. Rupankar has composed a fun song as we shot that in the studio with a chroma set-up.
Rupam's song was shot in an abandoned warehouse in south Kolkata. Baba had conceptualised this video quite uniquely with inserts of a professional ballet dancer with Rupam's rock band. Jeetda's song is a peppy dance number and was shot in a night club at The Park.
Bickram Ghosh's song, which was directed by Soumya Mukhopadhyay, was a retro-themed fun song shot between a night club and a secondary school basketball ground.
While the songs were done for Instagram Reels, the production design looked grand.
When will the videos come on Instagram?
The videos will be released in three phases for the East. The first phase is to go live on August 8 with Iman Chakraborty, Bickram Ghosh and Jeet Gannguli. Phase two will have Rupam Islam and Rupankar Bagchi on August 15 and Somlata  on August 16 and the final phase will have Joy Sarkar and Lopamudra Mitra and Sahana Bajpaie on August 22.
What is your favourite part of the whole project?
This project is very close to my heart for various reasons. Despite the fact that we have worked on multiple projects with Facebook and Instagram, this is the first one on music. It gave me an opportunity to work with few of my favourite artists. This can be just a start to promote independent music in a different form. Programmes like this can support the entire music fraternity to create innovative music.