Jennifer Lopez is still relevant in 2021
Tune in to 'Cambia El Paso' to understand why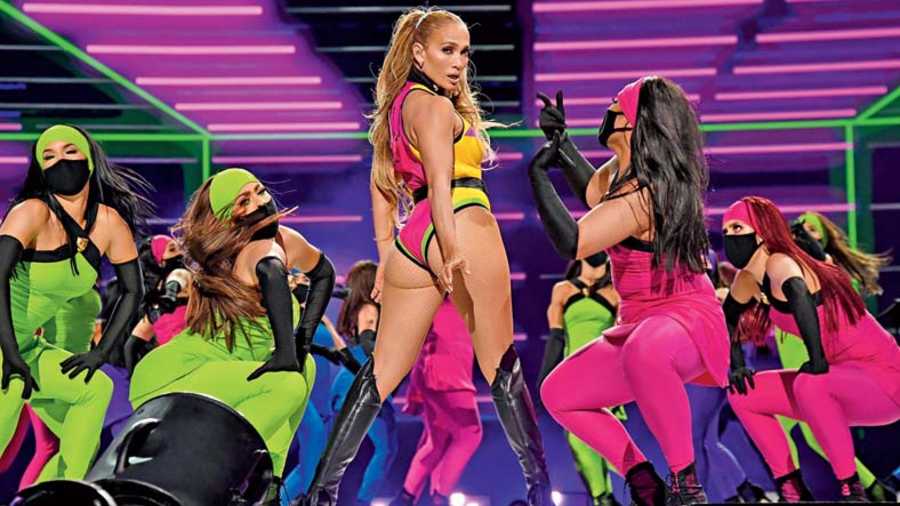 ---
---
That Jennifer Lopez is still among Hollywood's most bankable stars is as obvious as looking up at the noonday sky to find the sun at its brightest. The 52-year-old is as relevant in 2021 as she was in the 1990s, just off the running block, something that can be felt as she lips "Un, dos, tres, avanza/ Left, right, left, avanza" as part of her new song, Cambia El Paso, a scorcher of a duet with Rauw Alejandro.
Every other song wants to be the summer jam of the year but Cambia El Paso is a summer treat for a broken heart, preaching what 'Jenny from the Block' has always been poetic about: "What you wanna do is just dance, dance, dance, dance." It's a track that comes soon after her break-up with former baseball player Alex Rodriguez while finding rebound in her former boyfriend, Ben Affleck.
"It is about change and it is about taking a step. And it's like… just take one step. It doesn't matter. Right. Left. Whatever. Take a step. When things don't feel right. When you need to change, Cambia El Paso… that's it. That's all you have to do. And for me, it resonated. So it was a great thing… it says dance, dance, dance, dance. I started as a dancer," Lopez has told Zane Lowe on Apple Music 1, while discussing her song with Alejandro.
She is among a handful of stars who have remained relevant when Hollywood tends to be unkind to ageing celebrities. Earlier in the year, at President Joe Biden's inauguration, she fielded for unity through music. After This Land is Your Land, she was midway through America the Beautiful when she delivered a message that amplifies one of the President's: "One nation, under God. Indivisible, with liberty and justice for all," she said in Spanish. And then she announced "Let's get loud", a message that first appeared on her 1999 debut studio album On The 6.
"This is a summer record. This is a dance record. This is a record about changing things. It's the change of season. The world is changing right now. So many things. It just felt right," JLo has told Lowe about the new song. "I was in the Dominican Republic doing a movie (Shotgun Wedding), and while I was there, I had got to a point in life where I really felt good on my own. I'm good. I love my life right now. I love what I'm doing. I love where I'm at. I love the person that I am continually kind of evolving into and becoming. And that kind of joy, that kind of happiness, that kind of love always inspires me. I think some people really get inspired when they're heartbroken. You know what I mean? To write music when they are in pain. For me, it's the opposite. When I feel really good, I really feel like I do my best music. And so I got back from the Dominican Republic and I immediately notified everybody that I wanted to get in the studio," she said.
In the video to Cambia El Paso, Lopez doesn't look a day over her 1999 music debut, or at least that's how fans feel. More importantly, she appears to be in a happy place. Her romantic life has been somewhat chaotic but that hasn't stopped her from channeling a degree of girlishness in the video that most musicians in their 50s would fail at.
Here's a woman whose global box office receipts are estimated at $4.3 billion while her music career has delivered roughly 70 million records worldwide. And now she is trying to grab a chunk of the $100 billion beauty market in the US with her line of cosmetics, JLo Beauty. The new line, which was launched in January, is simply an expansion of her philosophy that you can look and feel good at any age… that beauty has "no expiration date".
Meanwhile, Lopez has managed to put out a song and a video while drinking her go-to soda, Poppi. Bennifer 2.0 has reportedly set sail towards house hunting. And two of her films — Marry Me and Shotgun Wedding — are on the editing table. What the world now needs is a Spanglish album from Jennifer Lopez because it's always a good time to "Let's get loud/ Turn the music up to hear that sound." Her's is the music for uncuffling.