'I can't retire from being me'
Mariah Carey opens up to The Telegraph about everything that makes her the 'Queen of Christmas'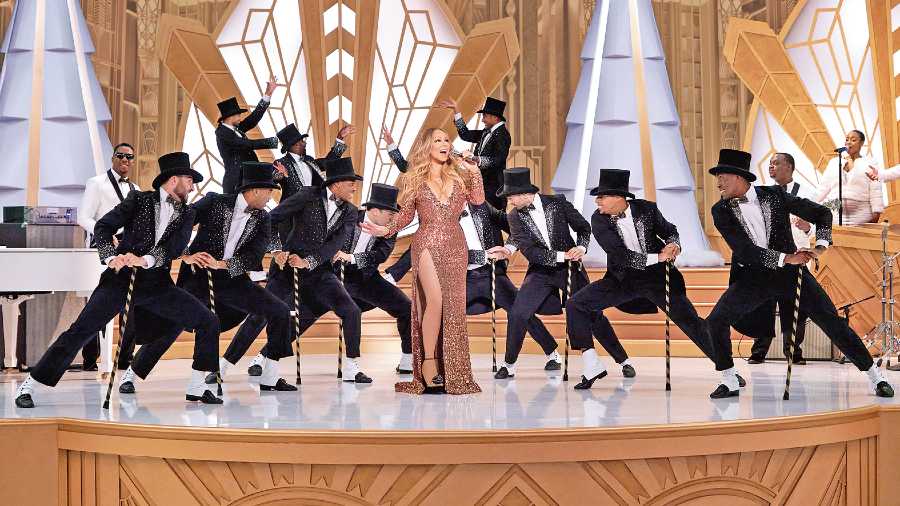 ---
Published 23.11.21, 12:25 AM
|
---
There are Christmas classics or standards everybody grows up with and then comes reinterpretations. In 1994, Mariah Carey defied all odds to deliver an original song that didn't get buried by an era. All I Want For Christmas Is You is a pop gem that refuses to age, like the voice of the 51-year-old pop diva.
In fact, it's tough to get through Christmas without her voice filling the house. She is the sound of contemporary Christmas and since last year she has been making Yuletide spirit conquer living rooms through the Apple TV+ special Mariah Carey's Magical Christmas Special. Once again bringing alive the tobogganing pace of the season is Mariah's Christmas: The Magic Continues, which will debut on the streaming service on December 3.
Before sprinkling vocal magic dust around the world through our TV sets, the 'Queen of Christmas' spoke to us via videoconferencing about the special, her relationship with the classic All I Want For Christmas Is You and the "little aspects of the holiday season".
What can we expect on the Christmas special?
Last year we had a very challenging situation with Covid, obviously we all did. I think we made the best of what we could, which is the Christmas special last year. This year we can expect, first of all, a brand new song called Fall in Love At Christmas. And it's with Khalid whom I love. After I heard his first single Location, I contacted him, told him how much I loved him and loved his music and his first album, American Teen. Kirk Franklin, who is a gospel legend — still young but legendary — joined in. Kirk came to the Butterfly Lounge, which is my studio in Atlanta.
I've written a lot of Christmas songs. It's not just All I Want for Christmas Is You, which I am very thankful for. Please believe that. This is a love song and it's a gospel song; it's a spiritual moment, so it's kind of like nostalgia. It is one of my favourite Christmas songs that I've ever done and I've written a lot of Christmas songs. Just to be clear, All I Want For Christmas Is You… I'm very grateful for it, but I've written a lot more. To me, this is something different and I'm so happy to perform it on the Christmas special for Apple TV+ this year.
Were there any memorable moments or anything interesting while recording the special?
It was interesting because Khalid was working on his brand new album. So he sent me secretly some of the music he was working around. I was like: 'Oh my God, this is amazing. It's gonna be so good.' So we had our own sidebar conversations and then there's Kirk, you know he's such a legend in the gospel world, but also still young and vibrant and amazing. When we all got together, it was this incredible thing; we did a film and a video, which is out. The performance — the first time ever — will be seen on December 3 on Apple TV+. We had some incredible moments.
I have a new liquor coming out — well, a shameless plug (laughs) called Black Irish; it's like a holiday drink which you can drink all through the year — we're like (breaks into an impromptu song) 'We gotta drink.' It was fun behind the scenes; we made it snow, we dressed up and we dressed down, we did whatever was required to feel the Christmas spirit even before Halloween. If you want to put something out for Christmas, you just have to start early. I need festive things around me. I need to see lights, and this and that. I truly, truly love the holidays.
It has been (and continues to be) a challenging time, so how are you making it extra special?
I wish I had like magic dust to sprinkle on top of everybody and make Christmas perfect. I really think it's about looking into your heart and sharing your joy and what you're feeling with loved ones, your friends… the world. Just having that outlook where it's… you know we can't control what's going on in the world, we don't know what's (going to happen) from one minute to the next but Christmas is a special, sacred time of the year… the holidays. The holiday season can be magical and I think it really just starts inside the person, whoever you are. You're spreading that joy to the next person. That's what I try to do. I can only do so much.
Your sweetest Christmas memory or tradition?
When I was little and I wrote about this in my book — The Meaning of Mariah Carey… it's got a picture of me as a little girl on the cover, which is what I wanted in the first place…. My memories of childhood Christmases are kind of bittersweet and it was not always fun, but I always hoped it would be fun and I remained optimistic about it. I have to say that my mother (Patricia Carey) was the festive one who got me into understanding Christmas. She used to make this mulled wine thing. She would make this and she and her friends would sing Christmas carols and even though it was a very small, very humble place to live… that made it special… that made this time of the year special for me. So now I am in charge of the holiday. I try my best to make it amazing for my kids for everybody and also selfishly for me, like take a few moments to quietly enjoy the season.
Can you share any special behind-the-scenes anecdotes from filming your Christmas specials over the years?
Prior to Covid, I would be like performing in a big arena, a theatre here or there. I would perform every Christmas because I love it; because I have many Christmas albums and many Christmas songs that I've written. We had last year's Christmas special already planned… on doing a special with Apple TV+ and I have to say they were amazing; they were amazing to stick with it. It could have been: 'It's Covid and it's not happening.' They didn't do that. Last year was very difficult because we all had to deal with the same situation [the feeling of uncertainty] around the world. This year's special is something really wonderful about the way Joseph Kahn (the world-renowned director of music videos and films also serves as executive producer on the special) approached it. I love his vision of me because he makes me laugh. Even though we could have toned it down a bit… but that's not what this was. It's fun. It's festive.
How do you pick a Christmas outfit for the specials?
This year Dolce and Gabbana made this beautiful bejeweled gold dress and the jewels were actually like this big (gestures towards the camera)… all over the dress. The train itself is — I'm not making this up — huge and the whole dress weighs like 60 pounds. I had to carry that dress and it was made so beautifully and perfectly for me that I was like: 'We have to do this.' It's massive and just amazing.
Every year people wait for All I Want For Christmas Is You. Why do you think we connect to the song so much?
I'm thankful, I'm grateful as a songwriter and as a singer that people relate to this song. I never imagined this when I first wrote it that it would be this and then collaborated with my then writing partner Walter A (Afanasieff) to make it feel like… one of the things that has given it longevity is that it doesn't feel like a specific era. We did this so that it would feel like a modern classic and I'm so thankful that it does. I actually feel similar about Fall In Love At Christmas. It is nothing like All I Want For Christmas Is You; it is a heartfelt love song with a spiritual peak, and so I really love that and I love that it's so different than All I Want. People do Christmas songs now early in their careers, but it does take a long time to sort of permeate the Christmas radar and you just gotta hold on and live with it.
My favourite Christmas songs are mostly from the olden days. And I've remade God Rest Ye Merry Gentlemen, Joy To The World, Hark! The Herald Angels Sing and then I was inspired by the era of Nat King Cole… the Christmas songs… and wrote several songs with my one of my beloved collaborators Marc Shaiman… Christmas Time Is In The Air Again with a huge orchestral backdrop. I love the holiday season and I've always loved holiday music. I love all music but there's just a special kind of nostalgia that connects me to writing and recording Christmas music.
Have these specials replaced the experience of interacting with fans?
During Covid, I wasn't obviously trying to go out there and encourage people to gather when we didn't — and still don't know — what the situation is. That's too big a responsibility for me. But I got to be in the studio recording, re-recording, reimagining, reinventing songs, whether they're mine or you know, holiday songs. That's kind of been an amazing thing. But nothing can compare with singing to your fans when they're right there with you. At least I sort of got to speak with my fans and virtually let them hear new songs, let them watch new moments visually, like the Christmas special we're about to release on December 3 with Apple TV+.
What is the creative process behind writing holiday songs?
I've written a lot of holiday songs and also adapted some public-domain songs, such as God Rest Ye Merry Gentlemen, Hark! The Herald Angels Sing … a lot of songs that are like literally from I don't know how long ago, but I did my version of them. The Hallelujah Chorus I sang with my mom as a duet… I really enjoy being able to have these creative moments.
Recording a Christmas song early on in your career (1994) was a brave move. Did you deliberately stay away from giving the song a 1990s feel?
Yes, it was very early on in my career when I wrote and recorded All I Want For Christmas Is You; it was the first holiday song I ever wrote and I'll never forget it. Like being in this little room and this little keyboard and playing around with it. Then writing the lyrics, moving on and working with my then writing partner Walter A and it's like I don't know how to explain it… it was just the moment. At first I doubted it too. I was like 'Why would I do a Christmas song? This is so early in my life… my career.' But I'm so thankful that I did because it came out from a pure place. And I think every song is its own entity. Whether it's a Christmas song or whatever it is. If it comes from a pure place or is just pure fun… if it resonates with people, that's magic. There is no secret formula. It is just what it is.
Do you hope to turn the memoir into a movie?
The memoir — The meaning of Mariah Carey — is something that took almost three years of my life to write, and I collaborated with a very dear friend of mine, the brilliant and talented Michaela Angela Davis and we really put a lot into this and now we're working on the film adaptation and there's a lot of decisions to be made in there. Very big decisions because it really matters to me.
Are you ever going to retire from being the Queen of Christmas?
Darling, come on! (Laughs) I love Christmas music and I happen to write Christmas songs and make albums that people enjoy and I'm grateful for it. I can't retire from being me. This is the person that I am.
How does Mariah Carey celebrate Christmas with her family?
I kind of try to get a head start on it but oftentimes, like in the past couple years (pre-Covid), I was working, singing and performing and touring until the very last minute… then we would get on a plane and go to Aspen and then it was a bit stressful because we were like kind of late in the season and so we had to deal with all that stuff. But now we plan like more than a month in advance. We spend our time in the snow and the kids have the best time ever. I have so much fun because it's the only time I fully relax. I know it sounds like over the top and dramatic, but I really do love those little aspects of the holiday season.
Can you tell us about the most lavish Christmas present you've ever given?
It was a Ferrari. Did they deserve it? I don't know (laughs).
Timeline: All I Want For Christmas Is You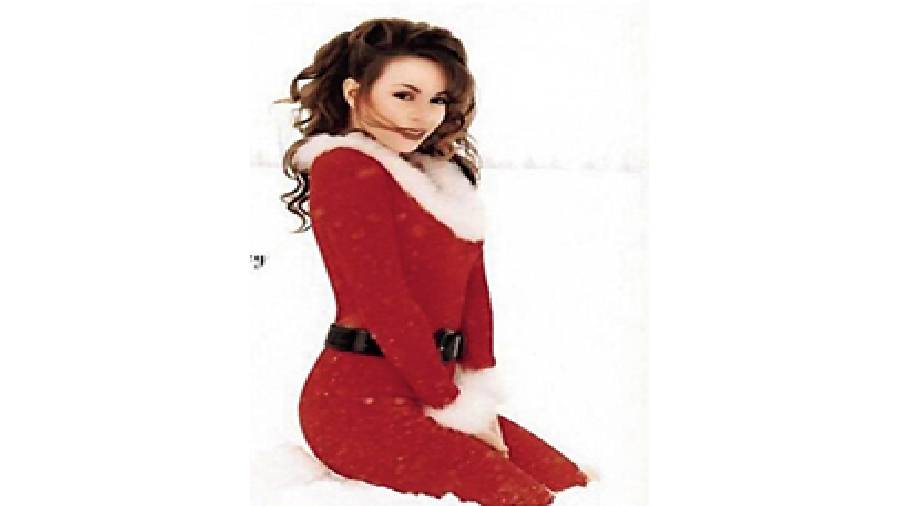 Final days of 1993: Tommy Mottola, American music executive (and Mariah Carey's former husband) convinced Mariah Carey to get festive on her next album. Soon, she began recording classic holiday tracks.
Summer of 1994: Mariah Carey and Walter Afanasieff wrote three new tracks for Merry Christmas — Miss You Most (At Christmas Time), Jesus Born on This Day and, of course, All I Want for Christmas Is You.
August 1994: All I Want for Christmas Is You was recorded in New York City.
October 1994: The album was released. It debuted at #30 on the US Billboard 200 with 45,000 copies sold in its first week and by the time the year ended, 1.85 million copies had sold.
2003: The song got a very warm reception when it was included on the soundtrack of Love Actually, a Christmas film that won the world over.
2015: The singer released a children's book based on All I Want for Christmas Is You.
2017: An animated family film called Mariah Carey's All I Want for Christmas Is You, based upon the book and song, released.
2019: It topped the Billboard Hot 100 for the first time, 25 years after its original release, breaking several records.
Holiday pop playlist is incomplete without
• All I Want For Christmas Is You by Mariah Carey
• Last Christmas by Wham!
• Happy Xmas (War Is Over!) by John Lennon
• Merry Christmas Everyone by Shakin' Stevens
• Millennium Prayer by Cliff Richard
• Do They Know It's Christmas? by Band Aid
• Just Like Christmas by Low
• Merry Xmas Everybody by Slade
• Christmas (Baby Please Come Home) by Darlene Love
• 2000 Miles by The Pretenders
• Who Took the Merry Out of Christmas? by The Staple Singers
• River by Joni Mitchell
• Rudolph The Red-Nosed Reindeer by Dean Martin