The overriding sentiment of Cutting Loose, Jaimin Rajani's quietly self-assured debut album of songs is its honesty. Anchored to a time when songs were meant to be just that _ spontaneous outpourings of the heart _ and an album a collection of short stories magically forming a wholesome whole, Cutting Loose doesn't feel "loose" at all.
Jaimin calls himself a confessional singer-songwriter. We figured! He says he started writing at age 23. The opening song of the album, Home, happens to be the very first one he wrote in 2015. "I'm a Bombay-born Calcutta thoroughbred," he reveals. No wonder. The songs do exude the embedded confidence of Maximum City even while reflecting the innate stoicism of Calcutta.
The guitar, acoustic and electric, and piano form the backbone with delightful sonic surprises that keep springing out of each of the 14 tracks. Distinctive melody patterns are held together tightly by sprightly lyrics that play on myriad emotions. "I let my subconscious mind erupt," he says.
Even though Jaimin is delving into heartache, disappointment and departure, he is, by the time you reach mid-way into his saga, seemingly having fun too. At times, smiling, if not laughing, at his own predicament and the crazy tangents that life takes, especially with the ones you love.
The harmonica makes fleeting appearances (I am Going Solo). So do violin interjections (She) which are reminiscent of similar flourishes adding scarlet shine to a Bob Dylan album that also references love, longing and separation with a calico dress. "She's a painting... For more than what's meeting the eyes… She turns into one". That's who 'She' is, the striking, 8.30-minute tour-de-force taking us through all her incarnations as the melody takes wing and finds its perch, courtesy a heartfelt wail of the bow on strings.
Elsewhere, the piano is lush when it's there. And the brief interludes of the sitar and sax (Something Here to Stay) embellish the overall texture of the album that has an essentially folk-rock feel with smooth, subdued bass lines making it sound more '90s than '60s. There is a sense of joyous abandon in the way some songs have a sing-along feel to them (Let Me Find A Way) as if Jaimin is asking us to join in. In his take on the fabled mysticism of the holy land of devotion and death (Varanasi), there comes, therefore, a lovely bend in the tune that works as a spontaneous invitation to the proceedings.
The album's finale is as blunt as can be (Wore My Heart On My Sleeve). There, I have said it all, Jaimin seems to be saying, with an extended guitar solo providing time for closure. Fourteen songs, all of them effervescent, energetic and earnest, Cutting Loose holds out a promise. A promise of more from where it came.
Now, Jaimin Rajani is naturally anxious, but not so much about the response to his album as the efforts he will need to make to ensure his labour of love finds its audience. The album, some songs of which are already out on streaming platforms, releases Friday, August 19. A limited bunch of CDs is also in the works. "The songs… came to me from thin air, like a dictation whispered into my mind," he tells The Telegraph Online while diligently elaborating on his process, the journey that led him to, and the musicians that helped him curate, his first album. Excerpts:
There are fourteen songs in your debut album. Wow! I mean who puts out 14 songs on debut?
That's how it used to be. I didn't want to give in to the modern trend of singles and EPs. So I went against the undivided advice and took the leap because of the school of music I subscribe to. I did it my way (laughs).
Congratulations! It seems to have worked. When did you realise you had a collection of album-worthy songs?
I'm not sure what's worthy or unworthy of inclusion, but I had been sitting on these songs for a very long time since I started composing about seven years ago. I'd like to believe that I have enough material for at least a handful of albums and that's because I started very late. I didn't want this to be a half-baked attempt for the sake of putting it out sooner. I wanted to do this properly and get the best people on board. Honestly, I wasn't confident about my guitar playing and my singing. Not to say that now I am. I just know enough to be able to express myself and write the kind of songs I want to write.
It's clear that a lot of effort has gone into recording this album.
When I had to decide which songs should make it to the album, I just went with the ones I was most familiar with in terms of chords and lyrics, ensuring it's a mix of some early compositions and some recent ones.
So, you are a pretty prolific songwriter.
Now that's debatable and for others to decide (laughs). But if there's any truth to it, it's because of what I've learnt from listening to songs by artistes I admire and am jealous of. I'm glad you didn't say 'singer-songwriter' because my singing is far from being prolific, I think (laughs).
As I understand, this is a truly independent effort in that songs are yours. How long did it take you to record the album?
As far as composing goes, yes, it's an independent effort. I composed the music and wrote all the lyrics. But the process of bringing this album to fruition of course involved several people, and there was dependency on each one of them to some degree _ especially my friend, Subharaj Ghosh, who started the production work with me in December, 2020 and has worked on this project in various capacities, viz. lead guitarist, co-producer and additional mastering engineer. It took us about eighteen months of work, from start to end, including mixing and mastering.
Also, the pandemic meant that personal interaction between the musicians was limited. A lot of the work was done remotely with musicians sending in their parts and you putting these together during the mix. Not quite the ideal way of working, right?
During the pandemic lockdown, I was recording my parts at a friend's apartment in the periphery of Calcutta. We recorded other musicians once the lockdown was lifted. The outstation ones, such as Patrick Fitzsimons, Billy Cardine, Ralph Pais and a few others, recorded their parts and sent them to me. With internet and sophisticated recording software we have now, it was all very seamless. I then went to Ahmedabad to work with my sound engineer, Protyay Chakraborty, who's quite a wizard on the mixing table. Overall, it happened without many compromises.
Any hiccups?
Yes, there were a few, like we had to record Arjun Chakraborty's drums in his apartment through a single channel because of budgetary constraints, but then Protyay managed to conceal all shortcomings.
How would you describe your music?
I'm not the first songwriter to say this, but it's confessional. In my songs, I try to be as honest as possible and I have no qualms about exhibiting an unpopular and controversial opinion or talking about how vulnerable I am. I let my subconscious mind erupt. Hence, 'confessional'. My process of composing music and writing songs is largely anarchic and subconscious… The songs mostly comprise words that came to me from thin air, like a dictation whispered into my mind. If we're talking about what genre my music falls under, I'm not quite sure. 'Singer-songwriter' is also considered to be a genre nowadays. So yeah, may be that.
How much experimentation did you and the band go through to zero in on the sound of your album?
We worked towards establishing a unified sound for the album that primarily stems from a time we weren't a part of, while subliminally incorporating modernity for a homogeneous confluence of the two worlds – primal and contemporary. It's a long-drawn process and I still don't know how successfully we've accomplished it. But what we have is the result of countless disposals, re-recordings and brainstorming.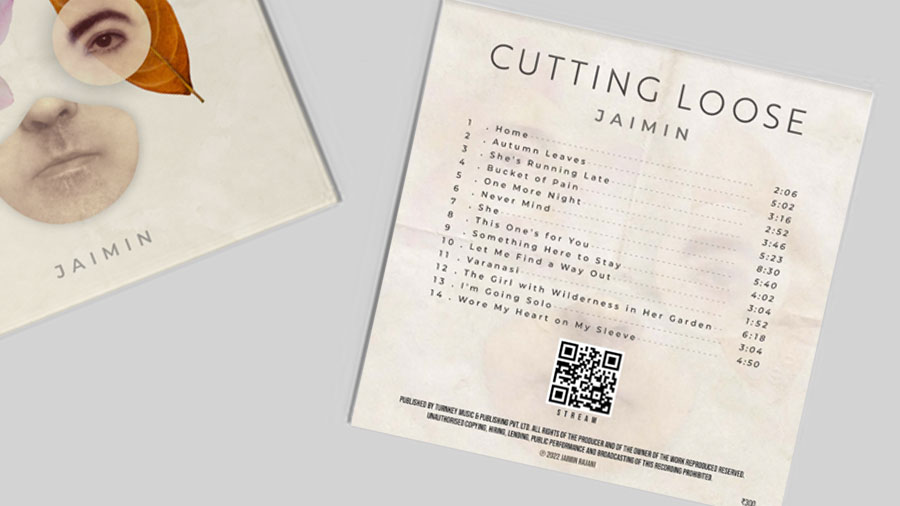 Apart from the core band, I see a number of musicians who have guested on the songs. Tell us about them.
Almost everyone I reached out to agreed to participate. In fact, they said they were more than willing to contribute because they liked what they heard. I don't know what I've done to deserve this, but it's quite overwhelming to avail such support from artistes whose musicianship I admire so much – Rahul Ram (of Indian Ocean), Abhay Sharma (of The Revisit Project), Deepak Castelino, Kalyan Majumdar, Billy, Patrick, they're all fantastic and so are the core musicians. That makes me the weakling (laughs). It's amazing how Arjun Chakraborty, who's already amongst the country's most remarkable drummers at the age of 18, quit high school to pursue music. Arka Chakraborty, who has played on nearly all the songs, is a world-class jazz pianist. I consider myself to be their friend and fan.
'She' is clearly a standout. I loved it. Pretty audacious to put out an 8.30-minute song, one would think? Tell us how it came about.
Thank you. I was asked to truncate it to about five minutes for better reception but I chose not to. I just wanted to leave it the way it came to me. The song is about how unpredictable and stochastic creative energy is and its instrumentation was quite clearly in my head since the day I conceived it in January, 2020. Even though there were quite a few challenges due its length, Arka recorded his part in one take. All in all, it came out the way I had imagined. It has Protyay on the violin, Arjun on drums, Ralph Pais on bass and Arka on piano. They've all added great value to the song.
Your major influences.
Oh, there are so many. But majorly, The Beatles, Mark Knopfler, Bob Dylan, JJ Cale, Freddie Mercury, Paul Simon, Pink Floyd, The Doors, Eagles, to name just a few. I'm in awe of these artists.
Are you planning on some live gigs to promote your album?
I suffer from stage fright but I do intend to work on it and play some of these songs at small venues soon. Nothing's planned yet because of how occupied I have been with the release.
What next?
I'd like to leave no stones unturned when it comes to marketing this album and maximising its reach. So I've put other projects on hold temporarily. But if things go as planned, I'll release some more music next year and hopefully explore a different sound.
Thank you for talking to us, Jaimin. We wish you the best.
Thank you.