All about Zee TV's new Music reality show Swarna Swar Bharat
A chat with two judges and the host reveal their experience and expectations of the show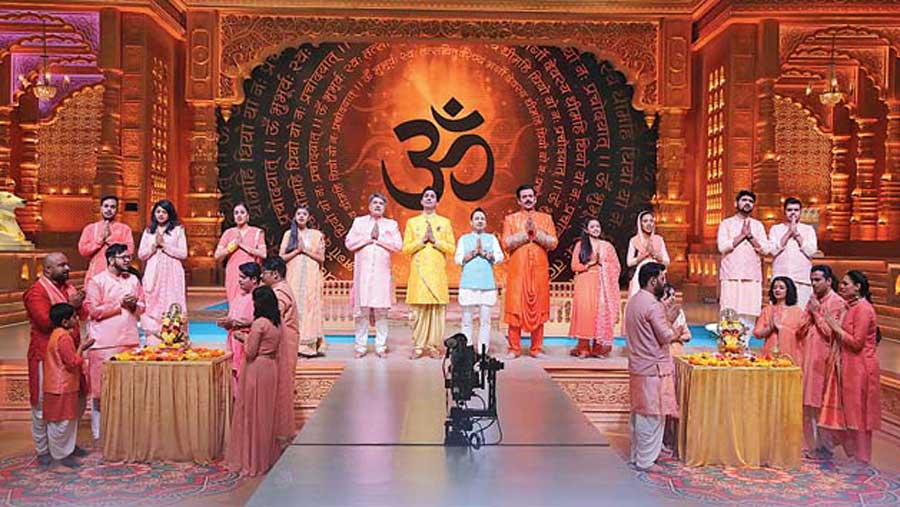 The participants in Zee TV's Swarna Swar Bharat along with three judges and the host.
---
Published 03.02.22, 05:59 AM
|
---
Kailash Kher (Judge) This time you have a bigger responsibility as your company is also co-producing Swarna Swar Bharat. What is the premise behind the show?
I have always been ziddi and junooni. I wanted to do something different. This show aims to remind people the kind of lifestyle we used to have in the days of yore. Everyone is running in a rat race now. Spiritual music is more than entertainment for us. This is a show that three generations can watch together. This is not limited to film songs. There will be non-film devotional songs too as well as patriotic songs. Suresh Wadkar will deliberate on sur. Kumar Viswas will speak on the lyrical value. I will judge expressions and emotions. We will not sensationalise life stories of participants. We will not highlight if someone is poor or what job one's father does.
Will contestants specialising in say, bhajans, be forced to sing other genres too, like it happens on other reality shows?
Hum log pratiyogiyon ko bimari se grast banana nahin chahte hai. We will ask them: "Tum aapni khusboo phyalao, aapni dhara behlao". We will not tell them to sing this and that. We are starting the show with 20 participants. Of course, there will be eliminations. There will be 52 episodes over 26 weeks. We will invite spiritual leaders on some episodes. People have suffered a lot in these two years. Soothing words of wisdom will help them heal.
You have recently launched a single, Uurja.
The singer, Rachit Agarwal, is our find. We found him in 2018 and launched him as part of Kailasa Records' Nayii Udaan project to seek out more Kailash Khers from different parts of the country. The Jharkhand boy has also featured on Zee TV's Indian Pro Music League and was named the Best New Voice. We have launched close to 20 artistes so far.
What about your son Kabir? Does he have any musical inclination?
He is 12. He learns playing the piano sometimes. He also learns tennis. He goes to an English medium school. So he is more interested in Western music. He likes Coldplay.
So you don't force your likings on him?
He does listen to other types of music. Since I listen to all kinds of music, like Mehdi Hassan saab and Pandit Kumar Gandharv, he also has to listen to all that. Let him be a good human being. That's all I want.
You have been posting pictures of vegetables on Instagram. Are you into farming?
I have a small farm called Cosmic Garden in Lonavala. The pictures of the vegetables are from there. I have a gaushala too. Gai se doodh nikalna nahin ata hum ko lekin poori kheti kar sakta hoon. (Laughs)
Suresh Wadkar (Judge) You are completing 47 years in the music industry. Do you still remember your first recording?
It was a duet with Hemlata for the film Paheli (1977). It (Sona kare jhilmil jhilmil) had some Bengali words — bristi pore tapur tapur. Ravindra Jain saab was my first music director. He used to write in Bengali as he spent years in the city. Meaning achcha hai, sound is nice. So he used that line. The song was very popular in Bengal. Listeners there are very musical. Wahan ghar ghar mein music hai.
You posted a black-and-white photo with Lata Mangeshkar recently on Instagram.
It was possibly from the recording of Prem Rog. My first song with her was earlier, in Subhas Ghai's Krodhi. I had got a break with Laxmikant Pyarelal on Lataji's recommendation. I lacked the stature to even stand beside her, yet there I was singing with her! There used to be three or four rehearsals before a take. She gave me the confidence beforehand as I was nervous.
Talking of Prem Rog, you developed a great rapport with Raj Kapoor and went on to sing in Ram Teri Ganga Maili and Henna.
The credit for that goes to Laxmikantji. Raj saab was looking for a new voice for Prem Rog. Laxmikantji made him listen to Megha re, megha re (Pyaasa Sawan), which I had just recorded for him. Raj saab said: "Mujhe yeh ladka chahiye". He always considered me as a son. Unke saath kaam karne ka maza hi alag tha. He had learnt music. All three brothers had. I was invited to all his parties. (His wife) Krishna bhabi made special prawn dishes for me as she knew I was fond of prawn. All the songs were so spectacular in picturisation. He was a showman. Jab bhi gana shoot hoke aate the, he used to call me.
Coming to the new show on Zee TV, on other music reality shows contestants are required to show their versatility. But in Swarna Swar Bharat, a bhajan singer, for instance, can stick to his core competence all through. Is that an advantage?
It is a big opportunity. This show is about patriotic and spiritual songs. These are more difficult songs to render as, unlike in case of film songs, viewers will not have heard them much before. They have Sankritised words, not colloquial terms. It is tougher to prove oneself with these songs.
What expectations do you have of the show?
The show is high on grandeur. Benaras ghat has been created on the sets at Film City. There will be aarti at the end of each episode. Now a grand set has come up near Madh island. We have got such quality contestants. Most of them have classical training. The concept is unique. It will run for six months. I think it will create the same atmosphere as it used to do when Ramayan would be telecast in the 80s — the streets would become empty.
One hears you have recorded hundreds of old songs recently.
Yes, about 150-200 songs of (Mohd.) Rafi saab, Kishoreda (Kumar), Hemantda (Kumar), Mannada (De), Mukeshji, Lataji and Ashaji (Bhosle). Ghazlein kiye Mehdi Hassan saab ki. There was no work amid this pandemic. I have a studio at home. After completing my riyaz, I used to go down there. The songs that our stalwarts have sung and which often made me wish I could sing them too, I sung with karaoke or recorded afresh with musicians. I did it for my own satisfaction. Itna maza aya! I would release them at some point as singles on YouTube.
These days even for duet songs, the singers often don't meet. Each records his or her portion on a separate track, which gets mixed later. How does that affect the song?
Spontaneity khatam ho jaati hai. Ek doosre ko sunke one could respond to the expression given by the co-singer in one's lines — jaise sawal jawab hote hai na? Now there is nobody next to you while singing. If you want to add something on your own, it might seem like too much. That opportunity (of spontaneous exchange) is lost.
Ravi Kishan (host) On the show...
A huge set has been built in Mumbai. No channel spends so much on a music show! For a few minutes in each episode, we will take you to Devlok, Indralok and Vishnulok before we come down to earth for the singing. There will be actors playing the Gods. We have some of the best technicians in the industry working on the show with post-production graphics and Chroma key. I am playing Narad muni in Devlok, delivering information from earth like the spread of Covid, and will also be seen as Ravi Kishan, the host of the show. A massive band will play live music. Kumar Vishwas will deliver spiritual narratives in between songs. Bollywood ke chatak matak ganey nahin honge, but bhajans from films will be there. It is said: "Bhajan gaoge toh bhikh mangoge". The show will give a platform to classically trained bhajan singers to make their career. We have shot 12 episodes.
On his singing...
I sang a rap for the Uttar Pradesh election, UP mein sab ba. I recorded that in just 10 minutes and it has gone viral there. I had done a rap earlier for Anurag Kashyap in Mukkabaz. I am now thinking of recording Hanuman Chalisa or Shiv Tandav. But I will not be singing on the show.