Modi rallies the faithful
At Delhi's Ramlila Maidan as thousands turn up to hear Narendra Modi, the author gets a glimpse of Modi mania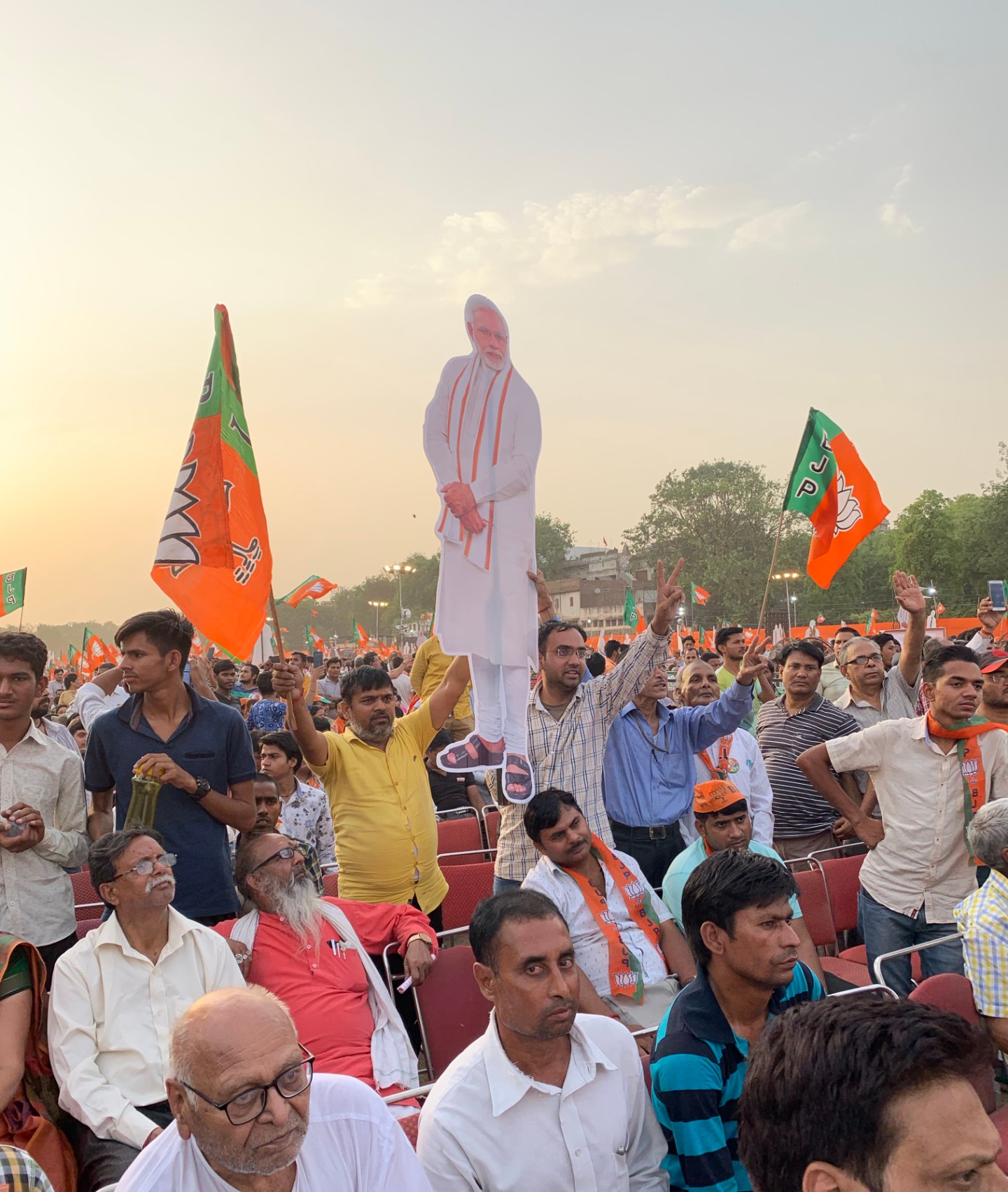 ---
---
Godse wasn't a mad man. He was an educated man. He shot Gandhi because he could see the future of India," says the trader from Dilshad Garden on my right. "If Gandhi had had his way, Pakistan would start from the G. T. Karnal Road," chips in the RSS man from Kishangarh on my left.
The scene: Prime Minister Narendra Modi's rally at the Ramlila Maidan in Delhi. At 5 pm on a blisteringly hot evening I was one of the early-birds even though the prime minister was scheduled to start speaking around 6 pm. The VIP seats with glittering white covers at the front were empty and I grabbed a seat right at the front just behind the VIPs.
For the first half hour I began to wonder if the rally would make news for being a mega-flop because there were only 200-300 people scattered around the sprawling grounds. And it had been announced on the radio that the rally would kickoff at five.
But this afternoon the BJP was operating on Indian Standard Time and the Maidan gates only opened at 5. And the crowds were obviously better informed than I about the rally's timing and began drifting in only around 6 pm. The BJP/RSS loyalists who had grabbed seats around me had come prepared for a long wait. Trader from Dilshad Garden was a staunch Modi fan and had quit work early to hear his hero speak.
"Modi ji won't come before 7pm," he warned me when he spotted I was getting restless. 'Then why did you come so early?', I asked. 'I wanted to get a good seat so that I could see him,' he argued with impeccable logic. This argument was echoed by the RSS man who requested a party worker to move a Narendra Modi cutout that would have blocked his view of the man himself.
"Are you from Bengal?" asked Young Man from North-East Delhi who was sitting behind me and spotted me as the odd-person-out when I didn't join the crowds shouting Jai Shri Ram. A person waving a BJP flag was asking the crowds to shout 'Jai Shri Ram' to let 'Mamata di' know that it was OK to do so.
"No, I'm from Allahabad," I said. "Oh say Prayagraj then," he laughed. He had touched a sore point here and I shot back: "I prefer Allahabad." "They should have asked the people before changing the name," he said and immediately endeared himself to me.
The pace was picking up and the crowd were slowly being whipped into a frenzy and were chanting "Har har Modi, ghar ghar Modi" "Modi hai to mumkin hai". Meanwhile, BJP workers milled around waving party flags, caps and stoles.
"Modiji must do something about population control," said Trader from Dilshad Garden. "If the Two Nation theory had been accepted, why didn't all the Muslims leave and go to Pakistan?" he asked me as I mumbled about India being secular and how there would be no difference then between India and Pakistan.
Meanwhile, a gentleman wearing different placards around his neck started walking among the crowd. "It took me two years to research this from newspaper archives," he told me. The first placard in Hindi listed all the scams that have taken place between 1948 and 2014. The second listed the sad state of the country on various socio-economic parameters. "70 years after independence children are still dying of malnutrition. Why?" he wanted to know.
His placards quickly attracted the media's attention and as they began taking photos the crowd stepped up its flag-waving and pro-Modi slogans.
"The BJP workers only campaign for money. They won't go out in the sun if you don't pay them. We work out of a sense of duty, we spend our own money," said the RSS man. Finding a keen listener in me, he went on to explain how the RSS people go up to the third and fourth floors of buildings with no lifts to campaign for the candidate but BJP workers wouldn't make the effort. "You see these people picking up the garbage and trying to keep the place clean, they are all RSS workers. No BJP worker will do that."
By now the crowd was impatient but just in time the event's organisers produced the BJP's seven Delhi candidates as the warm-up act before the main show. The crowd didn't appear very interested. They made it clear they only wanted Modi.
Interestingly, though Delhi's seven Lok Sabha seats are held by the BJP, none of the candidates spoke about what the party had done for Delhi in the last five years. It was more about what AAP has not done. For a moment I almost began to feel the campaign was for the assembly elections and not the Lok Sabha.
Meanwhile the crowd was keeping itself amused by sporadically chanting "Jai Sri Ram" or "Modi, Modi, Modi". The only time the crowd reacted to the candidates on stage was when Gautam Gambhir responded to the AAP charge that he was afraid of a debate by saying: 'When I am not even afraid of Pakistan why will I be afraid of a debate." The crowd cheered deliriously.
Punjabi singer-turned-politician Hans Raj Hans had his own set of tricks to keep the audience's attention. He sang his famous song from the Bobby Deol-starrer Bicchoo, 'Dil tote tote ho gaya' but changed the words to "Dil Modi Modi ho gaya".
But it was Modi's appearance that had the crowd cheering wildly. All through Modi's speech, BJP workers circulated amongst the crowds telling them to cheer. And the moment one group started shouting "Modi Modi" the others around them would join in.
Even Modi didn't get into his stride at once. He began by talking about how India had risen in the ease of doing business index and how he wanted India to rise in the ease of living index. When he realised he wasn't grabbing the crowd's attention he switched to "Hum aantakwaadiyon ko ghus ghus kar maarenge" (We will kill terrorists in their own homes) and that got the crowd cheering wildly. "Full paisa vasool" (Totally worth my money) said the Young Man from North East Delhi sitting behind me.
Modi's comment on Rajiv Gandhi using the INS Viraat for a holiday did not get much of a response from the crowd but they went wild when he charged that the party in Delhi (referring to the AAP) is sympathetic to the tukde-tukde gang.
As Modi ended his speech the crowd dispersed. I joined a large group of people walking towards Delhi Gate metro station. They were all walking wearing their saffron BJP topis and waving BJP flags and it was like a crowd leaving a particularly satisfying cricket match.
At the metro station a young man was saying to another that Modi deserved to return with a thumping majority. "When have we had a prime minister who works for 20 hours a day" he asked. He had seen on TV how Modi's family is still quite poor. "Not like the other politicians where seven generations don't need to work," he said.
As I got onto the metro the last thing I heard was the friend asking the young man, "What about our jobs?"