The Cuddles Collective
Besides music, underground music producer Shiladitya Bose, aka Mr Bose (also Shila), has a soft corner for puppers. The Cuddles Collective — started by the artiste and his girlfriend Sevina Kahlon on July 5 (his birthday) — takes care of pet dogs and stray ones as well. "We can afford to give love to our pets, so why not the ones on the street?" says Mr Bose.

Man on a mission
The Cuddles Collective runs monthly packages for the maintenance of pet dogs, which includes obedience training, vaccination, grooming, health and sanitation at the the doggo's home. "Rather than going to parlours to get their nails and grooming done, we provide the service in their comfortable environment," he says. The profits that Shila receives from the packages go towards feeding dogs on the streets.

How it started
Mr Bose had busy weekends while playing at nightclubs before the lockdown. On a December night, while driving back home from a gig, he noticed a puppy trying to cross the road. He then stopped his car, picked up the puppy and gave it to a shelter to be taken care of. Unfortunately, the puppy passed away as the shelter failed to take care of it, which became a turning point for the musician. "I realised that you can't trust anyone with a life, so I chose to do whatever little I can."

Getting in touch
To get started, a dog parent must get in touch with The Cuddles Collective on Instagram or Facebook and mention their needs and location of stay. Two employees — working with Mr Bose and Sevina — then reach the designated location and provide your little buddy with premium grooming, basic consultation, dog exercise, dog training, dog psychology, dog physiotherapy, diet planning and vaccination tracking. Besides these packages The Cuddles Collective employees know how to handle aggression in dogs. "One of my employees also has a therapy dog that spends time with elderly people and young kids with special needs," he said. Although they don't do adoptions they are willing to lend a hand to little buddies to find a safe home.

Scooby Snack
While providing services to the doggos, The Cuddles Collective has also collaborated with Sugarbaby Dessert Co. (run by Marium Javed) to provide delicious treats for your little buddies. A box of four cupcakes — or should we say pupcake! — (Rs 300), which all dogs "really love", is full of nutrients necessary for your dog. The ingredients? Chicken, peanuts, chickpea flour, whole wheat flour, chia seeds, carrots, pumpkin, banana, olive oil and organic honey. What else does a woofer want?
Safety measures
With the global pandemic running for months now, Mr Bose has taken safety measures to keep the doggies and their parents safe. Before starting work for the day Mr Bose ensures that all his employees are sanitised, wear a mask and their body temperatures get recorded. Before entering and exiting any household the employees are asked to sanitise.

How can we help
Mr Bose has made it very clear that they don't want any donations. The Cuddles Collective prefers pictures of dogs being fed or even food and collars for the stray. "Helping in kind and creating awareness is what we appreciate the most," he said. Mr Bose also recommends feeding dogs on the road and checking to see if they are vaccinated.

The road ahead
"I want to change the perception of people not wanting to keep stray dogs," he said.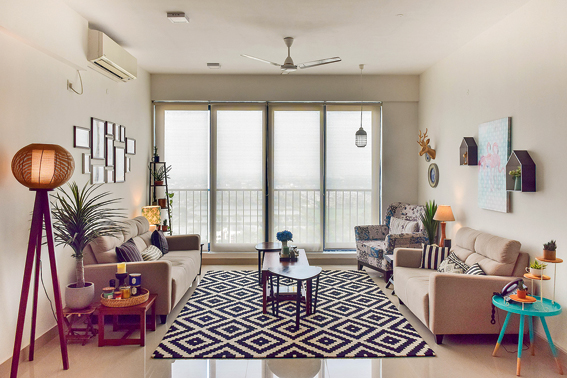 A monochrome living room designed by Tanya Sen with some vibrant furniture, plants and a black-and-white-patterned carpet Sourced by the Telegraph
NYNE by Tanya Sen
Calcutta-based singer Tanya Sen has turned her secret talent into a new venture. At the beginning of September, she launched her new project — NYNE by Tanya Sen, a one-stop solution for interior decoration. Not only does she help with end-to-end styling but also works around existing furniture and fabrics."They have everything they need and I make it look a particular way by revamping and styling a room," she said.

Passion-driven
Although singing is her constant, interior designing is something that has always been at the back of her mind for the past two years. "Being creative-oriented, I am used to work being enjoyable, otherwise it's difficult to get into something," she said. After the pandemic hit, Tanya took this as a golden opportunity to reinvent the wheel and start things differently. "This is the time." Tanya focuses on designs and styles, ranging from economy and premium to luxe.

First step
On getting in touch with Tanya through her website or Instagram account, a meeting is scheduled to understand what the client wants. She takes into consideration the colours, interests, favourite movies, music and more when curating a space. "They can also show me an image of what they want and I can work with it," she said. After exchanging ideas she proceeds to design a mood board, which after approval is turned into a 3D model, so clients get an in-depth understanding of the space. After this, it's time to get the work done.
To help her with her venture, Tanya is bringing together a team of architects for a wider range of ideas and services.

The response
Before starting this new project Tanya already revamped three of her homes. "A few people wrote to me saying they like my aesthetics, so we had a meeting with them and my second project is for a friend of mine," she said. With new projects flowing in Tanya decided to make a service out of it and she will soon use tools of marketing and advertising.

A goal from childhood
Tanya has a flair for interior designing; it's something she has seen while growing up. Her father is an interior designer and started his journey much later in life. It was from family vacations around 2005 when Tanya's love for interior designing started. "It was something I grew up with, at a time when there weren't many furniture stores and everything was handmade." She became a huge fan of Scandinavian designs after visiting the country and going to a factory was a part of her itinerary when she visited Denmark. "It's been a constant in my life and it's time to take it forward."

Learning from experience
It is the history of interior designing and experiences that moulded the talent in Tanya. "I am looking into everything, from software packages that develop 3D designs to other technicalities as well," she said.