Meet Shrivats Bagaria the man behind Shree Farms
Checking on the basics of the hydroponics farming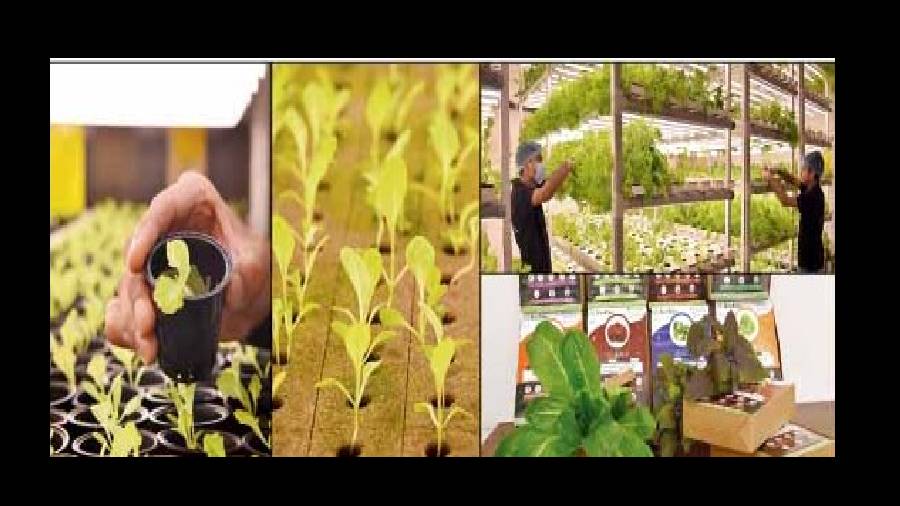 ---
Published 26.07.21, 01:21 AM
|
---
Imagine having a steady supply of fresh vegetables that are not only grown bang in the middle of the city but are also delivered to you directly after harvesting. Yes, this is possible and the man behind this is 24-year-old Shrivats Bagaria who is bringing the farm-to-fork concept to fruition with his 2,000sq ft hydroponics venture called Shree Farms.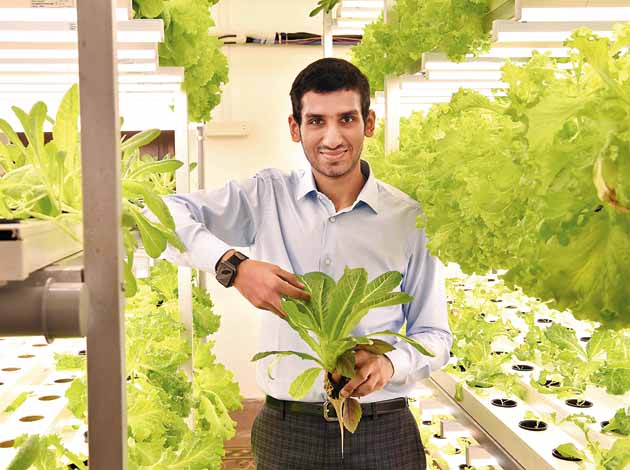 What: Shree Farms, a hydroponics farm
Where: @shreefarmscal on IG
To order: 9836751555/ 8585031918
For the uninitiated, hydroponics is a way of growing vegetables and herbs in a nutrient-rich solution instead of growing them in the soil. Experts deem this practice to not only be more water-efficient (uses up to 90 per cent less water) but also one that makes the plants grow faster and healthier, with the nutrients directly getting administered to their roots. Plus not having to go through the pesticides route is a good benefit to have.
"In hydroponics farming, we control temperature and humidity to ensure the plants are getting their optimum care, apart from the nutrients. I started this due to a personal reason. I used to be very overweight at over 100kg and learnt the value of clean eating when I lost my weight and brought it down to around 70kg. I was in the UK and was a user of hydroponics there but when I returned to Calcutta, I felt its absence. Starting this was very personal and not a monetary decision. We are growing leafy vegetables and herbs and will soon start with other items," said Shrivats, who spent around seven months after returning to Calcutta in researching about how to set up his hydroponics venture and where to source seeds from. Shree Farms got operational this year.
All his paraphernalia are sourced from outside of Calcutta and the timing might be tricky to ace, especially with the lockdowns. He has, however, managed to maintain a steady supply for some of the top eateries in the city too, apart from close to a 100 individual subscribers. A complete cycle from seeding to reaching the plate takes up to two months. Things like the pH-levels of the water and the amount of nutrients have to be constantly monitored — sometimes for up to eight times in a day to ensure proper growth.
GMO-free, nutrient-rich, soy-free, gluten-free, pesticides-free, vegan and using sustainable practices such as vertical farming and consuming a lot lesser water — the benefits of hydroponics farming are many. "I want to make farm-to-fork possible, which is why what I harvest reaches my consumers within two hours. There is no storage in my farm for this same reason. Seasonality does not matter too as I am controlling all of it inside, which means that I ensure the same quality of output," added Shrivats. 
Pictures: B. Halder
Veggies and herbs available:
Mint
Peppermint
Italian Basil
Purple Basil
Grand Rapid
Romaine
Lollo Rosso
Lollo Bionda
Iceberg Lettuce
Butterhead Lettuce
Red and Yellow Bell Peppers
Green Capsicum
Spinach
Asparagus
Avocado