Meet Psynonima, the queen of hitech from Spain
'Since 2014 I've been playing in India and it's all about feelings and vibrations'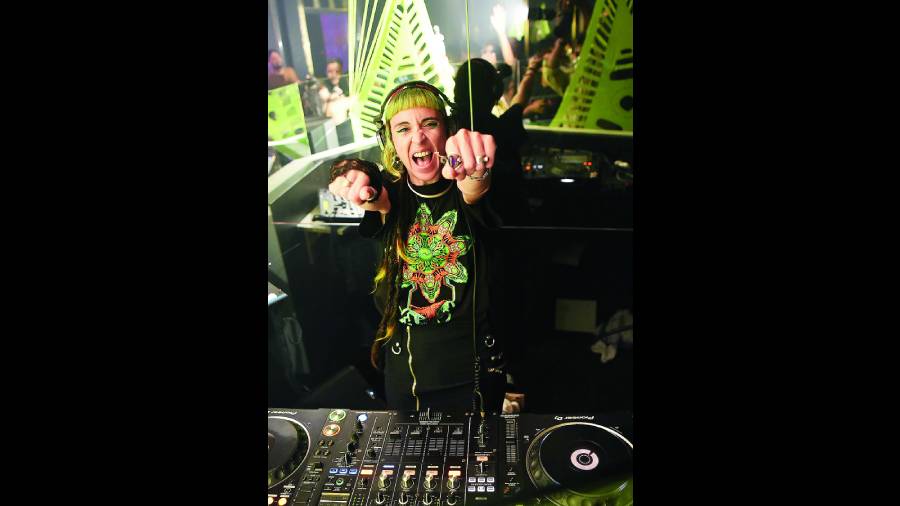 ---
Published 22.09.21, 05:08 AM
|
---
Psynonima, aka Miriam Serrano, is no stranger to the psychedelic music scene in India. Being a visitor since 2014, the DJ has blasted at festivals and shows throughout the country. During her second India tour this year, the 34-year old made a stop at lounge 31/32 at The Westin Kolkata Rajarhat, with 3rd Eye Events. As a child, music was something that remained constant in her life. From making mixtapes in school for field trips to playing psy-trance when she was 18 and touring the world with performances at Psy-Fi Festival, Atman Festival and others. The Telegraph caught up with the hitech head with a crazy dressing sense post her gig.
How did your journey start?
I started to play psy-trance when I was 18 years old. I always liked a lot of music and I was the DJ in my school. I was always bringing music to my classroom. I started when I was three years old because we had this classroom and we could choose a track to play before we left (for home). So I was always the one who put up her hand and said: "I want to put on a track!" So the teacher always let me play the track I wanted. Then I started recording on cassettes, so every time we would go for a school trip I sat in front with the teacher and I just kept changing cassettes on the bus. But this passion for music came to me when I saw the psy-trance scene. It is what I wanted to do.
How did you end up playing hitech?
Hitech happened in 2014. I played all kinds of psy-trance. I started with progressive and then full-on psy, then in 2010 I went to Boom Festival and I realised I like dark psy, so I started to play it. Then in 2014 I went to Noise Poison Festival in Slovakia and I just went for one act, Kasatka. I just wanted to hear his music because at that time I thought other music was quite cheesy, because I come from the dark side. After three days of listening to hitech, I realised there's something else behind this music.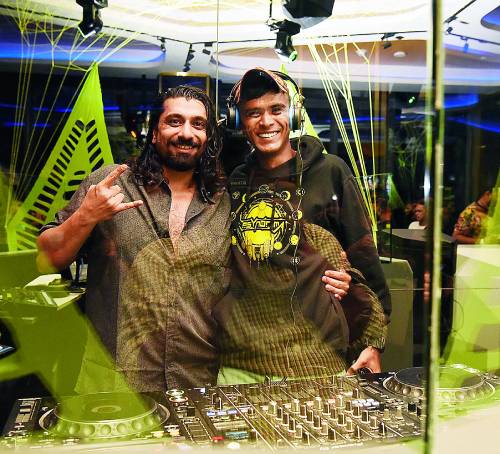 You've been to India before. Do you notice any difference in the music scene?
Actually not so much because now people really want to party and after the lockdown people want to enjoy. The crowd in India is very powerful; I always consider them to be one of the most powerful crowds. They love to dance… the Bollywood scene is also there. All this makes for a crazy crowd… the unexpected is always expected in India. Since 2014 I've been playing in India and it's all about feelings and vibrations.
You recently played at Parvati Valley. How was that?
It was a very beautiful gig, one hour from Kasol in Shilha Village, and the location was beautiful. You needed to trek for 30 minutes down this narrow path. And when you reach the location… what you see is magical. I stayed for three days of which one was for resting. On the second day I did the gig. On the third day I went back to Kasol and went to Manikaran to see the hot springs.
Being in the industry for so long, how have you seen the underground music scene grow?
It is a very underground scene where I come from in Barcelona. It was always free parties; DJs did not know DJs, people would just go and dance. And now people know DJs, their names, you need to pay at the entrance... It's not that underground like before. But it may get commercial but many people can listen to this music.
When do we see you next?
I am coming back in November for a gig in Orissa. From there I will stay for four months. Because I was supposed to play three festivals in Sri Lanka, which were Shankara, Atman and Spirit Gust. But I think it will be cancelled because of the situation. So I will be in Goa.