Manjri Agarwal makes two veggie soups for your kids
I am sure there's an army full of mums battling with the words — "I don't like vegetables". My children have gone to the extent of saying — "We are non-vegetarians, so we don't eat vegetarian food". So that obviously gets me to the question — "How do I get the vegetables into my children?"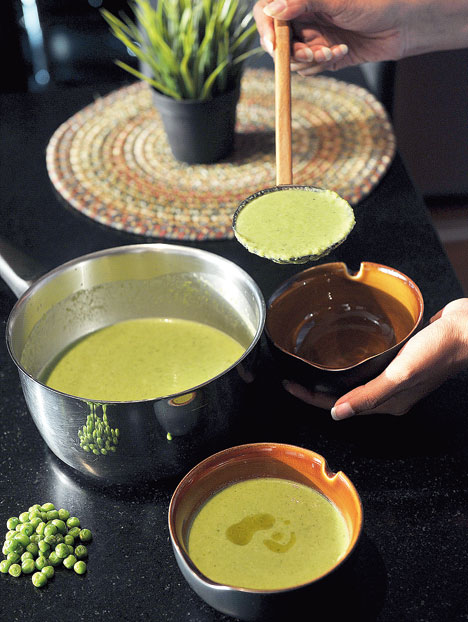 ---
Published 27.08.18, 12:00 AM
|
---
I am sure there's an army full of mums battling with the words — "I don't like vegetables". My children have gone to the extent of saying — "We are non-vegetarians, so we don't eat vegetarian food". So that obviously gets me to the question — "How do I get the vegetables into my children?"

Have struggled over meals trying to innovate ways for them to consume the vegetables that are extremely important for their physical growth and development of the brain. It's our defence system that fights diseases and prevents us from falling ill.

I have tried Herculean methods trying to incentivise them, explain the advantages to them, used the 'angry' tone and even fried the vegetables hoping something will go in. But all in vain as they would remove the covering and leave the vegetable on the plate. And just when my children thought they had won, I turned into Mary Poppins and magically started producing bowls of delightful steamy soup. Little do they know that it's full of vegetables.
So this is how it works:
Plan your daily meals at the start of the day so you know what vegetable would be left out for soup.
Example: Plan a green soup if the meals are high on carbohydrate, or a root vegetable in case the children have miraculously had their green vegetables over the course of the day.
I like to slip in the soup in the evening by 6.30-7pm. It's a great time as the kids are slightly hungry and at the same time it doesn't fill them too much to spoil dinner.
Experiment with colours, tastes and condiments. Add some mini pasta to add body to the soup or some toasted seeds such as pumpkin, sesame, flax or sunflower for crunch. It could be a hit or miss but make mental notes of what they relished so you could make many variations of the same.
It's important not to strain the soup and keep the fibres of the vegetables intact. Foods that don't contain fibre are more likely to be consumed in excess as the fibre signals fullness in our system.
Give innovative names to the soup to aid in re-making it — Magic Soup, Chin Chin Soup or even Spider-Man Soup. Fun names make our children look forward to the soup.
Here I have included the recipes of two soups. First is a pea and coconut soup that I have called The Hulk. There is so much goodness in it, hence the name to make our children feel strong and invincible.

Coconut is a superfood and so readily available in our country. We even have the luxury of getting freshly churned coconut milk instead of buying the canned ones. Coconuts are high in dietary fibre and have a low GI, making us feel full for longer. It also prevents obesity, improves digestion and miraculously reduces our sweet cravings. It's perfect for anyone who is lactose-intolerant and on a dairy-free and gluten-free meal plan.

GREEN PEA & COCONUT SOUP AKA THE HULK

Ingredients:
A bunch of green onions
1tsp coconut oil
1kg peas (fresh or frozen)
400ml coconut milk
50ml vegetable stock
Handful of herbs (basil, mint or coriander)
1 lemon
Salt and pepper to taste
Method

Put a large soup pan with a lid to warm over a slow flame.
Chop the green onions finely and put into the pan with the coconut oil. Turn up the heat to its highest and cook for two minutes, until the onions have softened.
Add the peas to the pan with the coconut milk, vegetable stock and approximately three cups of boiling water.
Cover and bring to a boil. Once it's boiling, season with salt and continue to simmer over high heat for two to three minutes.
Take off the heat. Add most of the herbs, stalks and all, and the juice of the lemon and use a handheld blender to puree the soup until super-smooth.
Ladle into bowls and top with a drizzle of coconut oil or freshly ground pepper.
I strongly believe that your child's meal plan should be colourful. By colourful I mean that there should be a variety of colours from vegetables, proteins and carbs. Greens from leafy veggies, purple from beetroot and brinjal, red from tomatoes and red pepper, and orange from carrots, pumpkin and other squash.

In this recipe I use ripe pumpkin that has a wholesome orange colour, bringing sunshine to your plate. The orange colour comes from the beta-carotene that's present in the plant. This pigment contains Vitamin A, which is essential for healthy skin, immune system and good eye health and vision. We also know that carrots are good for our eyes, and so is pumpkin.
The pumpkin seed is anti-inflammatory, which fights depression and lowers cholesterol. A teaspoon of toasted seeds can boost the amount of nutrients already present in the soup and add a crunch.
PUMPKIN SOUP AKA SUNSHINE SOUP
Ingredients
2tbsp olive oil
1 large onion, chopped
4 cups ripe pumpkin, chopped
3 cloves of garlic, chopped
4-5 cups vegetable or chicken stock
Salt and pepper to taste
1tbsp toasted pumpkin seeds for garnish
Method
In a large saucepan, add olive oil and onion and cook for about five minutes or until brown.
Add the chopped pumpkin and stock and cook for 20 to 25 minutes.
Once the vegetable is soft, remove from flame and let it cool.
Pour soup into a blender and blend to desired consistency.
Heat 1tbsp of olive oil in a pan and add the chopped garlic. Saute until soft and add the pureed soup. Season with salt and pepper and let it simmer for five minutes.
Serve warm in a bowl with toasted pumpkin seeds on top.
Pictures: Pabitra Das
Manjri Agarwal is a food writer and health coach. Reach her on bigplatesmallplate@gmail.com