Man of the world
After winning the Mr World title, Rohit Khandelwal's life has changed beyond recognition but he's setting his sights much higher, says Saimi Sattar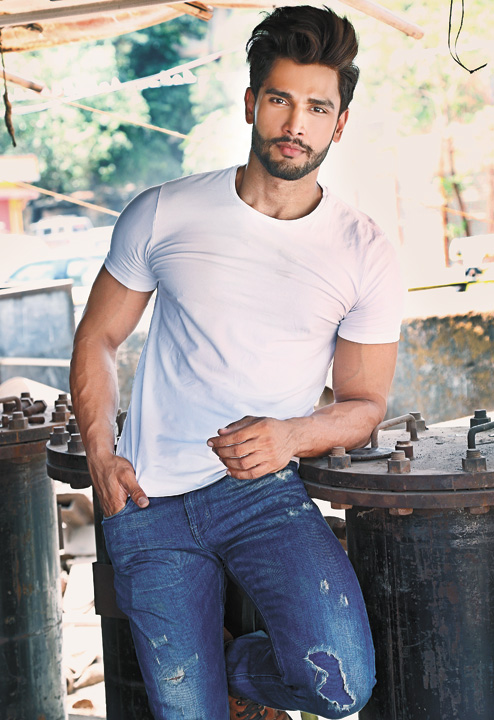 ---
---
First the world and now Bollywood. After becoming the first Asian to capture the Mr World Title, India's Rohit Khandelwal is setting his sights on Tinsel Town, hoping to follow the same ramp to stardom as models-turned-actors Aishwarya Rai Bachchan, Sushmita Sen, Priyanka Chopra and John Abraham. "I know it's going to be hard work but nothing in life comes without effort," says the handsome 27-year-old who Britain's Daily Mail headlined as "the world's most desirable man".
For the next one year, Khandelwal's life will change beyond recognition. He's the global face of the Mr India brand and, between now and December, he will be in high-flying mode, jetting from the UK to China, Korea and the Philippines — amongst other countries. He also has one very pleasant task coming up. "I will be playing an important role in the Miss World competition which is in December," he says, with a grin.
Closer home, too, he has shot into the limelight. He reckons he has done 50 to 60 interviews with radio stations, TV channels, newspapers and websites since he came back from the 12-day competition. Also, he's been on the move, appearing at events and promotions and taking part in social initiatives like cleaning up the Versova beach with Muktangan, a Mumbai-based organisation that educates underprivileged children. "I have to be selective and can't appear at just any place. Money is not the criterion since my organisation Mr World is also involved and I need to be careful," he adds
But he is hungry for more. "I have become a workaholic. Earlier, I loved to catch a movie. Now, I feel I am was-ting three hours when I could have done something more constructive," he says. He even gets angst-ridden if he is in his hometown Hyderabad for more than two days and not working.
If there's anyone though who knows about hard work it's this Marwari boy whose chiselled features give him a movie star air. His mantra is: "Give your best shot to everything. There is no halfway to achieving a goal."
Just look at his meticulous preparation for the Mr World contest held in a cavernous convention centre in the popular English seaside resort of Southport. He snared that title two months ago, beating some 46 other contestants from around the globe. "Everyone at Mr World was prepared but I was just that extra-notch prepared," says Khandelwal, with an engaging grin.
The contest, held biennially, involves 12 days of interviews and demanding physical challenges like running on sand dunes when the temperatures are in the 30°C range. But it wasn't all "extreme challenges". There are five rounds in all — Extreme Challenges, Sports Challenge, Fashion & Style, Talent & Creativity, and Multimedia. There was also the contest to be Mr Photogenic — but Khandelwal had no difficulty with that one as the camera seems to love him!
Khandelwal watched the previous Mr World contest 10 times to get a handle on what the judges were looking for — analysing every aspect of the competition. He took etiquette classes. He practised the answer to why he should be Mr World (a question that didn't eventually feature in the competition) "endlessly", as he puts it. And for the
talent segment, he stole the show, performing Malhari, Ranvir Singh's energetic dance number from the movie Bajirao Mastani. But he ramped up the dance moves — using a sword, a lance and cymbals.
Besides that he used smooth charm to win over presenter Megan Young, the 2013 Miss World, getting down on one knee and presenting her with a red flower that matched the colour of her dress and telling her she was "the most beautiful girl in the world" — while imitating Shah Rukh Khan's famous line in Om Shanti Om.
Winning the male beauty pageant was a "special day", Khandelwal recounts. He called it a "humbling
moment" to snare the title for the first-ever time for India. "It made me so happy," says Khandelwal, who was decked out in a deep-blue suit, shirt and tie when he was awarded the trophy. The moment the winner was announced, he says, "I felt numb, I thought for a second, 'Is this really happening?'" And the amazing dream continued as Khandelwal was garlanded and mobbed at the airport by fans.
What he calls "an amazing, self-transforming journey" really began in Mumbai where he landed up three years ago. Khandelwal, who's given to motivational statements, says attaining goals "starts from baby steps". In his case, he'd come to Mumbai from his home town of Hyderabad to follow his dream of becoming an actor. In Hyderabad, he worked for Spice Jet as part of ground staff for a short while and then moved to Dell, where he worked in technical support. After Dell he worked for a short while at HSBC, where he did the graveyard shift and connected with US customers.
But he always had one eye on the world of glamour and acting became an all-consuming passion. "I was fascinated by acting, totally drawn by the profession — even though nobody in my family has ever worked in this field or any other related creative field," says Khandelwal who describes his family background as "conservative" and pays special tribute to his grandmother who, he says, "holds the entire family together".
In deciding to chase the arc lights, Khandelwal had a big disadvantage. He had no contacts in Mumbai, no one to advise or to help him achieve his ambitions. "I came to Mumbai as an ordinary guy," he says.
When he decided to pursue modelling and acting, he had to make fitness the top priority. He started gymming intensely and walked 3km each way to the gym and back. And in the months leading up to the Mr World contest he forced himself to swallow food that was absolutely tasteless. "I kept myself motivated saying that there were three months or two months to go. After that I could eat whatever I wanted to."
His fitness regime was clearly very effective. The six-footer says he has reduced from a peak of 89kg to a very trim 73kg. And in so doing, Khandelwal has taken the idea of "ripped" to a new level.
"I've grabbed every worthwhile opportunity that has come my way with both hands," says Khandelwal. When he first arrived in Mumbai, he lived in an apartment with five other people. "I went to a random gym and asked them where I could go for auditions. After that, every audition that I went to, I built up my network by asking for more contacts and auditions," he says.
He did some catalogue work, advertising shoots — after three months in Mumbai he was sharing screen space in a commercial with Kareena Kapoor Khan — and got some TV roles. "At every audition, I asked the casting
directors what were the improvements that I could make. This actually became like an acting class for me," he says. Winning the Mr World contest was an early birthday present. He turned 27 just last month.
His brother Rahul, who Khandelwal describes as the "biggest support in his life", says the family was concerned when he decided to pursue a creative career. Initially, it was tough and his father wasn't keen on his son becoming an actor.
Becoming Mr World has been a big boost to Khandelwal's career. Just last month at the Lakmé Fashion Week
Winter/Festive 2016, he walked the ramp for well-known designer Ajay Kumar who was showcasing Benares, his autumn-winter collection. Khandelwal was the showstopper of the night. He says: "From the time I came to Mumbai in 2013, I've been trying to take part in the Lakmé Fashion Week, but I was never selected. This time I was the showstopper and the more established male models I used to admire were standing behind me." Kumar was all praise for Khandelwal who wore white and black patterned trousers teamed with a peach-pink kurta and a cropped mustard jacket. The entire ensemble was rounded off with patterned shoes.
"My clothes are very colourful and he carried them off really well. He walked with a lot of confidence and pride. Off the ramp he was very humble and obliged everyone who wanted to click a picture with him," said Kumar.
Khandelwal says he was honoured to model Kumar's clothes, saying, "He does wonderful work." He adds: "For me, being Mr World is not about extreme sports, for me style is really important." On August 30, Khandelwal was named "Indian of the Year" at the annual 21 Young Guns Award in Goa, an event promoting the achievements of young people in various fields. He says: "I like outfits designed by Shantanu & Nikhil and Nivedita Saboo."
After winning Mr World, he believes that pretty much everything is possible if only people set their minds to the task. "Just follow your heart," he advises. And adds: "Everything is possible."