Made in France, Calcutta-based perfume brand Santieb's is sniffing a whiff of success
Whatsup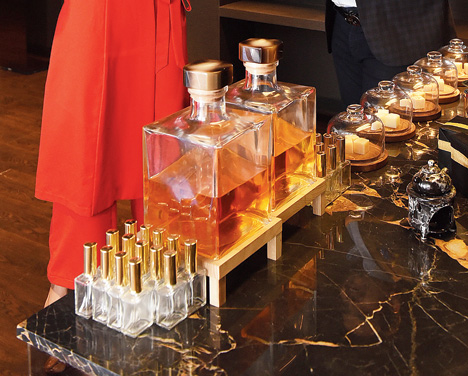 ---
Published 13.09.18, 06:30 PM
|
---
A French perfume brand owned by a Calcuttan, Santieb's Vie de Luxe spells luxury with its fine fragrances in lacquered black bottles. The perfume brand started by Vishal Bamalwa of the Nemichand Bamalwa Jewellers family of Calcutta along with his production manager in France, Alen Habibic, is produced in Grasse, the perfume manufacturing hub of France, for retail in India. On a trip to Grasse for a walk-through of the perfume manufacturing process, Vishal and Alen gave t2 a low-down on Santieb's.
How did you guys meet and how was the brand conceived?
Vishal Bamalwa: I was doing masters in luxury retail management at the University of Monaco and Alen was doing his BBA there. We had common interests and we became friends and this idea was born. Once we started our research and development, we began sharing ideas and it just got better and better.
Alen: What pushed us into this industry is that we stayed so close to Grasse. That made us discover this industry, see what it is made of, see how we could make use of it to create a brand which we would actually export to India.
We really like the French aspect of perfumes. Because we studied here, we saw all the luxury brands that are around us on a daily basis. So we really wanted to create a brand that would meet these expectations of the big French brands. Usually people in India travel abroad to buy French perfumes; we wanted to bring French perfumes to India.
Vishal: The idea started in 2015 and in 2017 we had the products out. We started with Calcutta, with an atelier (24 Camac Street, Camac Square Mall) where we do our display and workshop as well and we retail from there. Now we are finding exclusive dealers in different cities.
How did you come up with the name Santieb's?
Vishal: The word Santieb's doesn't mean anything. Brands like Gucci or Botega Veneta are all based on someone's name, so Santieb's is on my mother's name — Santosh. The brand's name is Santieb's Vie de Luxe… it's an experience, it's a life of luxury. My parents have been a great support and this brand is dedicated to them.
Tell us about the first batch of perfumes you produced.
Vishal: We created nine fragrances — Bete Noire (Black Beast), Ame Divin (Divine Soul), Precieux (Precious), Aube Doree (Golden Dawn), Sabibuk (Awesome), Glace Azur (Blue Ice), Madame Demente (Madam Mad), Baiser Intime (Intimate Kiss) and Chiminique (Illusion). They all have different characters, colours and themes. We have a story that we are selling. We are trying to sell a personality that a person can carry.
For example, the Black Beast has a masculine smell to it, woody and tobacco being the main notes. Precious is very different; it is oud mixed with rose and other floral notes, along with candy notes. Then there is Intimate Kiss, which people almost feel like consuming; it smells so edible.
Since you made the fragrances specifically for the Indian market, what factors did you keep in mind?
Alen: The first and most important aspect is the climate. Because of the humidity, heat and monsoon, it's going to have a very different effect on people wearing the perfume — so selecting raw materials that are long-lasting on the body is important.
You have done other fragranced products in addition to perfumes…
Vishal: We have done fragranced wax — Cheese Fondue and Chocolate Fondue. If you put the wax on the diffuser, the fragrance comes out. Our wax emits white smoke which is not harmful.
You also customise fragrances…
Vishal: Yes. If anyone wants to create a fragrance as gifts for weddings, or a corporate gift or say, for a 25th anniversary, we can make a range of products for them. Anything related to fragrances, it may be perfumes or candles or any cosmetic product or a room fragrance.
When you customise, you make limited quantities of a product. Don't you face a problem of scale?
Alen: That depends on what you have selected. But generally we have the possibility to offer a small number of pieces. What will probably be impacted is the price per unit if the quantity is too small, but we can start at 150 to 200 pieces.
You are a French perfume brand based in Calcutta and of course you are expensive. Don't you think people will have a mindset problem accepting that?
Vishal: Compromising on the cost and price was never a question for us. And we knew that if we are into perfumes, we have to work in Grasse itself. Our products are expensive because of the materials, the effort, the ideas that we put in.
How do you differentiate yourself from the other perfume brands in the market?
Vishal: Well, my smells are unique. The difference is in the concentration of oil in the perfumes. Other commercial products in the market have 17-18 per cent, maximum 20 per cent of the concentration of oil; we are keeping it at 22 per cent, with the Indian climate in mind. Because of that the perfume stays on the body longer. The skin absorbs the oil and then with the heat, the smell emanates.

What is the retail expansion plan?
Vishal: We want to be in Delhi, Bombay and all the metropolitan cities. We would rather be in shop-in-shops because we don't have that much to deliver to open a store.

What's your vision for the brand going ahead?
Vishal: It's a luxury lifestyle brand and we have nine stories to back up our products, so making products like body wash, detergent, shaving cream… even launching fashion and accessories under that theme.
Smita Roy Chowdhury
Santieb's Vie de Luxe is the fragrance partner of The India Story Wedding Diaries, where it will showcase a range of perfumes