Madam Regent
Presenting an exclusive excerpt from the autobiography of director-scriptwriter Tarun Majumdar who passed away this week. This bit on the iconic Kanan Devi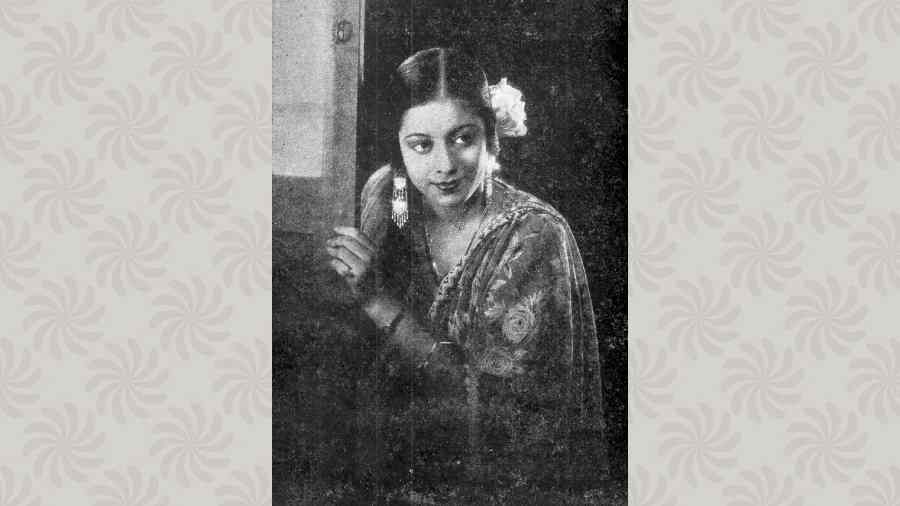 ---
Published 10.07.22, 04:53 AM
|
---
There was quite a breeze that day. The cycle rickshaw seemed to be moving in sync with it. I was clutching in my hand a piece of paper. Scribbled on it was an address — "No.1 Regent Grove". That was where Kanan Devi lived.
I had been told that every other rickshawpuller at the Tollygunge Tram Depot would be familiar with this address and would ferry me to my destination. But that was not quite what was happening that day. No one seemed to have heard of Regent Grove. And upon my repeated query they were staring at each other quizzically.
At some point I took Kanan Devi's name and they collectively rebuked me. "Arre, say that. Kananbala's house. That would be Sujjinagar. Why were you talking gibberish for so long?"
…I rang the doorbell. Once, twice, thrice. Closed gates, a high boundary wall. From beyond it loomed the upper storeys of the great, big house. An elderly Nepali man in uniform opened the gate after a while and asked — Kisko mangta?
I gave him my name and he disappeared. After seven or eight minutes the gate opened. A smart young man, who was about my age, appeared and said in a grave tone, "Yes?"
I gave him my name, told him in brief the purpose of my visit and added, "Err, actually, it was Kanan Devi who asked me to come by, that is why…"
No sooner than the words had escaped my mouth that he jumped to correct me. It was as if I had made a grievous error, for he said, "No no. What do you mean by Kanan Devi? No one refers to her by that name here. To all of us, she is 'Madam'."
— Madam?
— "Yes. Madam. Follow me."
…Asking me to wait, "Now Follow Me" disappeared. When he finally made an appearance, I saw that walking a few steps behind him was she — the one and only "Madam".
In a white tangail sari and hair worn loose, her beauty was like a gentle flame. She saw me standing and said, "E ki? Did nobody ask him to take a seat? Dilip?" Then pointing to a sofa she continued, "Please take a seat. Please. This is really most terrible. Wait, let me order some tea first…"
And so saying she vanished beyond the curtains…
…I had to report to the house every afternoon between 2 and 2.30. That is where the office of Shrimati Pictures [Kanan Devi's production house] was located… I used to work till 10 at night. This involved hours of making copies of scripts by hand. The experience did not go to waste. This is how I got better acquainted with the structure of a screenplay.
It also stoked my curiosity. So what were the scripts of all-time greats like — I couldn't help but wonder. Someone had told me that in the lane adjacent to Metro Cinema, there was a shop that sold cyclostyled copies of Hollywood film scripts. Actually, when those films released in India, they came with the script — you know, just in case the censor board wanted to take a look. Once the film was released, the theatres — Metro, Light House, New Empire, Tiger or Globe — sold the scripts to the newspaperman in the cornershop… I decided to visit that famed lane one day. And what did I see?
They were selling scripts — four annas for one. That was a lot of money, at least for me, in those days. But I saved from my cha and tiffin expenses and tram fare and became the proud owner of a couple of them. Among them were Gaslight, For Whom The Bell Tolls, Wuthering Heights and even Mrs Miniver.
Anyway, let's get back to the story of Shrimati Pictures and Madam. Some people liked to talk in hushed tones about her mysterious past. I was not sure what they meant. I had no way of finding out the truth, nor did I have any taste for such things. From what I saw for myself I can say this, if ever there was a confluence of nobility, dignity, fine taste and great warmth — that was Madam. Whenever I think of her, that image of a serene mother figure leaps to my mind's eye.
On Sundays and other holidays, we would reach No.1 Regent Grove early on in the day according to her bidding. She would organise all meals from breakfast to dinner at her place. There she would be, sitting on the marble floor, using a bonti to cut vegetables or frying plump luchis for all of us. In between, we would be discussing the next film, a screenplay or a musical situation. Since her husband was also the director of the film, and completely new to the job, an extra vigilant Madam paid attention to the smallest suggestion made by novices like us.
…To ensure that the smallest of things were no impediment to the director's creative pursuit, Madam took care of everything else — from daily groceries to handling production-related work. She also sat in meeting with lawyers, barristers, CAs. And she did everything by the clock. It could be that the shoot was on and she was playing the lead, but I noticed how in between shots she would go over the minutiae with the production manager — the expenses under different heads, the budget, the vouchers and the rest of it. 
Those days at No.1 Regent Grove were wondrous.
From the chapter titled No.1 Regent Grove of Cinemapara Diye, published in two volumes by Dey's Publishing. The English translation is by Team Graphic