Lessons about remembrance and healing
Tuning in to a podcast dedicated to mothers everywhere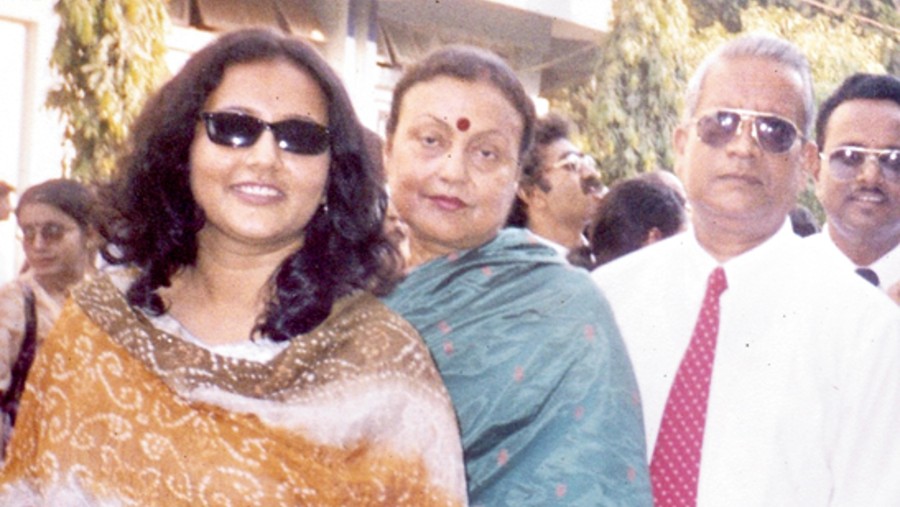 (L-R) Roopsha with her mother Susmita and father Ratan Dasgupta
Sourced by the correspondent
---
Published 20.05.21, 12:47 AM
|
---
Roopsha Dasguupta has held several designations over her career, from being a popular RJ at Radio Mirchi to being an actor. Most recently, she is known as the founder and partner of her company Oops Roops, and even as the host of her very own podcast where she has revealed that out of all her distinguished titles, the one that is closest to her heart is that of being a 'daughter'.
Her podcast, available on iTunes, Spotify, Amazon Music, and her website oopsroops.com, is simply titled Roopsha's Podcast and has recently been host to a touching and personal tribute to her mother, Susmita Dasgupta, who passed away in May, just 10 days after Mother's Day back in 2005 when Roopsha was 23 years old.
In a 10-episode series titled Maayer Golpo Boli, Roopsha dives deep into her ma's life and her transition from being Susmita Chatterjee, a young girl who grew up in the tea estates of Assam, to Susmita Dasgupta, a voracious cook and mother of two, who loved paan, beer and cotton saris and was a quiet but firm presence in the household. "My mother came to Calcutta as a student since Assam didn't have that many options then. She studied at Viharilal College and did her bachelors there. When she got married to my father she officially became Susmita Dasgupta but to many, she remained Jhumur, which is what people would lovingly call her," said Roopsha.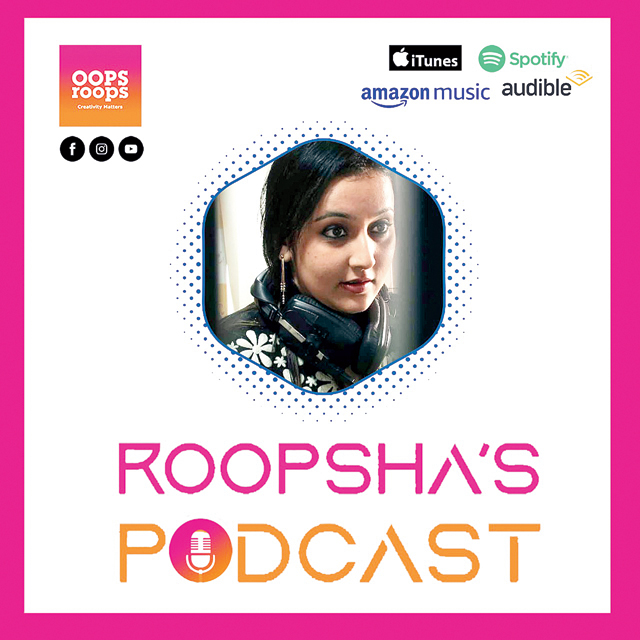 Her podcast charts her mother, as she was in life and as she now exists in memory, as well as Roopsha's own experience with unimaginable grief and loss as she shares how her creativity helped her cope, and how others going through the same pain might find solace in her words and her journey, to heal in their own right. "I hold a masters in psychological counselling so I know that mental health right now, with the ongoing pandemic, is devastated with this constant news of loss. To cope with this you have to find your way to heal. This podcast is my way of healing. To express is my way to heal. I have previously done a film on my mother as well. The future is always going to be bleak and uncertain. The way to cope with it all is to collect and hold on to the happy memories that surround you now. Only the happy memories of yesterday will give you the impetus to move forward," said Roopsha.
Through her podcast Roopsha underlines the importance of living in the now, the absolute necessity of preserving memories, and thereby issues a warning to all generations to be more attentive to their parents — the changes in their health, their wants, needs and their aspirations — as the future is uncertain and not guaranteed to anybody. The episodes speak of regret and remembrance and the burden of both, and how, having lost her mother at such a young age, Roopsha is grateful for having spent her time with her mother well by lavishing her with gifts without waiting for a future date to do so, that she now knows would never have come. Her narration speaks of the importance of utilising the digital age that current generations find themselves in and capturing every moment with their parents –– the good, the bad, and the ugly, for they will keep them company when the person no longer can.
Susmita Dasgupta is therefore celebrated by the words of her daughter who shares many instances and anecdotes from her mother's life. The stories of her mother range from them silently listening to Roopsha's voice over the radio at three in the morning that was always accompanied with her silent indignation for her daughter to be given a better time slot, to her mother's delight with her very first Mother's Day present of ilish maachh from her favourite restaurant, because it saved her from cooking dinner for the family that evening. Roopsha's tender stories of her mother are moving and relatable to her listeners who have since shared many of their own stories with her. "This started with my mother's story but aamar, tomaar and tomaader all have the word ma in them. So I want all our mothers to connect and for all of us to be appreciative of them no matter where they are. There is something about mothers that make them universal. Their worry, their love, their affection, their selfless sacrifices –– this is not just the story of my mother but that of all the mothers of the world. So from now on, every week on Fridays I will continue my podcast to narrate not just my stories, but the stories of my audience too. We should all collectively express ourselves to celebrate and preserve our mothers and hope that this token of remembrance makes them happy, wherever they are," finishes Roopsha.
Maayer Golpo Boli therefore comes as a welcome and nostalgic journey of healing and remembrance, dedicated to "ma", in times that are threatening at best, and catastrophic at worst, reminding us of what is important and how we must be grateful and aware of what we have, before it becomes the thing we had.