Khan and Khan-not
So what lured KRK to Mumbai when there was a lookout notice against him?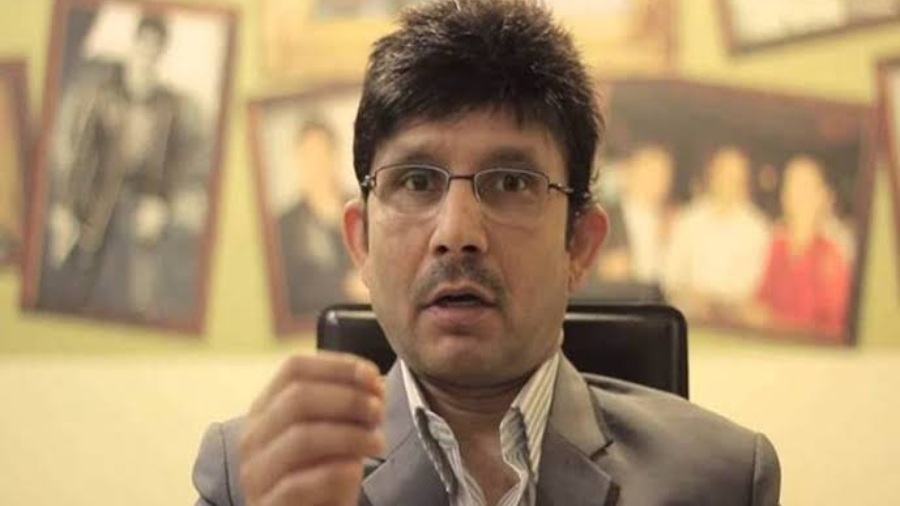 Kamaal Rashid Khan
Twitter@Razaullahshaiq
---
Published 04.09.22, 04:08 AM
|
---
Ek machhar aadmi ko hijda bana deta hai, which roughly translates into "A mosquito can turn a man into a eunuch", was a popular line in a 1997 Nana Patekar film. In 2009, when an unknown participant called Kamaal Rashid Khan came out of the Bigg Boss house and began to market himself as KRK, he seemed so inconsequential that I for one never dreamt I'd one day write about him. But ensconced in Dubai, the irrelevant filmmaker morphed into a self-styled film critic and commentator, building a following of 114k on Instagram, over a million on his YouTube channel and more than five million on Twitter. Whether Khan, Kapoor, Devgn or Roshan, he offended everybody which probably appealed to those who tracked him.
One still had the option to waive him away but when his arrest made front-page headlines last week, there seemed more to it than met the eye. He had been bothering the superpowers of Mumbai, who were particularly irked when #BoycottBollywood trended simultaneously with economic defeat at the box office. And KRK had been feeding the public one insulting story after the other, even tweeting that he was so disgusted with the Khan surname, he was changing his own to Kumar. He'd henceforth be known as Kamaal Rashid Kumar.
When he was arrested over ostensibly objectionable tweets put out in 2020, it was curious. If a lookout notice had been registered against him, why did he come to Mumbai? One whisper was that he'd come to close a deal on his Mumbai house, which he'd been wanting to sell for some time. Another said he'd been called by certain filmland names for a "settlement". Neither made sense. A power of attorney could've taken care of his property sale, and negotiations of any kind could be made without physically landing in Mumbai. So what lured KRK to Mumbai when there was a lookout notice against him?
One thing is undeniable. His arrest sent some of the biggest film industry names into celebratory mode. Another fact: there have been several off-the-record decisions to hit back and tear into the boycott brigade. For the beleaguered industry, the downfall of the pesky critic who had nuisance value was like one down, several more to go.
Setting aside their traditional rivalries, certain top heroes had also begun to ask a couple of critics to go easy on their colleagues' films. For instance, it wouldn't be Aamir Khan himself but others who'd tell critics reviewing Laal Singh Chaddha that we need to stand by one another when the industry is in such dire straits. We'll see if that works when the Rs 400 crore Brahmastra is released next week since it has become the test case on which the film industry has pinned all its hopes.
After an impressive Wake Up Sid and Yeh Jawaani Hai Deewani, Ranbir Kapoor and director Ayan Mukerji's third outing together has everything going for it. A special effects spectacle would've cost Marvel Studios nothing less than Rs 15,18,55,23,397.50. Also, Ayan has stayed undistracted with Brahmastra for seven long years; sources say he's barely made Rs 5 crore in all these years. If it turns out to be engrossing, who'd care that the lead actor was a beef-eater? Ranbir's father too had tweeted that he was a beef-eating Hindu and nobody had objections to watching him on screen.
Brahmastra also has multi-pronged strategies in place. No pre-release screenings for the media and to avoid further controversies, no interviews with Ranbir-Alia. It's all eyes on Brahmastra as the saviour to breach the boycott.
Meanwhile, for those gleeful over Karan Johar's losses in Liger, his investment was zero, he didn't put a rupee into it. He merely lent his name to Liger, so thus far he's unaffected.
PS: Muhammad Kutty Ismail Paniparambil may be known as Mammootty, the Kerala thespian, but son Dulquer Salmaan flaunts his real name. His Sita Ramam, already a huge hit in Tamil and Telugu, has just been released in Hindi. Without appeasing anybody, it does more for humanity on both sides of the border than all of Kabir Khan's films put together.
Bharathi S. Pradhan is a senior journalist and author