Jingle all the way
Read more below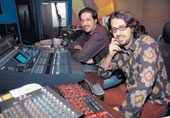 ---
Published 29.07.06, 12:00 AM
|
---
Salim-Sulaiman (left) for Visa credit card

Everyday and every hour You've got the visa power
There's so much more you can discover When you've got the visa power
It was a special tune composed by superstar composer A R Rahman and its sounds included the sounds of waves rushing to the shore, fishermen's chants and even birdsong. Nope, it wasn't his latest composition for a West End musical or even a new mega-hit for the Hindi screen. It was Rehman's latest composition for WorldSpace Satellite Radio.
"It's all about establishing that connect between the radio and its listeners," says the music director who is also the brand ambassador for WorldSpace. If you think that Rahman and jingles don't gel, think again. He has banged out about 300 jingles from his keyboard and, in fact, started his career by composing these short, catchy tunes for the advertising industry.
There's only one difference from the old days for Rehman. In those days he was doing jingles to keep body and soul together and keep the earnings up. Today, he's certain to pick up a huge cheque for his efforts.
Shantanu Moitra for Coke featuring Aamir Khan

Meri pyaari bindu
Meri bindu re bindu
Rahman isn't the only top composer who's mixing hype and high-decibel music for the advertising industry and being rewarded richly for his efforts. Today India's top music gurus are in great demand as advertisers are tapping them to liven up ad film audios even as they enlist the expertise of film directors such as Ashutosh Gowariker and Kunal Kohli to transform commercials visually.
"Advertisers are discovering that these musicians have perfected different music acts including techno, Indian classical and Western tunes. This gives them a great edge over other singers," says Prasun Joshi, regional creative director, South & South-East Asia, McCann Erickson which has worked with composers like Shantanu Moitra and singers such as Kailash Kher.
Sawan Dutta for OCM

Just touch it once and you'll feel it everywhere A man set free
OCM, OCM, OCM sets you free
So even as you love Kunal Ganjawala's sizzling Mallika Sherawat number, Bheege Honth Tere, you may find yourself humming his doodh ad jingle that was made years ago, but which lingers in people's memories. And Kailash Kher's Allah Ke Bande may be your top favourite, but he may also convince you to buy the summer talc, Dermicool. Shankar-Ehsaan-Loy's Go Fida ensured that you gave the Ford Fiesta a critical look.
Top musicians are obviously not shying away from jingles. In fact, they are doing more than ever before. Music directors Vishal-Shekhar (who've done jingles for the Maruti Alto, the Limca ad featuring Ria Sen and the Mirinda one with Zayed Khan) make sure they have time for about five or six jingles a month. "It's a huge respite from the filmy world," says Vishal.
The other current favourites who've made their name in the jingle industry are music directors/producers such as Salim-Sulaiman, Vishal Bharadwaj, Leslie Lewis, Shantanu Moitra and Pritam Chakraborty and singers like Shaan and Sagarika who are lending voice to these short tunes.
Perhaps it's not surprising that the country's top music directors and producers have almost all worked closely with a bevy of ad agencies ? McCann Erickson, HTA, Ogilvy & Mather, Genesis, Mudra and others. The Dermicool 'hook' (or jingle) has become so popular that the singer is often requested to belt it out once more. Recently, at a school function the children pleaded with him to sing it. Says Kher, "It was flattering and just as surprising that they recognised my voice in a jingle and remembered me because of it," he says.
A R Rahman for WorldSpace

If you listen carefully, there is music in everything
There is only one way to understand and enjoy music You just have to keep listening
There is so much to hear
And each time actor Saif Ali Khan coaxes you to pick up multiple packs of Lays potato chips, it's to tuneful jingles composed by the popular Salim-Sulaiman duo.
Take a look at Shantanu Moitra who has been creating memorable tunes in recent years. He was the composer behind catchy tunes such as the funky epang opang jhopang for Horlicks and the amusing Coke advertisement which sees Aamir Khan dressed as a Bengali bhadralok who breaks into: "Meri pyaari bindu/ Meri bindu re bindu..."
Or, look at music trio Shankar-Ehsaan-Loy who have a soft spot for jingles especially since they got their first break into films with late filmmaker Mukul Anand's Dus thanks to their jingles. Ehsaan says that their most memorable ad jingles have been for Ford Motor Company (the Go Fida campaign), Close-up, Cadbury Perk and the fresh '' frothy Oye Bubbly Pepsi ad.
The number of jingles that some of the best- known music directors have churned out is proof of how busy they have been at it ? Moitra has composed some 1,500 jingles while Vishal-Shekhar have nearly 1,000 in the bag. Salim says that from composing 20 jingles a month, the musical duo has scaled it down to two a month. "We do jingles mostly for friends. And they become meeting points for us," he says.
Vishal-Shekhar (left) for Maruti Alto

Boondon mein jaane kya naya re
Nachtee, balkhatee, lehratee, ehratee, nakhre dikhati boondein
Tan man pighlati boondein Boondein mein jaane kya naya hai
But what are these singers doing in the world of jingles? Well, for many of them like Rahman, Moitra, Shankar-Ehsaan-Loy, Kher and Ganjawala, jingles kickstarted their careers.
Moitra's first brush with composing music professionally happened while he was a client servicing executive with an ad agency. One day, there was a crisis and Moitra was asked to step in and compose the tune for two lines: 'Bole mere lips. I love Uncle Chipps'.
"I composed those lines that were given to me by Pradeep Sarkar (director of Parineeta fame), who was then the creative head at the agency. The client loved it. Thereafter I was composing in-house jingles with which came the realisation that it had the potential of being a serious profession. I left my job and started my musical career with jingles," says Moitra.
Moitra insists that it isn't tough to turn out a quick jingle in between making music for the movies. "If I really like the ad, then I take time out between my schedule, as I did in between the dates for Munnabhai Meets Mahatma Gandhi. I recorded the jingle for Prasun Joshi's Happydent gum ad. The jingle goes: 'mera man roshan, mera tan roshan'. I always prioritise jingles because that's how experimentation happens and it's unwind time for me."
Kailash Kher for HDFC Insurance

Na sar jhuka hai kabhi
Aur na jhukaenge kabhi
Jo apne dam pe kare Sach mein zindagi hai wahi
Jingles have been the stepping-stones to recognition for many singers. Kher who is known for the unconventional texture of his voice, first gave voice to a Hero Cycles jingle. The music was composed by Salim-Sulaiman. Three other jingles later and he was signed on by Vishal-Shekhar for Allah ke bande. "It was the big break of my career and awards for best playback singer streamed in for it," says Kher. "Suddenly people wanted me to sing for them."
For most musicians who have made it big, retracing their steps to the world of jingles is today a way of recharging their creative batteries. It helps if this palate cleanser earns them fat cheques. According to ad guru Prahlad Kakkar, the moolah rolls in pretty fast and at the rate of Rs 35,000-45,000 and often Rs 1 lakh per jingle for top-class music directors or producers. The singers are paid slightly less.
Kher bought his first flat with the Rs 40,000 that he got paid for a Bombay Dyeing ad jingle in the early days. He says, "I do jingles all the time because you do a small job in a short time ? and get paid rather well." Moitra agrees, "My bread and butter comes from jingles. It's quick bucks as compared to the film industry."
Shankar (middle)-Ehsaan (right)-Loy (left) for Cadbury Perk featuring Preity Zinta

Kabhi zindagi lage bhari
Kabhi halki halki
It may be a quickie but creating a jingle that strikes the right chord is also a huge challenge. "That's another reason that the big names from the film industry are being drawn back all the time," says Ehsaan.
As opposed to creating film or video music, in which the mood builds up slowly, a jingle is about grabbing attention in mere seconds. "You are selling something and trying to outsell someone else. You have to be different ? be it with sounds, silence or simply weird elements," says Sawan Dutta (music producer of Chai Pani) and the recent video with 3D-item girl Lady Chatterjee) who has composed jingles for brands such as Creative Lines and Alpenliebe.
Working along with ad filmmakers is also good training for musicians who want to work in the film industry because they have to synchronise the visuals and the music. In short, they are good training grounds. Ehsaan points out, "Jingles give you a cutting edge. Some of the best music directors of Hindi films have tried their hand at 30-second jingles, but they have not been very good at it. For not only have you to say your message crisply in a very short time, but you also have to create a good background score," he says.
Kunal Ganjawala for National dairy development Board

Garmi main dalo doodh main ice
Doodh ban gaya very nice
Piyo daily once or twice
Mil jayega tasty surprise...
It's this fun aspect and challenge of composing such quick numbers that moves the duo of Vishal-Shekhar to compose jingles.
Moitra's song Raat hamari to in Parineeta that climbed the charts, was a direct outcome of the sound designing skills he picked up in the jingle industry. "Experimentation happens in jingles. I incorporated the sound of crickets in Raat hamari to. Normally, in film music you don't have people using such effects," says Moitra.
The emphasis while making an ad film is on making the audio as entertaining as in feature films. So there is the option for these musicians to dabble in different forms of the art. "It is necessary that you know about these styles intimately. For the jingles I sung for drinks like Fruity and Limca, I used the reggae style. Similarly you can use rock, pop, Indian classical or Western classical ? whatever goes with the mood of the ad," says Ganjawala, who has sung over 2,000 jingles for brands such as Action Shoes, Limca, Fanta.
Joshi sums up the lure of the jingle, "It's instant gratification, a mild flirtation and of course a fast (and moderately big) buck." And one that leaves you with a high-pitched dilemma: to buy, or not to buy?
Photographs by Gajanan Dudhalkar, Sanjit Kundu and Pabitra Das