Ivory prince
His runways often look like a cascade of pristine off-white. And flamboyance is as much a part of his personality as subtlety. Delhi-based designer Rohit Bal — Gudda to friends — rewinds to the sign of 3 in his three-decade-long career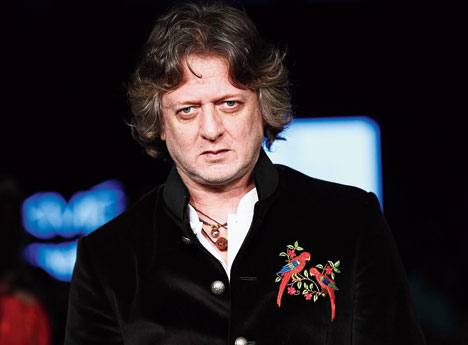 ---
Kashmir
|
Published 25.03.18, 12:00 AM
|
---
3 LOVES OF MY LIFE
Kashmir: I was born and brought up in Kashmir and I was born and brought up in a Kashmir that was paradise. It was a place which was touched by god I think. Everything there was naturally spectacular, beautiful — from the people to the climate, the weather, the flowers, the fauna… I mean everything there. I could actually imagine God living there. So obviously for someone brought up in Kashmir in the mid-60s, it was like a fantasy land. The meadows of Gulmarg to the streams of Pahalgam, the mountains and the lakes..... There is a very famous quotation in Persian that says 'If there is heaven one earth it is this, it is this, it is this'.
My love affair with Kashmir was very natural, and I was a sensitive child, so I reacted to that beauty all around. I grew up in a heavenly home where you open the window and you fell into the lap of beauty, a completely idyllic existence.
The lotus: While growing up in Kashmir, floating through the lakes, the famous Dal Lake, on shikaras or dungas, you are actually floating through these lotus fields, these floating flower gardens. What reaches out to you are the magnificence and at the same time the humility of the lotus… the fact that it manages to grow in that dirty water. The form of the lotus, the natural beauty of the lotus…. It's also the flower of the gods… you see goddess Lakshmi standing on a lotus.
Also, while growing up in Kashmir, one is exposed to a lot of the Mughal architecture where the lotus is used extensively, whether it is the Chashme Shahi garden or the Shalimar Bagh, all the Mughal gardens there. Obviously as a growing child I became more and more obsessed with flowers, I was obsessed with magnolia... we had magnolia trees in our house. Then walking through fields of saffron in Kashmir… when you are walking through a saffron field in a moonless night you feel like you're in the middle of the ocean, with a breeze blowing amidst the purple and lilac flowers…. So these sights and memories are so embedded in my mind that no matter where I am, I am constantly going back to those.
Ivory mulmul: I remember the first collection that I made, in 1989, it was entirely made of mulmul, in its raw state, unprocessed mulmul. The mulmul that I use even today is unprocessed. So mulmul became a passion for me, the colour ivory became a passion for me. I started being associated with mulmul; the minute people see a mulmul outfit, they think it is Rohit Bal. And then I started the whole concept of using 50-80 metres of mulmul in one outfit, and that itself became a rage.
So this is a long-time love affair, which is still going on. It hasn't stopped. I still start or end every show of mine with at least 20 pieces in ivory mulmul. There again the humility and the basic quality of mulmul is what I love, it's the most basic of all fabrics. Look at history, India was exporting muslins to all parts of the world, 5,000 years ago. Of course we have khadi that signifies India but that is only after Gandhi. Much before, in the Maurya period, the Gupta period, muslin or mulmul became a symbol for Indianness. Mulmul in its purest form, without any colour on it, you crinkle it, you block-print it… you do whatever you want but it still remains on the top of any list of fabrics in the world.
3 DECISIONS THAT CHANGED MY LIFE
The most important decision was to become a designer (laughs). Our family had a large export business and I obviously started working there, with my brother who had started the business. So I was dabbling in fabrics for the export company. Then I took the decision that I would stop doing the export and would launch my label.
A very important decision I made was that the first few years of my life, I only did menswear. It was much later that I started doing womenswear along with it. You know I was probably one of the first menswear designers in the country, and also the first to actually bring about a change in menswear… to do the long sherwanis, angrakhas.
Another very important decision was to move out of Kashmir and come to Delhi. I don't know what I would be doing if I stayed on, so the whole course of my life changed with my move to Delhi. When I came here I decided to do a course in NIFT, which gave me a solid foundation in fashion.
3 MILESTONES IN MY CAREER
I think a very important milestone in my life was when I joined Ensemble in Bombay. It kind of made me pretty much what I am today. Also, before that what gave me instant national fame was when I just started out, I was asked by Vimal, from the Reliance group. I was asked by Mr Ambani to design the Only Vimal campaign. Designing was okay, but what they did was they put a picture of mine with a write-up of mine with every ad that they released. It was a huge thing… because it was visible in every part of the country and that gave me national recognition overnight. This was when I was very, very young, in the early Nineties… that kind of opened the door for me. To get recognition all over the country, from villages to cities, is not easy and I will always be grateful to Reliance for that. They made me a household name.
Another important milestone would be my association with Omega. I was with them for many many years… it is a huge global brand. As part of Omega I showed in Paris, in other parts of the world, so that opened the global window for me.
3 OF MY LOOKS CLOSEST TO MY HEART
The first look is always going to be what I do with mulmul and the crinkled, long, flowing garments… that's my favourite look… I started making them in 1993 and still make them exactly the same, maybe with slight variations in colour. I love that and women can't have enough of them, even women who have 10 of them would buy another one when a new one comes out.
My all-time favourite collection is one called Pietra Dura in 1995-96. Pietra dura is a kind of stone inlay art, a technique you find in huge monuments like the Taj Mahal. I still do pietra dura every season and my inspiration comes from the Taj Mahal.
The third would be a collection inspired by a design from Turkey… it was all in blue. I was in Turkey for some time and was inspired to do this collection, it became very, very popular. It was definitely one of the better collections I have done. But of course each time I do a new collection I think it's better than the last one (laughs).
3 PEOPLE WHO HAVE INFLUENCED MY DESIGN SENSIBILITIES
I would say Jean Paul Gaultier. I was a huge fan of his, I admired his courage and approach to fashion… from funk to traditional and craft-based. Then there was Yohji Yamamoto and Comme de Garcon.
But the one person who is responsible for anything and everything that I am today is definitely a person called Rohit Khosla (fashion designer). He unfortunately is not with us anymore. He was the one person who literally taught me to be a designer. I still remember the day when he came to my house, picked me up, took me to Chandni Chowk and said now buy fabrics and make clothes. No other person in the world has helped me as much in making me what I am today. Then another person is my elder brother Rajiv, in whose export business I learnt everything about fabrics.

3 THINGS APART FROM CLOTHES I AM PASSIONATE ABOUT
Fragrances: I have always been obsessed with smelling good… the biggest put-off for me when I meet somebody is if they're not smelling good. I have a large collection of perfumes and I go through them like a hot knife through butter (laughs). I also go through various phases with fragrances. My all-time favourite perfume is an old one from Christian Dior called Sauvage.
Talking about my own line of fragrances, I have four for women and four for men… the names are very Indian. One is called Aab, which means water; another one is called Oas, meaning dew; Vana which is forest, and Oudh which means oud. They're selling really well and I am very happy about that.
Food: Food is my other passion and my favourite cuisine in the world is Kashmiri. And I have the most amazing Kashmiri chef in the world at home… he makes the most delicious Kashmiri khana. All my friends from all over travel to have Kashmiri food made by him. On the one hand I like Kashmiri food and on the other I love oysters. I can live on oysters, crab and caviar and ravioli. So my taste in food is quite extreme.
My restaurant (a chain called Veda with outlets in Delhi and Mumbai) happened when a friend living in New York came up with the idea of opening a restaurant together. We opened this restaurant with pure Indian food, but our clientele is only foreigners, so we do Indian food which is for foreigners. We do Kashmiri food festivals there, but I didn't do a full Kashmiri cuisine restaurant because Kashmiri food you can have only for a few months in Delhi, the moment it becomes hot it becomes difficult to digest because it's mostly meat. But we do have some Kashmiri dishes on the menu like Rogan Josh and Yakhni.
Jewellery: I have always had a passion for jewellery. I still remember my mother and my four sisters wearing jewellery… and jewellery was always being discussed. I have over the years done jewellery collections in collaboration with different people. Now very recently I have done a collection of costume jewellery with Swarovski… very funky, very 1940s-50s glamour. When I look at a person at a cocktail party, the first thing I would notice is the jewellery they're wearing.
My favourite stones are emeralds and rubies and not diamonds. I like jadau, polkis… I don't like Western jewellery, I like Indian jewellery. Though I have always liked jewellery, I have never liked jewellery on men. I myself just wear a ring and a chain with rudraksh, and sometimes maybe a brooch, but that's about it.
3 BRAND COLLABORATIONS I AM PROUDEST OF
There have been many, many collaborations that I am proud of, for watches, jewellery. I had a great collaboration with Omega. I had a great collaboration with Viva, a Mediterranean brand. Then I have a lifetime collaboration with one of the biggest carpet companies in the world called EGE, I have designed many, many carpets for them. I have a great collaboration with Swarovski.
And my best association, which gave me unprecedented fame, is with Linen Club. I have endorsed their products for 10 years, I have done their campaigns for 10 years. It is truly one of the best associations I have ever had.
3 THINGS THAT MEAN LUXURY TO ME
Number one is time… the most important. Time translates into all other forms of luxury. Another luxury for me is bespoke… anything made by hand. Also very fine food, that's extreme luxury to me. For me luxury cars and homes don't matter. We all work, we all earn, if you can afford fine food at the end of the day, that's extreme luxury.
3 THINGS I SAY TO NEW DESIGN INTERNS IN MY COMPANY
There's absolutely no shortcuts to success… that's very important. Then I would say stop being other people, I want to see your designs, I want you to express yourself… I don't want kauwa chale hans ki chaal.
Three things I like about my muse ARJUN RAMPAL
The most obvious thing would be that he is one of the most handsome men in the world. He is a beautiful man… that's one aspect from the designer point of view. Then the fact that he is a fantastic friend, he is always there for me. He has incredible values of friendship. And no matter what, and I don't know how to measure success commercially, I think he has a kind of dignity that very few actors have. He's stuck to his own, he's created a niche of his own. I respect that dignity.
QUICK 10
My muse Arjun Rampal
My it silhouette Voluminous
My style Understated elegance
My brand Breitling
My city Florence
My holiday Goa
My music All kinds
My books Classics
My films Bizzare movies with a twist
My fave among my peers Sabyasachi