'It started with playing clown in the family'
His father wanted him to become an English teacher, but he loved acting. And in this chat Adil Hussain plays master negotiator, refusing to be drawn into matters controversial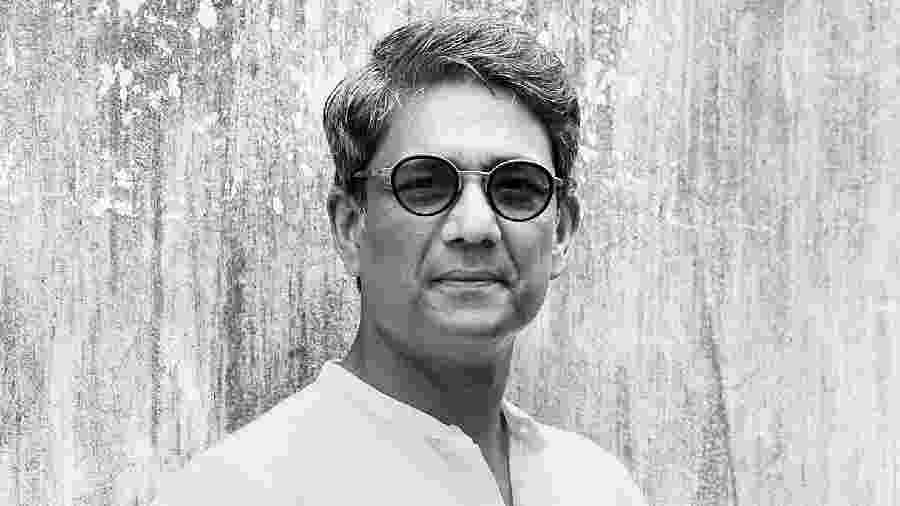 ---
Published 08.01.23, 03:33 AM
|
---
The year was 1999 and Adil Hussain was performing at the British Council in Delhi. His Othello: A Play in Black and White had the audience rapt — one remembers even the specks of dust that broke through the column of light as he lay on the wooden stage, flailing his arms, crying out. An image got embedded in the mind — of a highly passionate, articulate and potent actor.
Cut to a recent winter afternoon. Hussain apologises for being late for an online interview; he had been making lunch for his son who just got back from school. "I made a burger, the bread too. When I cook, I do it from scratch," he says from his Delhi home. That's the thing about him — his spontaneity about talking cooking, but we shall get to that later.
For the handsome 58-year-old, a career in acting was an involuntary act. It started early as "the clown in the family". Those were his childhood days in Assam's Goalpara, when acting meant imitating Bollywood heroes and sometimes teachers too! His first performance was at age eight, in a school skit. "Half an hour felt like five minutes," he recalls, also mentioning the applause that followed. The love went on and on, despite his father's wish for him to become a professor of English.
But there's another love... and some confusion too. "I don't know which I love more — acting or teaching," he says. Not many would know that the actor has been conducting theatre workshops even before he started acting. "I call it 'teaching' for lack of a better word. Perhaps the closest would be 'sharing', for it teaches me more than I can hope to teach," he says.
Hussain has worked in an array of productions, in more languages than most, and won numerous awards. Which was his most difficult role? "In a Marathi film called Sunrise. I play a father searching for his daughter, even 10 years after she was kidnapped." Part fantasy, part reality, it's a grim tale about the father's anger, frustration and helplessness at not being able to do much despite being a police officer. There's another — Nirvana Inn, a psychological Hindi horror film. "I play a man who wants to commit suicide. He makes a boat capsize. It is full of people and everyone dies barring him. I didn't know how to play that kind of trauma and guilt." And favourites? Mukti Bhavan (Hindi) and Maati (Bengali).
We get talking about films and web series from the recent past, all OTT releases. Does he agree with what every other cinema lover has been saying — that Bollywood lost the plot? He says, "Our producers, directors and star actors have failed to fathom the change in viewers' tastes that took place during the lockdown. People had access to different kinds of content from across the globe, right at their fingertips. They have become used to a certain quality."
I ask him about what he had said in a recent interview — that the role of cinema is to bring people together, especially in times such as these. Doesn't cinema have an existence on its own, a value irrespective of what good it must do? The actor response is exhaustive.
"For this, we need to ask — how does the action of a human being qualify as art? It cannot be that a person is suspended in time or space — so the work too is related to the environment he or she is in, the dreams he or she nurtures, the ideas or worldview he or she has... In that sense, it's conveying something. I'm not saying we should make films with messages...
But keeping intact the aesthetics of art, when you are using a powerful medium such as film, you are surely trying to express something. As soon as the camera opens, there's something in the frame. Great photographers and film directors always make sure of what goes inside the frame. That is a deliberate choice, so it is always saying something. Now my point is — when you say something, what do you say? Are you saying something to divide people? Are you talking about the importance of human relationships? Is your expression elevating human existence? When people are being pitted against each other — that's where I have a problem."
I push into unwelcome territory. What does he have to say about a certain film that has led to passions flying, shunned by some as "divisive"? It's obvious what I am referring to. Hussein refuses to answer this while saying, "You have all the right to ask any question." What about the furore over the criticism of the film by the jury head of IFFI? The same response — "No, you will not get it through my mouth."
Clearly, it's time to turn to more pleasant things. When he's at home, Hussain reveals, he can be found quite often in the kitchen. "Assamese, Bengali, some Kashmiri, Malayali, some improvisations... Also, dishes from Western cuisines, since my son is fond of those," he is visibly excited. He pronounces in chaste Bangla — shorshe diye tangra machher jhal, ilish bhapa, rui machher kalia... He is yet to learn to make shukto though.
Then he says, "I'm comfortable cooking for 40 to 50 people; I have cooked for even 100." Now that's something, I think. "I cooked for the entire crew of English Vingish while in New York — Assamese masol tyanga or machher tok, with panch phoron, onion and tomato, a Kashmiri Pandit mutton, kankrol bharta..." It's obvious this too is love, for the man can go on and on.
In the meantime, a link to Sunrise reaches my inbox. And I wonder which I should watch first — his latest Mukhbir or this one.
Tetevitae
1963: Hussein is born in Goalpara, Assam
1983: Joins B. Borooah College in Guwahati for bachelor's in philosophy
1990-1993: Studies acting at Delhi's National School of Drama and thereafter at the Drama Studio in London
2004-2007: Trains students at the Society for Artists and Performers in Hampi; also a visiting faculty at the Royal Conservatory of Performing Arts at the Hague and at NSD
2002-2003: Makes his TV debut with Jasoos Vijay
2012: Lands his first major roles: Agent Vinod, Mira Nair's The Reluctant Fundamentalist and Ang Lee's Life of Pi. Stars opposite Sridevi in English Vinglish
2017: Wins the Special Jury Award at the National Film Awards for Mukti Bhawan and Maj Rati Keteki