Zaeden on becoming a singer & more
Shy guy in person but the DJ-turned-singer doesn't hold back his feelings on his new album, Genesis 1:1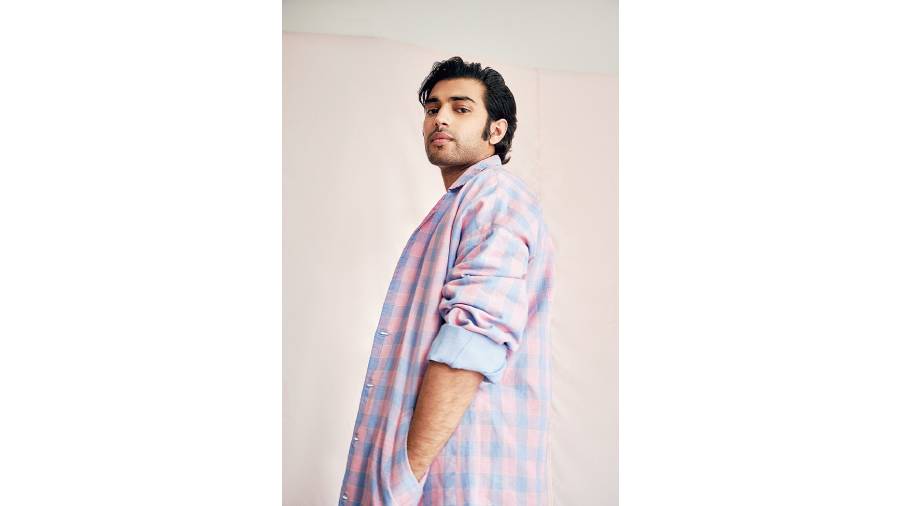 ---
---
When city owls hear that Zaeden is about to perform at a club, you are assured of a packed turnout. This was the case when he was DJ Zaeden and the only thing that has changed — and yes, it's a big change — is that he is now simply Zaeden, the musician. Once success came in heaps, the 26-year-old stepped away from the console and released his first single as singer-songwriter in 2019. The track was Tere bina. Move to 2021. His new album is titled Genesis 1:1, which contains 11 songs and has a mini documentary about himself, one in which he speaks about the transformation of Sahil Sharma from being a DJ and producer to a singer-songwriter. The album, which was launched on his birthday (July 2), also features artistes like Aakash Ravikrishnan, Tom Norris, Nischay Parekh and Hanita Bhambri. Here's more from him.
Now that the album has released, how are you feeling?
I am really excited. I have been waiting for the album's release for a while now and after all the delays, I'm happy that it's finally out. It took me about a year to put it together… it was actually ready in seven-eight months but there were a few delays. People love the songs. Now I'm looking forward to the promotion and the response.
The album is about your journey from being a DJ and producer to a singer-songwriter. Have your fans accepted the change?
All thanks to my team, we had a very strong build up. I started off by doing some covers and after that I put up my first single, Tere bina, and by the grace of God, it did really well and put me on the map as a singer-songwriter. After that I started to focus on my sound rather than a song in general and that's when Kya karoon happened. After the song I thought I had a sound and I started working on a bunch of new tracks, of which a few demos turned out to be the songs on Genesis.
Since it is your journey, you had to put yourself out there. Is that something you feel comfortable about?
Honestly, I am comfortable. Music is the best way for me to express myself and I remember writing songs like Duria during the first lockdown. These songs are very close to my heart; it's literally a part of me. In person, I am a shy guy but when it comes to music I love to open up about my feelings and all these songs are a result of that.
The album also features Tom Norris, Nischay Parekh and others. How have they influenced the album?
There are different stories with different producers and engineers but, at the same time, I was really excited about working with Nischay. I am a big fan of the duo Parekh and Singh, and I jumped in to get the song Jaaye na tu going. The process was very fast; it was inspiring to work with Nischay. About the other songs, Polar Beats produced, I would say, 50 to 60 per cent of the album. He's one of the main reasons behind the sound on Genesis and our vision, before we started working on it, was simply to improve the quality of Hindi pop music.
What do you like about Nischay Parekh's musical talent?
He has a very different perspective. Every artiste has his or her style of working on a song. For example, I always start with a melody. Nischay thinks about visuals first; at times he just writes his verse and jumps in on the melody. It's a different process. It was so amazing to meet him in Dubai recently and we shot this little video at his place. He was playing a bunch of his inspirations and it was amazing to see where he is coming from.
Being a singer, do you feel more expressive?
Absolutely. That is actually something I mention in my mini documentary. As a producer and DJ, I somehow felt restricted. I was just doing so many shows that there was hardly any time for making music. I really needed that break for myself. Singing and writing has overall changed me as an artiste for sure and I am very happy that all the dance music fans were open to this change. I feel much more comfortable writing and singing songs.
Do you see yourself going back to dance music anytime or are you comfortable where you are?
I love the space I am in right now. I would say that there is a lot of dance influence on Genesis as well, like Intezaar, which is a proper pop-dance song. There you see me coming from the EDM space and even Socha na tha… many songs have that dance influence. I personally do enjoy this space and I think it is important for me to stay here, so that the fans can relate to it. If I don't personally have that energy then obviously it becomes a task to engage with fans.
Has that happened with you?
I could see that happening when I was DJing. Every show I was just forced to play songs, so somehow I couldn't translate that energy to the fans but now I feel like I am in the best space possible.
In your documentary you also mention having your own sound. How do you describe it?
It is kind of a mix of R&B, pop, hip-hop… if you listen to songs like Kho gaya, all thanks to AAKASH, the way he has blended in the elements, is unbelievable. Working with all these guys, that's how the Genesis sound became what it is now. One of the top producers in the world, Tom Norris, a Grammy-winning engineer… it was amazing to work with him as well.
At a time when people are used to launching EPs and singles, what made you to launch an album?
The topics of the song kind of related to one another. For example, in Socha na tha you see a mix of the other titles of the album, so lyrically it all started to make sense. Even sound wise, my next plan… after Genesis… is to completely change the sound and start something new. But since these sounds are sonically in the same space, we thought of combining everything and launching an album. Honestly, I had so much time to work on ideas and I didn't want them to just be on my computer.
What's Zaeden's next step?
I'm working on a bunch of songs with AAKASH, there is also going to be an English EP.
THE ZAEDEN FILE
Name: Sahil Sharma
Age: 26
Based in: Mumbai
Genre: EDM to Hindi pop
Milestone: Performance at Tomorrowland
Life-changing moment: Zaeden used to be a DJ but then he decided to become a singer-songwriter
Stack next to: Armaan Malik