Screen Test
The Telegraph gets a measure of the tough tides the Hindi film industry is negotiating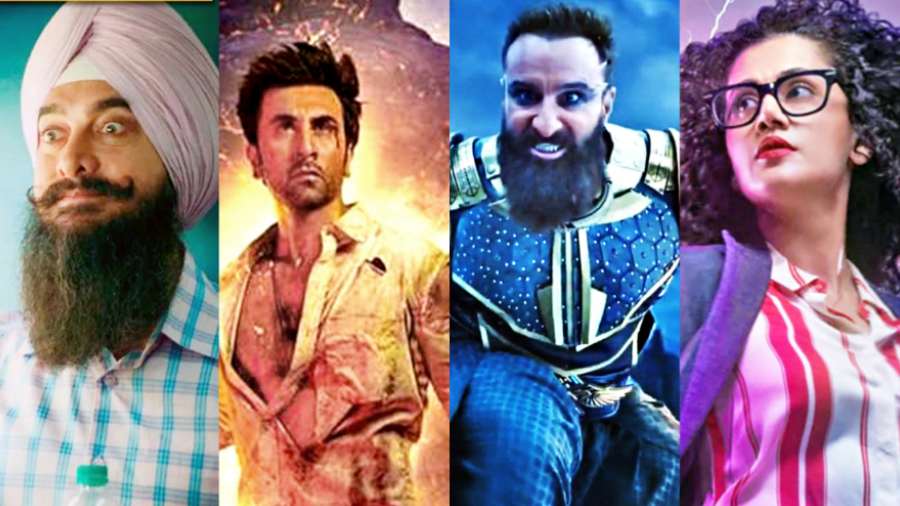 ---
Published 30.10.22, 03:29 AM
|
---
It's the autumn of 2022 and a teaser of Adipurush, a lavish, "Rs 500-crore" VFX-heavy film inspired by the Ramayana, set for a 3D release early in 2023, is facing severe backlash. So what's surprising? One may argue that in a notoriously thin-skinned India, any film having anything to do with religion, nationalism or history is certain to be hauled over the coals. Brahmastra was, and yet drove people to movie theatres. Things can't be all that bleak for Bollywood, right?
But here's the rub. People are offended at Adipurush mostly for the way it depicts Ravana. Yes, Ravana. The 10-headed demon king of Lanka, who abducted Sita and triggered Rama, then in exile, to cobble together an army of monkeys and declare war against the mighty ruler. Ravana's spectacular defeat — and death — frees Sita and restores order in the world.
Simplistically, one would have thought that there was nothing to get offended — even for the Far-Right — over Ravana's look in a film that glorifies his defeat.  But no, there is. Ravana is enacted by Saif Ali Khan, who with his beard, kohl-lined eyes and armour apparently looks "more Mughal" than a "Shiv-bhakt Brahmin". Sanatani sentiments across the board are outraged. Even politicians are frothing at the mouth.
There's more. The bearded Hanuman also appears "Muslim". Some Twitter users have pointed out that Sita, shown on a swing, is "wearing a sleeveless blouse". Southern fans are warning Telugu superstar Prabhas, playing Raghav (Rama) in Adipurush, that they will boycott him if he joins Bollywood.
India's Hindi-film industry can do no right, it seems. From being India's muchloved global soft power to becoming India's most popular soft target, the public perception of Bollywood has undergone a seismic shift in just a few years.
"Urduwood", "Bullywood", "anti-national", "Hinduphobic", "nepo gang", "drug mafia" — there is no end to hate directed at the industry which has for over a century been the melting pot of people from all religions and ethnicities and a mass medium with the biggest reach in the country.
So how did Hindi films get to such a pass?
With a change in India's political landscape, the powerful Hindu Right, for long uncomfortable with Bollywood's secular, inclusive credentials, including the Khan superstars, the many celebrated real-life interfaith couples and the normal use of Urdu words in the dialogues and lyrics of movies, decided the time to push had come. The process to put the Hindi film industry on the defensive started when fringe groups started issuing boycott calls for films they deemed an insult to various religious or ethnic groups. Filmstars started being brutally trolled for doing anything that seemed remotely anti-establishment, such as making statements on "rising intolerance" or standing silently for a few minutes beside an injured student at JNU. 
A couple of bankable leading men whose surnames weren't Khan but who had survived the juggernaut of the Khan trinity at the box office seemed more acceptable in this new climate.
When Covid-19 sent the world scurrying indoors, the film industry bled heavily, went into a coma and had to be sent to OTT for revival. But personal viewership created more strident personal opinions that stormed social media. In another shift, critics outnumbered fans.
Then came perhaps the defining moment that changed the DNA of the relationship between viewers and Bollywood.
Amid the first Covid-induced lockdown came the death of a popular young star. Allegedly a suicide, it was served up as murder by television channels for months on end. As the pandemic raged on, millions lapped up the conspiracy theories and allegations and innuendos of Bollywood as a decadent haven for drug addicts, nepotistic godfathers and other shady characters. This media coverage, a masterstroke if there was one in terms of its content and timing, literally went on to raise an army of "warriors" who, till date, swear on the hashtag of boycott Bollywood to avenge the death of their favourite actor.
Throw vocal Right-wing brand ambassadors, including an actress who made it big from a small town and took it upon herself to bash Bollywood, a popular character actor with established saffron leanings and a flop filmmaker who turned around his fortunes with a propaganda blockbuster this year, into the mix, and you know for sure that the boycott gang never runs out of issues or words. The best part is that one does not have to be a part of any group to start these boycott campaigns, having an Internet-enabled phone is enough.
Do these boycotts always work? Sometimes they do, like in the case of Aamir Khan's Laal Singh Chaddha. But Akshay Kumar's Raksha Bandhan, released on the same day as Aamir's, and Samrat Prithviraj earlier, films peddling values that New India is supposed to love unabashedly, tanked at the box office. People, however, watched Brahmastra despite concerted trolling against its leading man for his 11-year-old comments on a food show on being a "big beef guy".
Perhaps life is simple after all, the first three films flopped because they were boring, irrespective of whether it had a Khan or a Kumar, and the audience went to watch the last because a screen in a darkened hall came alive with an interesting story, a visual spectacle. Maybe the basics haven't changed.
Then again, many things have. Creatively pushing the envelope in terms of content is much harder today when there are so many sentiments waiting to be hurt. And Hindi films, which like cricket, once united this large, unwieldy country with its stars and stories and songs, can't claim to do that anymore — a propaganda blockbuster has opened the doors for many more.
But the least-talked-about cut is the unkindest. The love that people had for Hindi films and film stars even a few years ago has dimmed, at least the public expression of that love has. One gets more likes, retweets and upvotes for hate. 
Perhaps the show must go on, but there are no happily ever afters.