In the driver's seat
Only 18 but Olivia Rodrigo has won the vote of confidence of the White House and millions of teenagers globally. The Telegraph dives into the life of a promising storyteller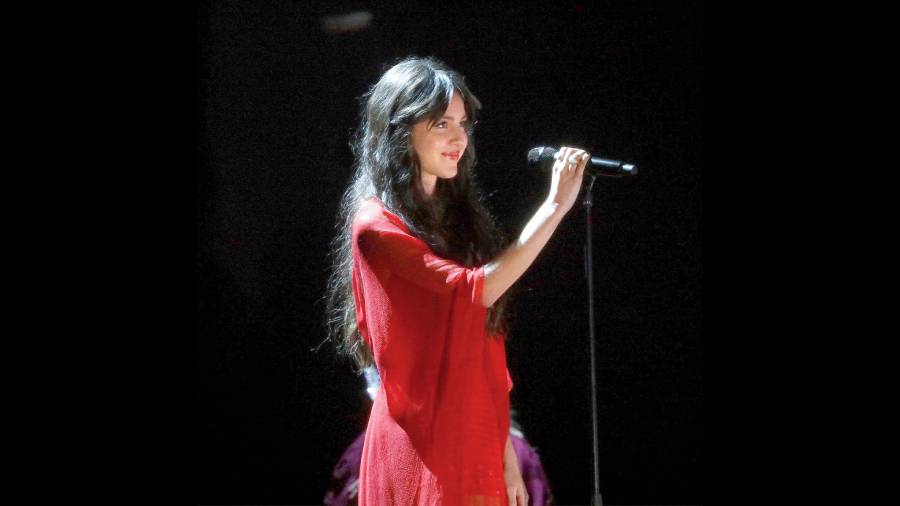 ---
Published 26.09.21, 03:02 AM
|
---
Olivia Rodrigo is the pendulum swing pop culture was waiting for. Only 18, she has become the symbol of a generation that is special because of what they are missing rather than what they have received. They are missing what every other generation has taken for granted, like the freedom of walking the streets fearlessly because the world outside has been turned upside down and inside out, or becoming prom queens and kings which have been relegated to films or getting into colleges of their liking since it's a phase with few choices. The apathetic generation? At least, the most traumatised. Unlike Lorde, Camila Cabello or even a Billie Eilish (who is just a year-and-a-half older), Rodrigo warmed up to teenage ears during the pandemic.
When the Biden administration needed someone to encourage the young and unvaccinated to get the jab, they turned to this 18-year-old pop star because she had a script that even the President's speech writers can envy. "It's important to have conversations with friends and family members," she said. Rodrigo truly collabed with the President. She rapped, he listened. She smiled, her followers nodded in return.
Three sides, one girl
Not that Rodrigo's pre-pandemic breakthroughs with Disney didn't make her popular, but it's her pandemic-era music that put her in the driver's seat as she released her debut single, Drivers License, only on January 8 this year, a milestone of a date since it was on that very day in 1935 Elvis Presley was born, who went on to change the face of music by the time he was 20. Rodrigo is not Elvis but she certainly enjoys the same vote of confidence that the King did when he rocked the jukebox.
On her debut album, Sour, she encapsulates the mysticism of Lorde, the storytelling of Taylor Swift, the scale of Adele's devastating portrayal of love and the unabashed spunk of Britney Spears.
Born in the TikTok era, she wins with her straight-talking lyrics. In fact, three faces of Rodrigo lives on Sour.
One that's looking inward and then forward in Drivers License as she sings: I got my driver's license last week/ Just like we always talked about/ 'Cause you were so excited for me/ To finally drive up to your house/ But today I drove through the suburbs/ Crying 'cause you weren't around. And that's because he is "probably with that blonde girl".
Good 4 U dives into the other end of the spectrum — the pop-punk end: Well, good for you, you look happy and healthy/ Not me, if you ever cared to ask/ Good for you, you're doing great out there without me, baby/ Like a damn sociopath!
And then is the folksy-edgy side of the glorious song Deja vu: So when you gonna tell her/ That we did that too?/ She thinks it's special/ But it's all reused/ That was our place, I found it first/ I made the jokes you tell to her when she's with you.
The connecting thread is as old as mankind but with a difference. Twenty or 30 years ago, teenagers used parents as sounding boards, that is, spill their thoughts on the table to organise them, listen to their reactions and then dismiss them as irrelevant to reach a conclusion of their own. They have always known that parents can't fix a broken heart or stop them diving into a vortex of mistakes but what they sought was empathy from parents. Now they have a new sounding board — the social media… put their problems out there only to be told that they are not alone on the boat, the steamer or the ship. She put her songs on Spotify and Apple Music where suddenly millions hollered back a virtual "we agree" by streaming more of her music. The cultural impact of Rodrigo is being understood only after the release of her music and not when she starred in Disney shows.
Unlike other Disney stars
Before her moody ballad — Drivers License if you are wondering — about lost love, which has broken Spotify's record for most streams of a song in a single week, is a Disney graduate like Britney Spears and Selena Gomez, having been cast in the sitcom Bizaardvark at the age of 13. This was before she starred as Nini Salazar-Roberts in High School Musical: The Musical: The Series, which debuted on Disney+ last year. It was during her Disney days when the show's creators discovered she was a budding musician and thus encouraged her to write songs for the series, even though she was only 16 back then.
And one of her songs, the ballad All I Want, even had millions of streams after premiering on the TV series. But she considers herself first a singer and then an actress. "Actually, the reason that I got into acting is because I was so expressive when I sang. So people told me, 'Hey, maybe you should get into acting. Maybe this will be something that you'll like,' and I loved it, and here we are now," she has told Genius.
Though homeschooled even before the pandemic had set in, her idea of real-life teenagers perhaps stems from the fake Disney high school, which can be really close to the real thing. It was Lorde's debut album, Pure Heroine, that inspired the then 12-year-old to take to songwriting. It was the gift of a 16-year-old New Zealander to the Murrieta-California girl.
"She talks about driving to the suburbs and going to school and all her friend-group drama. I remember feeling so seen: she's taking this normal experience that we all go through and turning it into something really beautiful and artful. I always wanted to write a record like that, but never felt like I had that normal life experience," Rodrigo told The Guardian this year.
And then came the most normal thing to the "abnormal" life of a 16/17-year-old — heartbreak. Of course, you know what happened with the experience. Her follow-up singles are lyrically stronger, like Deja Vu and Good 4 U. "I'm a teenage girl, I write about stuff that I feel really intensely — and I feel heartbreak and longing really intensely — and I think that's authentic and natural," she has said.
The pandemic has robbed young singers like Rodrigo the joy of performing live before an audience. She recently performed her "first show" ever at Las Vegas' iHeartRadio Festival; it was a 20-minute gig showcasing five songs off her album. Earlier in the year came her UK debut performance but that was before a set of guests at BRIT Awards while her debut TV performance was only in February when she performed Drivers License on The Tonight Show with Jimmy Fallon.
Yet, that hasn't stopped her from putting out music that's cheeky, in your face and fit for arena performances… a song like Brutal in which she sings I feel like no one wants me/ And I hate the way I'm perceived/ I only have two real friends/ And lately, I'm a nervous wreck/ 'Cause I love people I don't like/ And I hate every song I write/ And I'm not cool and I'm not smart/ And I can't even parallel park. If this isn't a reflection of teenage life in 2021, then I don't know what is. For her punk-pop is not a shorthand for throwing in edgy guitars; it's about every Generation Z anxiety. Her music is conversational. And she hopes, while representing a generation, that adults are not forgetting what they should always be doing — listening and understanding instead of hammering out solutions.
Fan-girl Olivia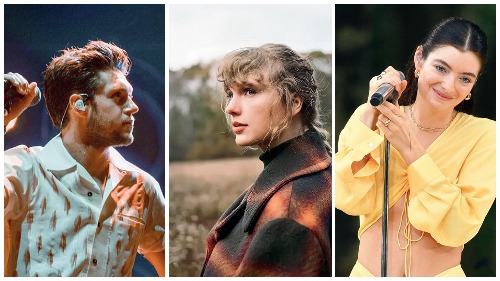 The One Direction fan
"[I used to write One Direction fan fiction, which is so embarrassing. Niall [Horan] texted me and said, 'I heard you wrote One Direction fan fiction, I have to hear all about it,' and I was like, 'Oh my God, this is so embarrassing.' It was me in fifth grade being like, 'I want to be best friends with these guys and then they're going to propose to me.'"
The Swiftie
"I've never met her (Taylor Swift) in person, but I posted a cover of one of her songs off Lover, Cruel Summer, like a weirdo, and I did it on Instagram Live and she found it and she posted it on her story and was like, 'This is amazing. Thank you so much.'"
Lorde is her idol
"Lorde doesn't have social media (the New Zealander believes in digital detox), but Lorde's sister reached out to me and was like, 'My sister and I love the song,' and I was like, 'Oh my God, That's crazy!'"
Alike and different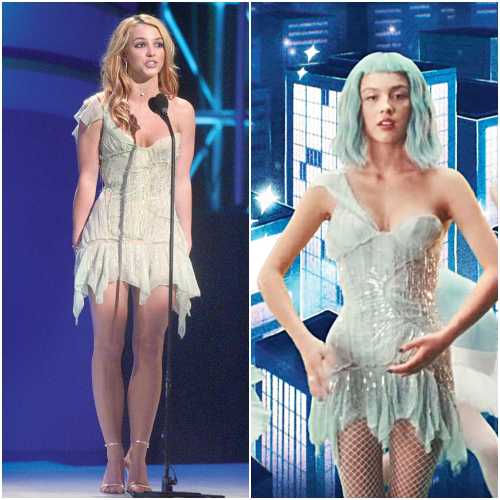 In her music video for the song Brutal, Olivia Rodrigo pays tribute to the pop princess Britney Spears who appeared like a ballerina in a Roberto Cavalli dress at the 2003 American Music Awards. The two represent different generations, their approaches are different but they do meet somewhere.
Yes, the 18 and 39-year-olds share a similar trajectory towards stardom with Spears launching her career as a Mouseketeer on Disney's The Mickey Mouse Club while Rodrigo's rise has been partly due to her starring role on Disney's High School Musical: The Musical: The Series. But the music they make is different — we like Spears for her bubblegum-pop hits while Rodrigo comes through as angsty. And Spears has mostly shied away from addressing political issues in her music but not so for the fourth generation Filipina American, whose great-grandfather arrived in the US on a boat when he was just a teenager. Rodrigo has weighed in on social ills as much as writing heartbreak anthems. Perhaps a bigger difference is the way in which their voices are heard: Spears came before social media and Rodrigo post the proliferation of social media.
Yet, a part of the audience from both eras is obsessed with something similar — personal relationships. Many wonder if Rodrigo's Drivers License is about her relationship with her High School Musical: The Musical: The Series co-star Joshua Bassett, like tabloids were once focused on Spears's relationship with Justin Timberlake. Times change but not our unwanted curiosity about what goes on behind walled gardens.

Power play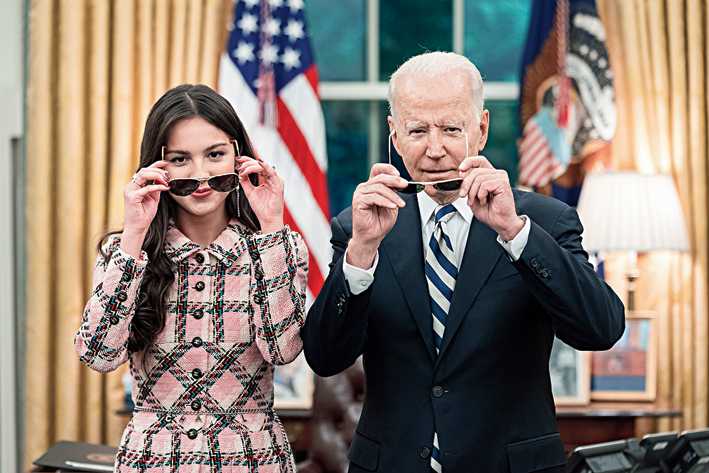 In July, President Biden took the help of Olivia Rodrigo to encourage Gen Z to get vaccinated against Covid-19. A day after Biden, via Instagram, invited Rodrigo to his residence, she emerged rocking a matching pink coat, skirt and platform heels, entering the West Wing.
The 18-year-old kept her speech simple but effective: "I am beyond honoured and humbled to be here today to help spread the message about the importance of youth vaccination. I'm in awe of the work President Biden and
Dr. Fauci have done and was happy to help lend my support to this important initiative."
While meeting the President at the Oval office, the duo posed in some funky sunglasses before discussing the importance of getting vaccinated. "It's critical, especially people Olivia's age," Biden said in a video clip while vice-president Kamala Harris said: "Get vaccinated for the people you love because they don't want to lose you."
It immediately clicked among Rodrigo's fans.