For some, it is the very act of painting that helps unwind, others like Anjana look for peace in the interpretations. Many keep coming back for the process. Hari Agarwal says the creative process made him nostalgic and the nostalgia worked like a tranquiliser. "As I played with the colours, I was transported to my childhood. Drawing classes with Masterji and my best friend Amit. I used to go to the drawing class only because I wanted to spend some extra hours with Amit. Those days we did not have mobile phones. But I lost touch with him after school." In Neha's case, the role reversal helped. "I meet hundreds of students every day. But that day I was a student. That itself was refreshing."
In early 2018, the Kidwai Memorial Institute of Oncology in Bangalore contacted Dalmia for a session for 70 cancer-affected children. Dalmia says she was initially worried. "I do not know Kannada and I kept thinking how I would get across to those children. At the same time I was overwhelmed by the invitation — I had lost my own mother to cancer when I was only eight years old."
The children were between one and 15 years. Most were not aware of the ailment they were a prisoner of. But they were familiar with physical suffering, acute and unshakeable. And when they picked up the colours — most eschewed brushes — it was not to create forms and shapes but to drench themselves in shades they in all likelihood would not have the time to live and experience.
Of all, one particular canvas Dalmia remembers to the last detail. A meticulously painted scene. The grass was a sunny yellow instead of green. The sky was pink. The mountains, lush, and the flowers, purple. The artist was a boy of four. On top of the mountain, he had drawn a squiggle and scribbled next to it "Home". "He told me," says Dalmia, "I will live there with my parents when I am released from hospital."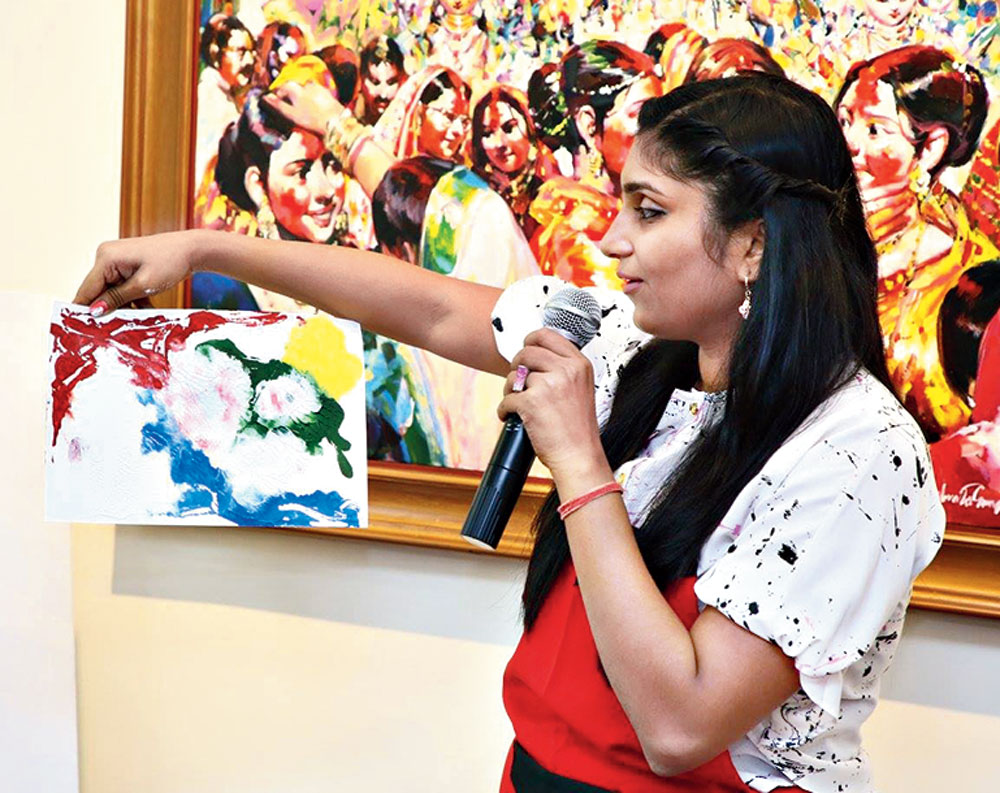 Aradhana Dalmia teaches classes in colour therapy and art therapy Image: Aradhana Dalmia
Red doesn't always stand for a red, red rose. It can also connote rage. Blue needn't be representative of water or sky all the time. When presented in hasty strokes, it denotes instability and confusion. Yellow might remind us of the sun, but the way it has been rendered on paper reveals something of an individual's desire to shine.
When Calcutta-based artist Aradhana Dalmia started offering art classes in 2012, colour therapy, she says, was farthest from her mind. She used to give lessons in art to those who wanted to learn. But somewhere along she felt that the art was secondary, what people enjoyed was the creative experience. And thus were born the art therapy sessions.
Each batch might be homogeneous in itself — Dalmia organises them by age group — but on the whole it is a mixed bunch that seeks therapy. There is Ashmita Sinha, who is in her fifties and runs a boutique; Priyanka Agarwal, a young fashion designer; schoolteacher Neha Agarwal; and Apurva Jain, who is a chartered accountant. Hari Agarwal, a real estate developer, was forced to sign up by his 10-year-old daughter. Anisha had taken a class or two and wanted her father to experience the same.
Dalmia has her pupils paint on glass. As they slather the colour, she keeps the conversation flowing with each of them. Soothing music plays in the background — instrumental only. Art keeps happening.
Anjana Sen talks about how she was self-conscious to begin with. But she chose bright colours — reds, yellows, oranges. "I am an event manager and I know bright colours lift the mood," she says. But the patterns she creates tell a different story.
Her strokes, Dalmia told her, gave away her exhaustion and stress. Once a piece is ready by the clock, an impression of it is taken on coloured handmade paper. More conversation follows — this time about the patterns that emerge, the colours used, the emotion guiding the hand. The classes then end with meditation.