I have never dabbled in politics: Saoli Mitra
Theatre personality Saoli Mitra talks about her exit from Bangla Akademi and her subsequent change of mind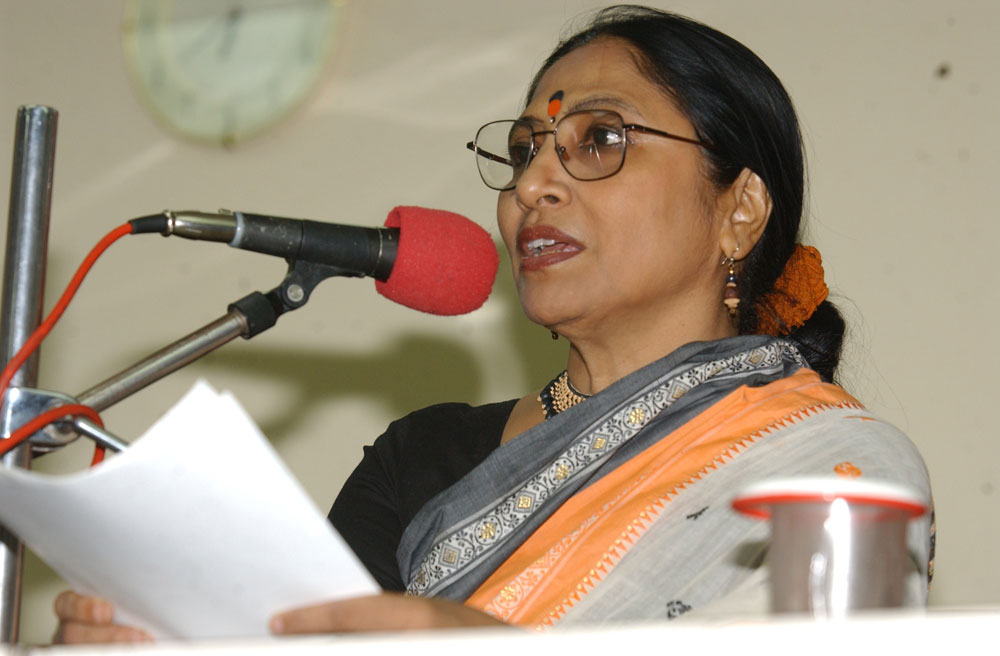 ---
---
têtevitae
1948: Mitra is born to theatre artistes Shambhu and Tripti Mitra
Completes master's in Drama from Rabindra Bharati University in Calcutta
Debuts as a child artiste with the play Chhera Taar
1974: Acts in Ritwik Ghatak's film Jukti Takko Ar Gappo
1983: Sets up the theatre group Pancham Vaidic. Its first production is Nathabati Anathabat, which she wrote and which is also her solo acting venture. Also wrote Katha Amritasaman
All along, keeps writing short stories and socio-political essays too, apart from producing theatre-related research
2003: Receives the Sangeet Natak Akademi Award, followed by Padma Shri in 2009
2006-08: Is at the forefront of the civil movement against Left atrocities in Nandigram, and the Singur debacle
2012: Appointed chairperson of Paschimbanga Bangla Akademi. Tenders her resignation in January 2018 and returns in July
2018: Receives the Sera Bangali (drama direction) award instituted by the ABP group
We are meeting Saoli Mitra soon after she resumes charge as the chairperson of Paschimbanga Bangla Akademi in July. The Akademi is the official regulatory body of the Bengali language in West Bengal. Mitra is the daughter of thespians Shambhu Mitra and Tripti Mitra and a Padma Shri recipient. She had assumed charge of the cultural body after writer and activist Mahasweta Devi resigned from the job in 2012, and then resigned from it at the beginning of this year.
Today, chatting over a cup of tea in her west Calcutta apartment, she tells me that end 2017- beginning 2018 was a particularly rocky stretch for her. First, she fell down and fractured her tailbone and did not realise it until a whole fortnight had passed. And then there was the entire resignation fracas.
It was all happening at a time when the state was witnessing a particularly fractious and violent panchayat polls. Mitra herself, however, denied any connect whatsoever. She had said then that she was prompted to quit because of "lack of infrastructure and difficulties in performing duties" and she iterates that now.
Mitra is wearing a chrome yellow cotton sari. She is sitting on a straight-back chair with a specialised orthopaedic cushion to support her injured back. Her waist-length and not-entirely grey hair is worn loose but neatly. And on her forehead is the trademark teep, one maroon and big, and below it, a yellow dot.
She says, "You cannot work smoothly if there are glitches in the basic infrastructure. And in a place like Bangla Akademi, where your entire job depends on research work, you cannot function without research scholars and research assistants." She adds, "This is an honorary post. I do not have any financial interest but I do have the passion for the job I do."
It seems she had repeatedly conveyed her demands to chief minister Mamata Banerjee, and though she was assured that something would be done, nothing had happened.
So what made her join again, nine months later, I ask. Mitra talks about how education minister Partha Chatterjee kept in touch with her throughout. And how now she has been allowed to hire a research scholar.
But surely a single scholar cannot have been the answer to all her woes? Mitra does not accept or deny that, merely parries the question. Then, in her wonderfully modulated silken voice, she veers the conversation to the Akademi's scope of work. The urgent tone is compelling and powerful, and takes me back to the performance of Nathabati Anathabat, in which she is both narrator and actor.
She points to some blue-and-white bound volumes in one of the many bookshelves and says, "Originally Bankim's (Chandra Chattopadhyay) works were available in only two volumes, now we have a total of six volumes. We have introduced a lot of things that went unnoticed earlier. In the course of our research, we learnt how he used to introduce new characters in his novels and also specified his reasons behind these inclusions." The Akademi, she points out, has also published 17 volumes of
Rabindranath Tagore and will be publishing another seven soon.
She talks about how she worked closely with Bangiya Sahitya Parishad, the Bankim Chandra Library in Naihati and the National Library for these initiatives. "All this is a bonus really, since I could not do a PhD once I chose acting over studies," she says with a smile.
Now that she is back on the job, she has started work on new subjects — the works of Bibhutibhushan Bandyopadhyay, updating the Bangla Academy Abhidhan or Bengali dictionary. "We are going to revamp it," says the 70-year-old. She talks about the ongoing digitisation of literary work and admits that translation of Bengali works has not happened in the manner they deserved.
I have read somewhere that the Akademi is modelled on the Bangla Academy in Dhaka and I ask her about commonalities and differences between the two. She pauses for a moment and then says, "The Akademi is different from the one in Bangladesh in many ways not to mention the huge infrastructure that it [Bangla Academy] has in place."
The institution here takes after Sahitya Akademi, she points out. "We do not delve into the classics only. We are more dynamic. We encourage young writers. We also have introductory sessions for new talent. We attempt to bring together generations of writers and poets for debates and discussions."
For someone who puts so much premium on discussions and debate and in her own work has been so innovative and interpretative and radical too, what does she think of the cultural and intellectual climate in Bengal? What does she have to say to repeated reports about the state government clamping down on certain productions?
Mitra has a way of working in pauses in her responses. Just enough so you don't get impatient, enough for her to frame an argument. She says, "When you try to take a route other than the conventional one, you have to dig out your way. There will be impediments and you have to get used to them and wade your way through the difficulties without flinching a muscle."
It is not very clear who is taking the unconventional route and who is getting inured to difficulties but she is done with addressing that particular question. There is a gentle smile on her face, but the maroon dot on her forehead suddenly seems to loom large, suggestive of an unspoken finality.
I ask her if her kinship with the Trinamul is actually about her apathy for the Left. After all, her father Shambhu Mitra had broken away from Indian People's Theatre Association, a Left-wing group of artistes.
"My father never told me what his differences were with the Left. Now, with the passage of time, however, many things dawn on me," says Mitra. She does not go into specifics, only tells us that she has written a book on her father — Shambhu Mitra: Bichitro Jibon Porikroma — that contains her musings.
Has her father's experience influenced her own political affiliation? She shakes her head. "I have never dabbled in politics; I have never got into any political controversies," she says. However, her narrative of protest is evident in her creative work, in plays such as Nathabati Anathabat — an exploration of Draupadi's humiliation — Katha Amritasaman, Bitata Bitangsha and Ekti Rajnaitik Hatya.
And how did she become one of the prime anti-establishment figures during the Singur and Nandigram clashes? "That was a civil movement," she answers promptly. "And let me tell you, the idea of the civil movement was conceived in our rehearsal room at Pancham Vaidic [her theatre group]. I didn't follow anyone. Others took a cue from me. We questioned the government about why it was hell-bent on taking away farmers' lands?"
Mitra recalls how she and a few others had visited Singur shortly before all hell broke loose. "The farmers had refrigerators, television sets in their houses. They were already well off. There was no need to turn them into factory hands, at least not on the grounds of improving fortunes," she continues agitatedly.
She regains her composure and says that it was during this period that she came to know Mamata Banerjee. "I cannot say that we became close, though," she adds.
But there are degrees of proximity. Banerjee has time and again sought the services of Mitra. "When she was the Union railway minister, she called me up to lead the rail heritage committee," Mitra agrees.
It was during this time, she tells me, that she got a sense of how the chief minister functioned. "She had promptly announced without taking us into confidence that the railways would construct a Tagore museum in Bolpur. We were thrown off-balance. How could we? Visva-Bharati had the rights," she says, laughing benignly. "We loved working through her whims because they brought up challenges that had to be tackled creatively."
Constructive camaraderie or is she done being critical? Is she content to be conformist now? No sooner than I say this than she is aflame, gracefully, as only she can be. She says, "I have always walked alone. My father used to tell me it is my life and I should take my own decisions. And I did." She continues, "My parents used to say that when I first started talking coherently, the first song I sang out was Ekla chalo re."