'How to turn your mom into a Swiftie'
In her column 'Song & Sting –– Hoodwinking the algo, mothering in a post-truth world', the author writes about not being swiftly enough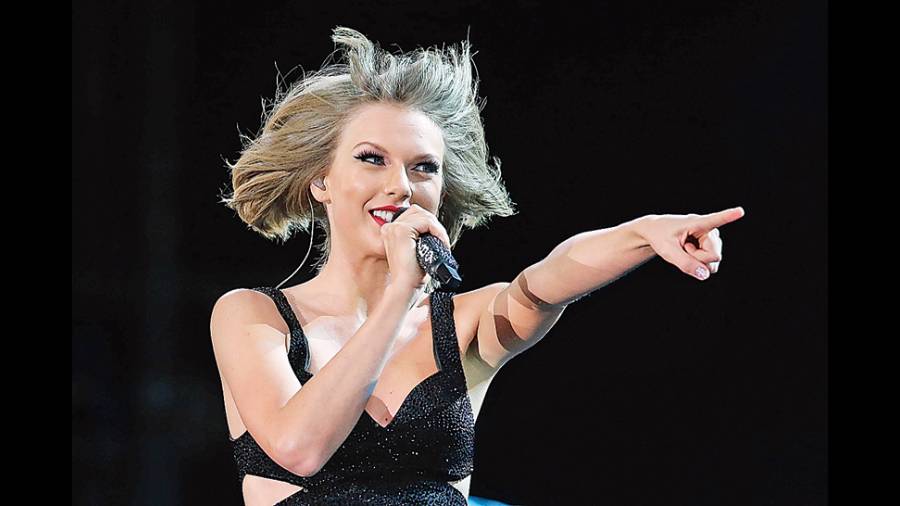 Taylor Swift
Getty Images
---
Published 11.11.21, 02:19 AM
|
---
An 11-year-old romance fell to pieces last weekend. We sobbed, fought and decided we weren't meant to be after all. "The gulf is too wide. You don't see me, you don't let me be. Why must I stand out and apart? Why can't I fit in?" "Okay go," I said. "Go where you belong." Without so much as a tremble, she turned her back on me and walked away. As simply as that I was sacked. Got the boot as mother. Undone by the 31-year-old musician Taylor Swift who, according to culture-Tsars, is "one of 21st century's greatest pop-icons, a superstar".
How could I not hear the rumbles of this uprising? There were signs and I had missed them all. Long before our showdown during which she called me a discontentment-Nazi, this sweet child of mine who can musically parse the notes of a leaf-rustle or car-horn, who sings Kabir Das and plays Claire de Lune like a dream, wondered aloud one day, "Would you consider converting to Swift-ism?" Tone deaf to most pop icons post Y2K, I shrugged dismissively. "Aren't you being a bit elite?" she ventured. "Wow, look who is a teen!" I rallied. Mumbling an allusion to Scrooge — a likeness I cannot disown since much of my world view is from the cliff-top of my frown — she bore my hereticism with silence.
Early signs of the impending defection included a sudden preference for cheesecake, the very dessert that has been pronounced cringe-worthy creamy for years, number 13 sprinkled in every password, and strange quotable quotes popping up in conversations. When asked to forgive a friend who had hurt her, she shrugged and said, "I bury hatchets but keep maps of where I put 'em."
On rebound I listen to Joan Baez, Tracy Chapman and Miriam Makeba. Newly indicted fuddy-duddy, draconian mom, I take away her screen rights. I do everything that I have resisted and scoffed at for over a decade. I write laws, I ask her to conform, I build dams on the river. She obeys but now it is a relationship of power. We are no longer equals. In my quest to get back my job as a fully functioning mother, I embark on a get-to-know-your-enemy mission. Taylor Swift, lovingly called Tay-Tay by her worldwide army of fans, surrounds herself with metaphors. Consider this: a human-size bird cage, plush with satin pillows, offering a spectacular view of the city spread out below — a metaphor apparently for the caginess of her pop-star life. Or the 365-days open
X-mas gift shop in her multi-million dollar Nashville apartment.
Personal arcadia? T-Swift's reappropriation of Christmas has left me high and dry. It is the only time of the year I cook, preserve, play mother — soak jars of fruit in brandy, visit the wet market for a turkey, stir up perfect Smoking Bishops, place gifts under the tree, organise carol singing, keep candles and cake outside for the matchstick girl. All this is now decidedly a yawn! For how can I possibly match up to large Fed-ex boxes magically appearing on the doorstep of 10,000 Swift-ians, selected on the basis of their social media behaviour (by a moral scrutiny method called Tay-lurking)? Hail the advent of Swiftmas!
The spectacle of Taylor Swift is undeniable. As is her myth. This Friday will see the release of her re-recorded album Red TV (Taylor's Version) — a momentous event apparently in the lives of Swiftians, including my daughter who hopes to stay up all night to celebrate. Red TV is a symbolic gesture and not an unimportant one. By re-recording her previous albums, Taylor is scoffing at the hegemonic music industry and re-possessing all of her music — its copyright as well as its profit. Now that is genius — an artist's commercial triumph. This icon-ness of her makes me weak in the knee.
But what of music? Can theatre and defiance replace creativity? What of her cult? Can we hand over to her the political upbringing of our daughters? Pre-battle, at the peak of missionary zeal, Tay-Tay's apostle came to me with a playlist — painstakingly put together with help from a friend and fellow Swiftie. Titled "How to turn your mom into a Swiftie", it had nine songs, handpicked to support the argument that Swift was changing the world, that she was shredding male gaze, smashing capitalism and upholding climate change. As my daughter gears up for Friday night, I return with great eagerness to that playlist which was lying unplayed all this while on my phone. In it I find the song Blank Spaces where TS is seen twisting an apple which transforms into the head of her dimpled lover. Said apple could be the apple of knowledge and arguably she may be twisting the biblical judgment on women seeking knowledge. It is not serendipity either that the apple in question is the exact shade of her lipstick — or that there is a country-sized Internet community that is actually still debating over whether that particular shade is Ruby WOO from Mac, a Sheseido or the inimitable NARS Velvet Touche.
Look What You Made Me Do from the album Reputation, mishmash of hiphop and electroclash, top of the charts with four million hits, opens with Tay-Tay immersed in a bathtub of diamonds. As the song picks up, we see T-Swift in a golden bat mobile, burning money, smashing the stock exchange with a baseball bat, feasting on a lobster. At the crescendo Swift stands atop a mountain of T-Swifts, versions of her squirming, struggling in a purgatory, as she stands God-like on top of that chaos, juxtaposed against a neon sign — T for Taylor, one that reminds you that the Cross is but a T sans its head. This is as good as it gets — Taylor's very own Bildungsroman.
After a few exhausting days of reading between the lines, my daughter and I have chosen to summit with a compromise. I shall allow the Red TV celebratory sleepover with her friend this Friday. Taylor Swift is here to stay, her myth-making machine far more stupendous than ol' mama's. I do hope it's a phase or that
T-Swift's poetry will get better hereafter. Meanwhile, I shall continue to look for the music and go where it may be found.
The author is a writer with a day job in public policy