How to Rock the Ethnic Look – Just Steal Insta Star Thomson Sequeira's Easy Tips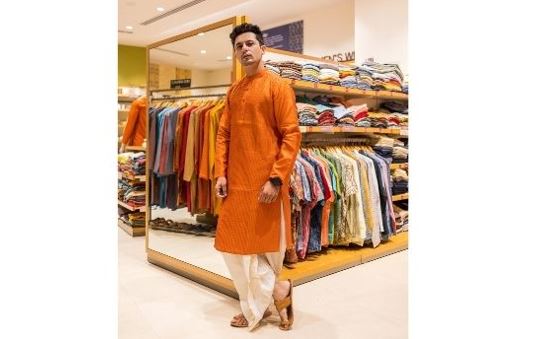 ---
Published 22.11.21, 10:14 AM
|
---
Just like his social media handle 'limitless_adventurer', ace influencer Thomson Sequeira's personal style is bold, adventurous and boy-next-door gorgeous. He sports looks featuring both Indian and Western outfits, sometimes coming up with a fetching fusion look, that are immensely wearable and, yet, a cut apart. So, we thought why not let the fashion guru and leading Insta Star share some pages out of his style diary so that you can look no less than one yourself!
Since Thomson's primary forte was initially travel blogging, a lot of people feel that he is not interested in ethnic wear for men. And this thought could not be farther away from the truth. In his own words, Thomson admits "Oh yes, I love ethnic wear! There's no right vibe or wrong when you step out in Indian outfits, be it for a special occasion or a casual evening with friends."
Thomson aces looks from both striking Indian wear and stylish Western wear. "In fact," he continues, "it is a game-changer for me in the fashion world that I can seamlessly pull off both the casual and ethnic looks. Followers love me in both kinds of clothes and so do I!" Asked about his favourite brands in the Indian Wear category, he enthuses, "Manyavar, Kisah, Hangup, House of Pataudi, Anouk and Sojanya are some brands that always line up some amazing clothes that are effortlessly fashionable. I love them!"
Asked if more men should opt for ethnic clothes on a day-to-day basis, Thomson has an interesting take. "Indian men usually opt for ethnic clothes only during festivals or special events. It would be great if we could normalise men wearing such clothes more regularly but I feel that this just might dilute the unique essence of wearing our desi wear on special days."
"At times I wonder if all offices could have one day per week or month as a traditional wear day, our offices would just light up with the joyful Indian vibe, and enjoy a happy and enthusiastic feel around the office space on such days," he smiles as he visualises the thought.
Small wonder then that festive collaborations are Thomson's favourite kind. "There's so much fun involved behind the scenes in such collaborations - the ethnic outfits are the focus, for sure, but there's also mountains of sweets, celebratory decor, sparkling lights that just bring a whole different vibe to the shoots and events." Very recently, Thomson collaborated with Raj Niwas that he enjoyed to the hilt and there are some more collaborations lined up too, primarily with the filter app called B612 and a few ethnic look-book collaborations with giants Amazon and Myntra.
What are you waiting for? Head straight to https://instagram.com/limitless_adventurer?utm_medium=copy_link and follow this Insta Star for some of the coolest ethnic DIY style hacks!
Tags: #ThomsonSequeira #Influencer #Blogger #Instagram #Fashion #Ethnic #Indian #Western