Vijaya Dashami may be a bittersweet day but it is synonymous with sweets. In fact, tradition has it that one cannot bid goodbye to Ma Durga without offering her sandesh. Everyone else has to be fed sweetmeats after the immersion.
There are two epochs in the history of Bengali sweets — before the Portuguese and after them.
Before, there was — according to the Chaitanyacharitamrita, a biography of the 16th century religious reformer by his contemporary Krishnadas Kabiraj — dugdha laklaki (known now as rabri); sarbhaja; sarpupee (modern sarpuria); sweets made of popped, puffed or flattened rice combined with white or brown sugar (moas); and narus made of coconut, ground legumes or sesame seeds.
To preserve milk in this climate, it was necessary to bring it to the boil again and again. Once it cooled, a fatty layer of "skin", called sar in Bengali, would form on top. That would be skimmed off and pressed onto the other layers. The rabri is these thick blobs of deliciousness in sweetened milk, sarbhaja is sar deep fried in ghee and dunked in syrup, while sarpuria has layers of fried sar alternated with crushed almonds and khoa kheer, all of it soaked in sweetened milk.
While shops still stock these sweets, they are not the ones famous worldwide as Bengali sweets.
That honour belongs to the rasogolla and, to a lesser degree, the sandesh. Both these sweetmeats, though very different in texture, are made with the same ingredients — sugar and chhana or cottage cheese. They belong to the second epoch of Bengali sweets along with such bites of deliciousness as the pantua or ledikeni, langcha, chamcham, chhanar jilipi, rasamalai and rajbhog.
The main difference between the two epochs is in the use of cottage cheese. Actually, there is a second difference — the sweets of the second epoch were all invented by moiras or professional sweetmakers.
In 1580, the Portuguese were given permission to settle in Bandel, now a town 50 kilometres from Calcutta. The Portuguese were a seafaring people and Bandel comes from bandar or port. "They learnt to preserve food so that they could carry it along on their sea voyages. One of the things they carried with them was cheese," says academic Purba Chatterjee who is studying the intangible heritage the Portuguese left us.
"The cheese that they made can still be found in a few shops in New Market and is called Bandel cheese. To make it in large quantities, the Portuguese employed local people. That is how Bengalis were introduced to the process of making cottage cheese," Chatterjee explains.
"They [the Portuguese] loved cottage cheese, which they made by 'breaking' milk with acidic materials. This routine technique may have lifted the Aryan taboo on deliberate milk curdling and given the traditional Bengali moira a new raw material to work with," writes food historian K.T. Achaya in Indian Food, a Historical Companion.
Before this, Bengalis did not use chhana to make sweets. An offering for the gods, sweets could not be made from "chhinna" or torn milk.
But deliberately curdling milk was a different matter and, eventually, "The Vaishnavites of Chandernagore learnt to stir chhana and sugar together until smooth before shaping them into round balls and offering them to the gods," says Chatterjee.
"It is also of interest that the word chhana has a separate meaning in colloquial Bengali — children or offspring. And if one considers curdled milk to be the 'offspring' of untreated milk, then this is indeed a serendipitous example of double entendre," writes Chitrita Banerji in her book The Hour of the Goddess: Memories of Women, Food and Ritual in Bengal. While chhana might have been accepted in Bengali homes, it was not until a moira took an interest in it that sweets made of cottage cheese attained mass popularity and fame.
Sometime in the 18th century, a man named Surjya Modak travelled to Bandel to learn the art of making cottage cheese from the Dutch cook of Bandel Church. He then plied his trade from Chandernagore.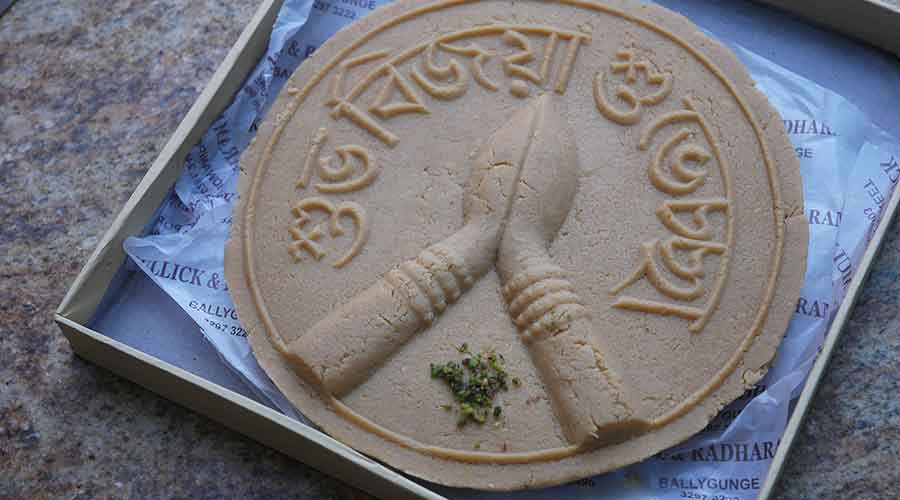 Bishwarup Dutta
Modak is credited with creating the motichur sandesh, which is nothing like the popular motichur laddu. His motichur is a barely sweetened bit of smooth chhana flavoured with rose water and kept together with a twist of waxed paper. Tagore is said to have named this sweet after ground pearls. Modak also came up with the narom paker kheerpuli (made of chhana, not kheer), a boat-shaped sweet that he dedicated to ship-travelling traders. But his most famous creation is the jolbhora sandesh.
"The wife of the zamindar of Telenipara wanted a special sandesh that she could use to trick her new son-in-law. Surjya and Siddheshwar Modak came up with a narom pak sandesh that held within it sweetened rose water. A bite and the liquid oozed out, staining the fine attire of the jamai," says Saibal Modak, a great-grandson of Surjya Modak. That was in 1881.
It was Lalit Mohan Modak, Surjya's grandson, who created the talshash-shaped mould that led to the sandesh being renamed jolbhora talshash sandesh. Talshash is the Bengali name for doub palm. And in Calcutta, Nabin Chandra Das created — or refined, depending on who is telling the story — the rasogolla, a ball of chhana boiled in syrup until it doubles in size.
As we wish each other Subha Vijaya, let's not forget to thank the Portuguese.