Hoops are hip
Hula hoops are making a huge comeback as a hobby that's a mix of fun and fitness and almost a dance form, says Radhika Sen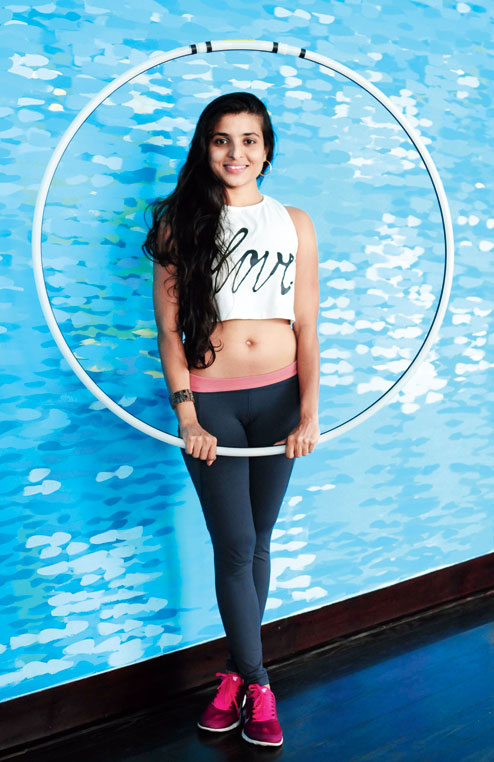 ---
Published 26.07.15, 12:00 AM
|
---
So how does Michelle Obama, the US First Lady, manage to look super-toned? And how do super-svelte Hollywood actresses Olivia Wilde and Zooey Deschanel stay in shape? Well, they've all taken the hula hoop route. Once considered to be a child's toy, hula hoops have made a huge comeback as a hobby that's a mix of fun and fitness. And if you need a break from treadmills and steppers, then hula hooping might be the thing for you.

A free-form workout, hula hooping is gaining popularity with people of all ages for its mood-enhancing effects coupled with calorie-burning benefits. You can join a gym that conducts hooping classes or you can also pick up the technique by watching YouTube videos and live performances.

"Hula hooping is actually an aerobics exercise as well as flow art like dancing, juggling and fire-spinning. Since there are no set rules, hooping can be moulded to suit your style," says 28-year-old Leona Rodrigues who's been teaching hula hooping for the last six years. She has also created a Facebook page called Hoopgaga about her workshops.

"Hooping helps you gain flexibility quickly. It's also a great stress-buster and is high on the feel-good factor," adds Bhawna Grover, 28, a hula hooping expert who holds workshops in and around Delhi and also makes hoops on order.

So what does hula hooping involve? Well, twirl the hoop around your waist, shoulder, arms or thighs to work out your core
muscles. Be warned — it takes practice. But once you get the knack, a full-body workout will help in toning, losing flab, building stamina and improving body balance. Besides, it's also a popular dance with body-flexing moves and musical routines.

"Hooping is a beautiful art and you can manipulate the hoop in different ways to tone specific parts of the body. I picked up hooping just by watching YouTube videos and along the way discovered interesting tricks that can be done with the hoop," says Delhi-based Eshna Kutty, a college student who now teaches hooping and has also performed at dance festivals.

Instructors say that cotton clothes are best for hooping as the hoop slips down against nylon-wear. Go barefoot or slip on a pair of light trainers and you're ready to twirl.

Hoops — they come in varying sizes and weights — are available at select sports goods stores. But if you prefer tailor-made hoops to suit your height and skill level, you should order them from private dealers.

For beginners, the biggest challenge is to keep the hoop balanced around the waist. That's why it's better to start with large and heavy hoops that rotate slowly. As you get better, you can switch to smaller, lighter hoops that spin faster.

It usually takes a few weeks of daily practice to get into the flow of spinning fluidly. "There are no structured movements to memorise, it's a fluid exercise and allows you to innovate new routines. You can hoop anywhere — at home or in the park, at a gym or beach," says Sonali Shah, a hooping enthusiast and instructor based in Mumbai.

She says that once you get the hang of hooping you can try many fun moves. You can walk while hula hooping, or rotate hoops around your head, arms and thighs simultaneously which is known as object manipulation. Highly-skilled artistes even whirl hoops that are set ablaze!

Swati Shah, a trained hula hoop performer and instructor, has created a hooping community of over 600 members and holds hoop jams across cities to bring together hooping enthusiasts. Her self-designed "hoopnotism routine" combines dance with hooping for coordinating hand and leg movements.

"Hula hooping is an all-in-one exercise for cardio, muscle flexibility and tension release. A physiotherapist who attended my class said it was helpful for one's posture and spine," says Swati whose hula hooping weekend sessions at Tangerine Arts Studio in Mumbai are huge crowd-pullers.

Hula hooping can be done for hours at a stretch depending on your stamina. Play any upbeat track and simply get into the rhythm of whirling. Whether you're looking to get into shape or just feel good while working out, why not spin the hoop?
HOW TO SPIN IT RIGHT
♦ Pick a hoop that reaches your waist when held upright on the floor. Place it flat and step into it.
♦ Bend and hold the hoop with your hands stretched wide apart.
♦ Bring the hoop to your waist, so that it touches the small of your back, and put one foot in front of the other to gain balance.
♦ Lift your hands up and start spinning the hoop. Push your stomach forward as the hoop moves across it and back when it rotates around your back.
♦ Try to keep the hoop spinning round your waist.