Her dance of life
A journey into the life of Sonal Mansingh at the 50th edition of an author's afternoon, presented by Shree Cement, with t2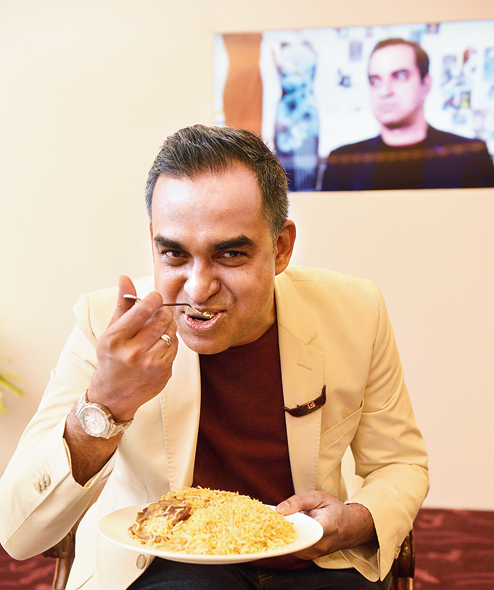 ---
Published 20.12.17, 12:00 AM
|
---
From running away from home to being homeless to becoming a star to her brush with death, Odissi exponent Sonal Mansingh shared her fascinating journey at the 50th edition of An Author's Afternoon — presented by Shree Cement and Taj Bengal, held in association with t2, Prabha Khaitan Foundation and literary agency Siyahi — at the Alipore star hotel. In conversation with her was Sujata Prasad, her biographer and the author of Sonal Mansingh: A Life Like No Other. Excerpts from the session...
GETTING TOGETHER
Sujata Prasad: By the time I was 15, I fancied myself as a great feminist and I was also dancing a little bit and following Sonal Mansingh's life closely… almost stalking her (smiles). Her life seemed to me some sort of a feminist manifesto. Many years later I met her — it was just a chance meeting — and that propelled me to write this book. We did not start off by thinking about a big book. We thought we would work on a small book or an article and then we started meeting. There was a definite chemistry between us.
Sonal Mansingh: Sujata came into my life suddenly. Her husband and she had come to dinner at my house and on an impulse she said, 'Ma'am, I'd like to write something on dance and I want to make a children's book.' I said okay… I was very casual. We started somewhere and then lo and behold, before I realised, it got into my own life! Of course, you cannot talk about dance with me without me being involved in it because I do not look at dance and life separately, ever. My life has been a dance and dance has been my life. I have given many interviews but it's not easy to persuade me to really open up…. Slowly our minds met and she was able to prise things out of me.
(To Sujata) I would like to know, why did you choose me as your victim (laughs)?
Sujata: Given a chance who wouldn't?! The format was very often the Joycean stream of consciousness. We would begin at some level and end at some completely different level. There were long monologues. This format helped me keep the text really light.
It was so amazing to sit with her, at times there used to be intense conversations between us but it was completely non-linear… I rarely recorded and I almost never wrote, so it was also playing with memories. It was wonderful to get into the interiors of her thoughts. Of course, there were times when she was ready to kill me! She thought I was taking much too long. But I had a full-time job and I was looking after a very ill parent. I had all these excuses but I am so glad that I did it. It helped me get away from the slightly traumatic life I was leading as a bureaucrat. Plunging into her life took me away from my own life because I was facing a very troublesome time. I call her apa (elder sister).
Sujata: We finished the book, but then spent three to four days wondering what the title should be. And now the title seems such a close fit.
Sonal: Yes, I think each life is different. When I look back, it's really 'a life like no other'. Till the last day of my life I will keep living. I am very passionate about things. I do not take nonsense and I do not like stupidity and sloth. There are so many things I don't like but there are so many things I love… I love life, laughter, good food, travels, art, museums, rivers, swimming and I love 'love'.
Sujata: She is a unique example of femininity. She can be tender and so warm and at the same time she has such a certitude of opinions. She cannot be bullied at all. I tried to bully her at times and I got it back in full measure (laughs).
MEMORIES OF RAJ BHAVANS
Sujata: You grew up in the razzle-dazzle of different Raj Bhavans in Nagpur, Mumbai and Bangalore. Can you tell us a little bit about your life as a child?
Sonal: Raj Bhavans have been a part of my life because of my paternal grandfather (Mangal Das Pakvasa). He quit the Congress because he didn't agree with (Jawaharlal) Nehru, but he was a Gandhian. At the time of Independence, there were only five provinces in India, unlike today. Nagpur was the capital of Central Provinces and Berar. At a young age we all shifted to Nagpur, a beautiful city where the Nehrus (were there) and Sardar Patel was like an elder brother to my grandfather. Morarji Desai was also a family friend, also Sarojini (Naidu). My childhood was a happy one because my grandfather invited great musicians and dancers like Uday Shankar to the Raj Bhavan for at least a week. Siddheshwari Devi used to call me Sonabai. For Pandit Omkarnath Thakur my mother was almost like an adopted daughter, so he loved us. M.S. Subbulakshmi, Bade Ghulam Ali Khan, Vilayat Khan… they all continued their friendship with me later when we returned to Mumbai, where I was born and where the family was.
My mother was on various committees of All India Radio; there was no television then. Pandit Maniram told my mother, 'Ab mera bhai (Pandit Jasraj) taiyyar ho gaya hai, thoda sun lijiye.' So my mother said, 'Sonal ka janamdin aa raha hai, aap le aaiye.' So he (Pandit Jasraj) sang in our house in front of distinguished guests and friends. Jasrajji is such a wonderful person as you all know, but in the middle when he was young and handsome and had women all around him... ek bar mujhe thoda irritation ho gaya. I told him, 'Aap mayurpankhi dhoti toh pehente hain lekin aap mayur mat baniye mere saath (laughs). Don't forget you performed at my house on my birthday.' And he was like, 'Arey Sonalji...'. So I have many khatta-meetha beautiful memories.
Ravi Shankarji remained a dear friend till the end. His wife, Sukanya, still comes home. Bade Ghulam Ali Khan used to live in front of our house in Mumbai and we used to wake up with his riyaz, early in the morning. I have some great memories with artistes and friends.
RUN-UP TO ARANGETRAM
Sujata: (To Sonal) Let's talk about your Bangalore years.
She actually ran away from home because she was passionately in love with dance and she decided that she was meant to be a dancer. She went off to Bangalore to learn dancing from her guru, Krishna Rao, and his wife, Chandrabhaga Devi. Then her arangetram (debut) happened in the darbar hall of Raj Bhavan in Bangalore. The run-up to the arangetram was really quirky and I would like apa to tell us about that. During her practice session she was supposed to show a woman in love. She had to distil the essence of Shringara rasa… the sensual and erotic essence of Shringara rasa and she was all of 16 or 17!
Sonal: I can't help but say that unlike the 16s and 17s of today, where they know all about birds and bees... (that was) a very innocent Sonal... because firstly, among Gujarati families such information was never given, and secondly, it was a freedom fighter's family, Gandhian. Thirdly, we never even thought about it.
My guruji became very irritated one afternoon, closer to my arangetram in June 1961, because I could not get the love, the passion, the yearning. He said, 'Everything is perfect but look at your face… dead fish eyes!' It went on for a few days. One afternoon, I was rehearsing and I thought he is now going to give me a whack. Just then there was a sound in that hot afternoon from the street. He went to the window and looked out. And he called me. He said, 'What's that?' I looked out and said, 'Sir, monkeys are dancing.' He pointed towards them and then to me and said, 'Show me the difference between monkey and you.' That one sentence went like an arrow through my heart. That became my life's motive. We do all the gestures and movements that animals and birds do. I have seen so many people involuntarily behaving and interacting, they are not aware of where the hand is going, what they are looking at, how they are walking, how they are seated and this is where that one sentence made me aware of the difference between a monkey and a human being, that too a dancer.
'AS LONG AS THEY LAST'
Sujata: You have had a fairly turbulent life in terms of your relationships and marriages. How have they impacted your life?
Sonal: I think marriages are wonderful as long as they last (laughs). They, of course, leave their imprint. I have learnt personally a lot from both my former husbands. One because of the Odisha connection (Lalit Mansingh), whose father was the great author and poet, Mayadhar Mansingh. And I must confess that I often thought that I should have married him (laughs). He was such a wonderful human being!
He put me on to guru Kelucharan Mohapatra, saying that you are a star in Bharatanatyam, already dancing in Hyderabad and Bangalore, in Raj Bhavans and international film festivals and what not, but as an Odia bahu I think you should learn Odissi.
Of course, his wife was not very pleased with it. Imagine 1965 and Odisha till today remains more orthodox than we can imagine. Nevertheless he inducted me into the institution in Cuttack. He just pointed his stick and they all came and fell at his feet. He said, 'Kelu, this is my bahu Sonal and you will teach her Odissi', and Kelu Sir took it upon himself for the next five years to teach me Odissi. My foundations are very strong. Many choreographies were especially composed for me.
AGAINST ALL ODDS
Sujata: Let's get to the end of your marriage with Lalit Mansingh. You fought against daunting odds and you were homeless for days. How did you survive those years?
Sonal: I was homeless for five years in Delhi. After the initial years in Raj Bhavans, where I grew up, and then ran away to Bangalore, I never went back to live in Mumbai with my parents. I went to Geneva to get married to Lalit, came back to Delhi… 1967 to 2017, exactly for 50 years in Delhi, in between was my separation with Lalit. He was in Kabul, I won't say why but you can understand.
Indira Gandhi was very annoyed with me. When I came back from Kabul and when she heard about it, she was very annoyed because she had taken me with her to Iran and Afghanistan. Those years prime ministers used to be culturally oriented and they used to take cultural delegations, not just industrialists and businessmen. So Lalit's earlier quarters, two rooms in a Curzon Road apartment, were not allotted to me. I had no home. With two suitcases under a charpoy in my Bharatanatyam vocalist, Kamakshi Kuppuswamy's quarters, I then went to India International Centre for some time and then I shifted with Rajgopal and his wife Maithili... five years I was homeless in Delhi. But even today I am homeless. I don't possess any property. I have always lived in a rented ghar because I put in my money in establishing an institution, the Centre for Indian Classical Dance, which celebrated 40 years on April 30. I never wanted a home or land because the body is the only home I will ever have.
BRUSH WITH DEATH
Sujata: You have called yourself dwija, the twice-born. Tell us a little about your brush with death....
Sonal: In 1974, I was in Germany, doing workshops, and one weekend we had spent in Nuremberg with a German painter friend. By then I was with my German fiance. On our way back to Bayreuth, there were dense forests and the autobahn (motorway) was slippery as it had rained.
Suddenly, a deer jumped across. We were in a Volkswagen Beetle, but unlike today, there were no safety belts. And when you go for one night, there are no big suitcases. The Beetle had its luggage carrier in front and the engine at the back, so there was no balancing factor. It did three somersaults and I was thrown out and, of course, I was unconscious. I had broken the 12th vertebra, which was powdered. Even today I don't have my left collar bone! Luckily at 1am a car was passing by and they called the police.
The hospital wanted to operate on me and insert a steel rod. But I said no, so they were left with a plaster cast. It was nothing short of Roman torture. On one table rested my chin and elbows and on another table was the rest of my body, knee-down. My broken back and ribs were like a swinging bridge. That's how they put layers and layers of plaster cast. They expected me to scream because it was painful beyond words, but the Indian woman, the dancer, never gave in. I believe I went white and was sweating but not one choon.
They later framed my photograph and it was in the hospital at Erlangen and the chief doctor's office for many years. This changed me! Indira Gandhi's telegram was the first to arrive at the hospital. So many known and unknown people sent messages. It made me realise that life is a bubble, you never know when your switch is off.
From that time on I was very happy to help people who came to me. I thought to myself, what a blessing in disguise is my second birth that it has made me humble and made me aware of life as never before. Live life queen size and do whatever you can for others. If not anything, spread love.
From ghugni to hot jalebi, the audience was treated to some of Calcutta's favourite street food
Malancha Dasgupta
Pictures: Rashbehari Das