Hem and awe
'The border of a sari is at once a rigid and versatile thing'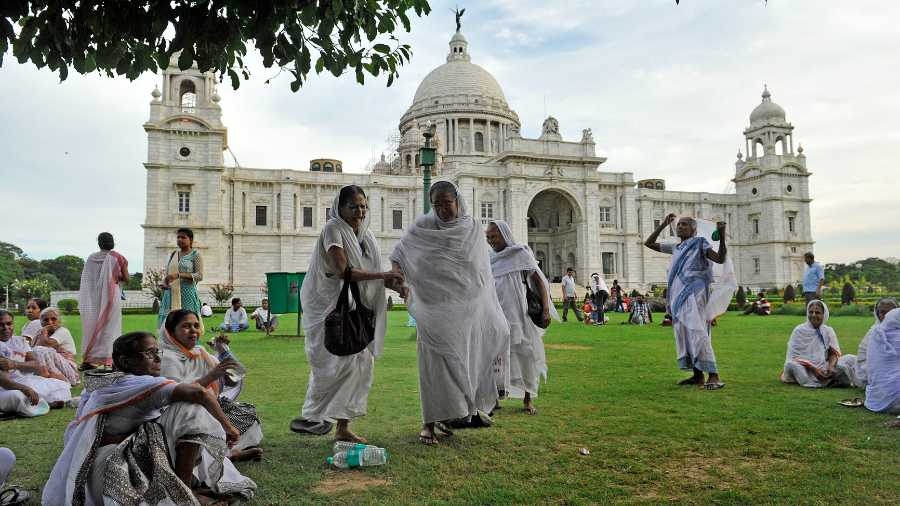 ---
---
Borders may be contentious things but the sari border is an exception, or so I told myself as I used one to tie a handle-less window to its corresponding grill in the run-up to Cyclone Yaas.
When I remarked as much aloud, my 82-year-old father recalled that a certain drawer in his father's secretariat table was always stuffed with rolls of sari borders or paars. It seems his elder sisters would pull out colourful threads from them. These were then used to embroider anything and everything from pillowcases to handkerchiefs to framed tapestries that beautified the walls of most middle-class Bengali homes. A lot of it was also used in the making of the ubiquitous kantha.
"Unlike the paars these days, the old saris had borders from which threads could be pulled out without breaking them," says the middle-aged Debojyoti Sensharma. His mother, too, salvaged sari borders and used the thread to embroider asanas or seating mats.
Oftentimes, it was not necessary to deconstruct the paar. "An especially fine sari border is itself used as a kantha border, creating an unusual combination of weaving and embroidery," writes historian Krishna Lal in her 2014 book, Kantha: Poetry Embroidered on Cloth.
Explains Chinmoy Basu, one of the directors of the south Calcutta handloom sari boutique named Meera Basu, "Earlier, saris had flat borders, what we call matha paar with single or at most double thread work. These days we have what is called a naksha paar, a jacquard weave. The threads have knots so they cannot be pulled out without breaking."
The sari border was originally developed to increase the longevity of the whole nine yards. It is the part that takes the most abuse (tripping, dragging in mud, being scrubbed clean and so on), therefore it made sense to make it tougher — the reason the paar can be salvaged from a worn-out sari. Later, it turned into a design element. In fact, it was often the only design element in everyday saris.
Sari borders range from inchi paar, kasta paar, matha paar, naksha paar to the really broad maha paar and the madhyamani, a border in the middle of the sari. There are rules for who can wear what, unwritten ones but rules all the same. Married women are supposed to wear broad borders in colours of the sunset, thin borders in drab colours were meant for widows and pastel borders for unmarrieds. Tall women can get away with wearing double-width borders while short ones should stick to narrow borders. Thread-work borders are for regular wear, while zari borders should ideally be limited to special occasions.
Among cotton handloom saris or tants, as they are called in these parts, there is the Dhaniakhali with its typical ear-of-rice border, the colourful Begumpuri with its contrasting borders and the refined, delicate Tangail with its rich borders featuring zari or silk threads, each named after the village of its origin.
Designs on sari borders may be floral, paisley or inspired by motifs found in temples, stupas or mosques. Shrabani Bhadury, sari connoisseur, tourist guide and now a history enthusiast, points out that the Bengali fascination with fish is reflected in machh (fish) and ansh (fish scale) motifs on the paar. Which brings to mind the fact that the sari borders were also used to keep cooked fish safe in the form of shikey — the desi version of the macramé hanger that was used to hang food items from the ceiling and out of the reach of cats and no-goods.
Salvaged sari borders were used to border a lot of things — madurs or bamboo mats, hand-fans, tablecloths and even clothes. "I've seen my mother and aunt stitch together broad borders to create bedcovers," says Bhaduri. The hardy borders were also patched to form pillowcases and jholas. Others used the paar to polish brass vessels, put up mosquito nets, tie unwieldy windows in draughty old houses — as I did, turn into emergency drawstrings or even a clothesline to hang clothes from on a rainy day.
Says social activist Imon Biswas, "I remember Dimmu (maternal grandmother) using a strip of a sari border to braid her hair and then tie it into a bun, complete with a bow." Biswas, whose grandmother was an accomplished needlewoman, also swanned around in her childhood in quite a few frocks dressed up with sari borders.
My maternal grandmother used her collection of sari paars to border the kanthas she made for her nine grandchildren and the one great-grandchild she met. I never met my paternal grandmother, but I have one exquisitely embroidered but too-frayed-to-wear sari of hers. I plan to frame a section of the blemish-free paar — for a future without borders.
The Invisibles
For the longest time, Hindu widows were not allowed any stitched garments but borderless white saris or thaans. So far as sartorial cues go, the missing paar further reminded that these women had fallen into a colourless abyss far from the perimeter of normal familial life. "A woman who had lost her husband was supposed to give up all signs of beauty. And a sari border was the most attractive bit of the sari — broad, finely wrought, colourful. A widow has to eschew all ornamentation, beauty and colour. Therefore, the sari border had no place in her life," says Kasturi Gupta Menon, who is president of the Crafts Council of India.