He rose, he rose, he rose from the beds
Meeting an engineer of roses and his bouquet of curiosities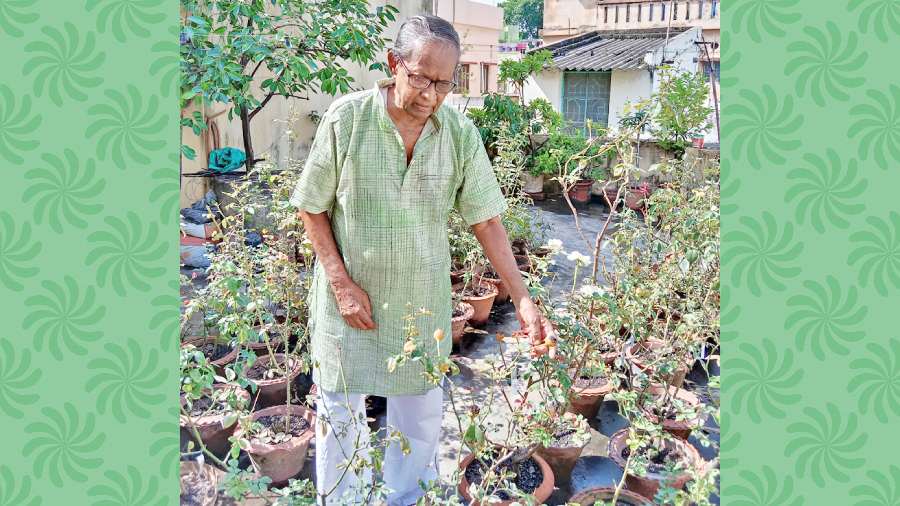 LOVE'S LABOUR: Subrata Ghosh in his laboratory
Photographs by Swachchhasila Basu
---
Published 11.09.22, 04:18 AM
|
---
Peace, Tickled Pink, TiraMi-Su, Diana Princess of Wales, Zina, Tathagata, Bride's Maid, Durgapur Jubilee, Sir J.C. Bose... These seemingly unrelated names are all strung on a single thread. They are roses that have been bred around the world. The last five have been developed by Subrata Ghosh of Durgapur in West Bengal.
The 87-year-old is full of stories about each one of them. Peace, a light yellow to cream colour rose, was developed by Frenchman Francis Meilland. With the German invasion of France imminent in 1939, Meilland sent out cuttings of his new rose to friends to preserve it. Apparently, it was sent to the US too, "on the last civilian flight across the Atlantic during the war". All this talk of peace and war is happening from his perch on a stool, just below an airgun hanging from the wall. "I use it to keep the monkeys away from my plants," he says.
As Ghosh digs out a pile of notebooks with detailed entries about his work, he continues, "The cultivar (type of plant bred for desired traits) spread under various names. In France, it was named Madame A. Meilland, in Italy, Gioia... In 1945, after the war, Meilland addressed the issue. After all, developers hold the right to name the cultivars. A consensus was reached and it was named Peace."  And  Peace roses were handed out to all delegates at the inaugural United Nations meeting in San Francisco, US, later that year. The accompanying note read: "We hope the 'Peace' rose will influence men's thoughts for everlasting world peace".  
A civil engineer by profession and rose breeder by passion, Ghosh has created over 1,500 variants. Around 300 of these are available in the market — domestic and international; 50 have made it to the 2007 edition of Modern Roses 12, the world encyclopedia of roses published by the American Rose Society. How those names reached the society he has no idea. His first registered "child" is Tathagata, a white rose.
Tea rose, hybrid tea, polyantha, hybrid perpetual, floribunda, Bengal rose, Shibpur, crossing, pollination, stamen, grafting, father-mother, grandiflora, miniature… Horticultural jargon and information keep flowing from the man who is a walking encyclopedia of rose history. 
How did it all begin? The seeds were sown in Hooghly town. In 1948, a 12-year-old Ghosh cycled with Re 1 to the nearest nursery, four miles away. He got a rose plant for  eight annas  (an anna equalled 1/16th  of a rupee) and bought an earthen pot for six annas. "It was a tea rose named Mrs B.R. Cant," he says.
Fast forward to 1958. Ghosh joined Durgapur Steel Plant (DSP) and was subsequently allotted living quarters that stood on 12 cottahs of land. It is here that he grew roses and other plants and trees.
Till 1979, though, he wasn't aware that rose plants could grow from seeds. One day, he discovered some saplings around one of his plants. His curiosity piqued, he started reading up. "The DSP library has many books on horticulture. I began taking notes," he says. There are many things he also picked up from experience. He learnt that the first flowers of a hybrid plant are not the best — plants that he had discarded were taken by others and, over the next few years, bore much better flowers. He also accidentally discovered that the fungus mycelium aids in the development process. "The average germination rate from seeds is 25-35 per cent but in my father's case it is 70 per cent," interjects his son Suman. 
"Rose seeds need to 'sleep' for 4-5 months, that too in temperatures of around 5-7 degree Celsius. Else, they take at least a year to germinate," adds Ghosh. His friends let him store his precious seeds in their refrigerators till he got himself one. That was 1980. Eventually, he, along with some colleagues from DSP, went on to win awards at horticulture shows across India.
"I cross them in January-February, the fruits ripen in June-July. I take the seeds out and store them in the fridge till end-November. No two plants are the same even if they are from the same set of seeds and pollen," Ghosh says almost in one breath, "Just like no two human siblings are the same."
But there are no plant patents in India. In the West, there's a lot of money involved," he says a tad wistfully. But he regains composure immediately, "Amar srishti sukhei anondo… My joy is in creation. People felicitate me, come and touch my feet, otai paona."
Now he lives in his own two-storey house on a three-cottah piece of land. He plucks a rose fruit from a potted plant on the terrace to demonstrate the cross-pollination procedure. The fruit has an aluminium foil attached, with the words "WMP x CONFIDENCE, 30/1" embossed. WMP is short for White Masterpiece.
The small garden and 500- square-foot terrace are not enough to keep all the variants. So he hands over plants or branches to nurseries, who in turn nurture them and introduce them to the market.
The last entry in his diary reads: "S/1531 DPOW x HDL; HT. pb. 16.5.22; Light cream and pink blend. FFL 1½" 15 broad & stiff petals. Could not be assessed because of high heat." That's Diana Prince of Wales crossed with Headliner. HT means hybrid tea, a classification for garden roses.
Ghosh says, "Genetically mixing to create seeds and seedlings is not an easy task, so not many people get into it." And here's a twist to his tale. Pollination of roses is best done between 9 and 10am — when he would be in office. So it's his wife Sandhya who would diligently do the crossing. And hence, everywhere the breeder's credit reads: "Mr and Mrs Subrata Ghosh".