Feet forgotten and found
A look at Gaudiya Nritya, Bengal's forsaken native dance form, and who is reviving it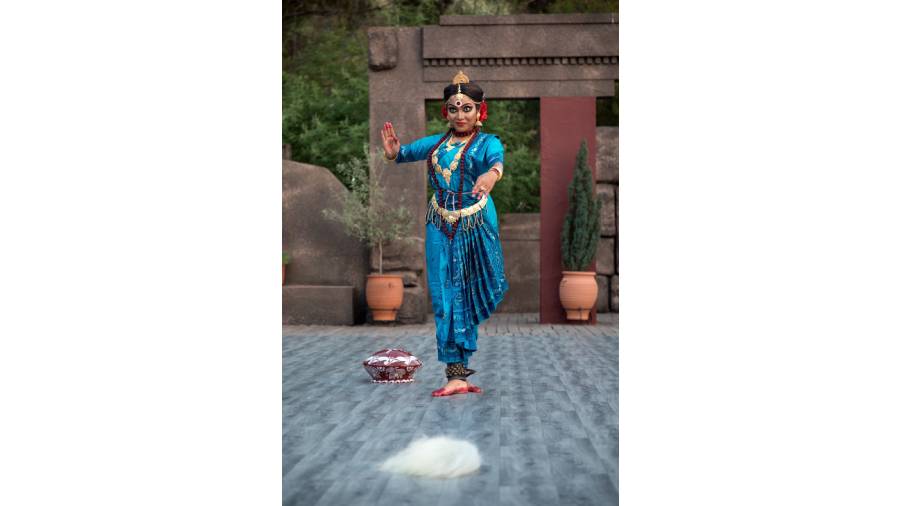 ---
---
Tamil Nadu has Bharatanatyam, Andhra Pradesh has Kuchipudi and Odisha boasts of Odissi... But what is the classical dance form of such a culturally rich state as Bengal? "It is Gaudiya Nritya, but not everyone recognises it," says Rachana Kar.
The 24-year-old has been taking this forgotten form all around the world. Apart from regular shows in Bengal, Kar has performed Gaudiya Nritya at a Unesco dance congress in Tokyo, at the 54th World Congress of Dance Research in Athens. When I met her, and admittedly it has been a while because Covid-19 intervened, she was packing her bags to perform at the Venice Biennale.
Gaudiya Nritya is a Bengali classical dance whose name traces its origin to Gaur, the capital city of Bengal once upon a time; it is now a ruined city on the Indo-Bangladesh border. This dance form is an amalgam of drama, poetry, colours, stories — all based on sculpture, literature, scriptures, guru-shishya parampara dance traditions and historical evidence.
"Once, in school, I had seen different dance forms being performed at an event. There was Bharatanatyam, Kathak, even folk dances, but no classical dance form from Bengal," says Kar. Her search introduced her to Gaudiya Nritya and now she wears her pride wrapped around her ghungroos, "I belong to Bengal and this is the classical dance form of Bengal. Why should I learn other dance forms when my own culture is so rich?"
Kar says it is her guru Mahua Mukherjee who is reviving Gaudiya Nritya and is the form's chief pioneer. Kar is a student of Gaudiya Nritya Bharati, an institution founded by Mukherjee, an ex-teacher of Rabindra Bharati University and ex-dean of the faculty of fine arts. This form also has elements of the Chhau, Nachni and Kushan dance forms of Bengal — all of which Mukherjee is trained in. Along with her husband Amitava Mukherjee, she has been toiling for 40 years to revive the nearly extinct Gaudiya. Mukherjee has travelled extensively in the interiors of Bengal and studied the dancing sculptures and carvings on various terracotta temples, some of which date back to the 4th century AD.
To give an insight into the history of what happened then, 63-year-old Mukherjee says, "This dance has its roots in Natyashastra, a 2,500-year-old Sanskrit text on performing arts. The text details the various requirements of a performing art: composition, structure, body language, ornaments, make-up, costumes, musical scales and notes."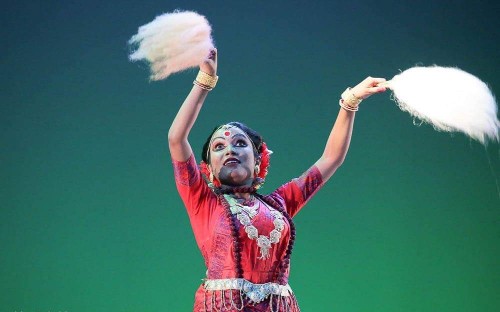 Mukherjee clarifies that the dance form was never lost, only the practice of it was reduced. "By the time I wanted to learn Gaudiya Nritya, there were no practitioners," Mukherjee says and blames it on the 12th century Turkish invasion of Bengal. "It was Chaitanya Mahaprabhu who then revived Gaudiya Nritya," she says. This explains the use of musical instruments such as the khol, a two-sided terracotta drum used for accompanying kirtans, in this dance form.
It was as a 14-year-old in the 1970s, when Mukherjee, on a trip with friends to the famous Hangseshwari Temple in Hooghly, noticed something. "There is a 17th century terracotta mandir — the Ananta Basudev temple — full of beautiful dancing sculptures. It intrigued me to explore the dance form they reflected, because the only dance forms known to us then were Manipuri and Rabindra nritya," she says. This further inspired her to study Sanskrit, history, the guru-shishya parampara and eventually this dance form. She learnt about the different mudras of sculptures from literature.
Scrolling down young Kar's Facebook page, one can see pictures of her in different poses and expressions. With alta around her fingertips and toes; swaying two flying whisks wearing a red Baluchari sari; performing a mudra standing atop an earthen handi.
Both Kar and Mukherjee insist that shora (the earthen handi), pushpadaali (basket of flowers) and chaamar (flying whisk) are essentials of this dance form. "Shora means prithibi (earth). Dancing on it, means you are dancing on earth. If you go to Bankura, the temples have sculptures depicting this. Dancing with the chaamar means paying respect to the five elements — air, fire, earth, water and space," says Mukherjee.
On being asked why Gaudiya Nritya has come to interest young people like Kar over now popular Western dance forms, Kar smiles and replies instantly, "Those dances merely represent entertainment. This is entertainment infused with history and culture." She further talks about different "dance items" of Gaudiya Nritya, such as Ardhanareshwar — dancing as half Parvati and half Shiva; Dasavatar — 10 incarnations of Lord Vishnu; Shiva Nabapalli; Chandi Bandana; Ganesh Bandana and so on.
But what I learn is that just reviving Gaudiya Nritya hasn't been enough. The struggle continues as it is not recognised as an Indian classical dance by the Sangeet Natak Akademi. Ironically, the study of it is eligible for scholarships from the Union ministry of culture.
Kar is a senior national scholarship holder in Gaudiya Nritya. She says, "You see the contradiction. While the ministry is giving us scholarships, a body under the ministry is not even accepting us. They are giving awards, sending dancers for international exchanges for other dance forms but not Gaudiya Nritya."
Mukherjee talks about how they have received appreciation from people all over the country and abroad. "People practise this all over India now. Bengal has at least 2,000 Gaudiya Nritya dancers. Even if the authorities do not want to give this dance form an identity and do not accept it in the dance festivals of Bengal, they can't stop people from dancing," she says.
Gaudiya Nritya would probably have been lost to us had it not been for the efforts of a few like Mukherjee. But it is now a reborn, revived and running form.
Kar was to have performed in Paris and at Cannes. She says, "It has been my dream since childhood to take this dance form to every country. The journey has just started." Covid permitting.