Have a green Puja with these tips
This is the time to spruce up our houses and here are a few tips to do that with greens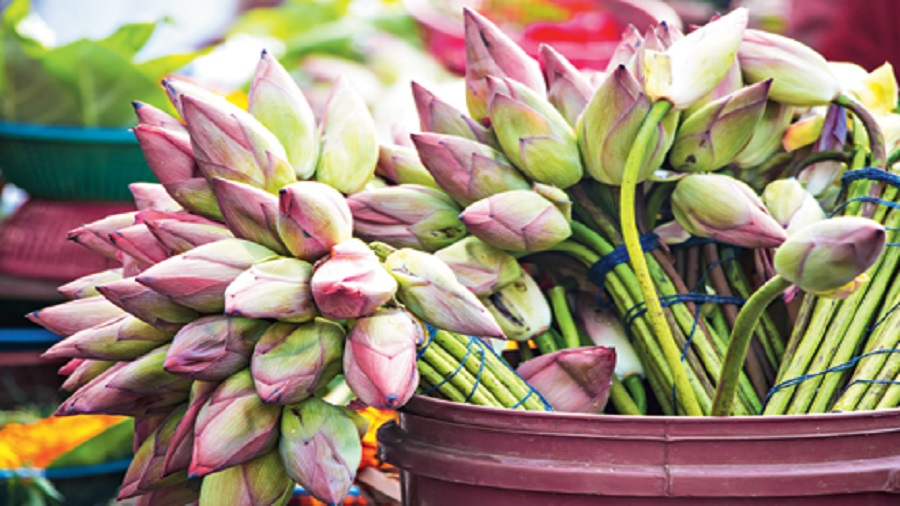 It is beautiful to see how nature changes with the season and teaching us how to change and adapt
Sourced by the Telegraph
---
Published 05.10.20, 08:17 PM
|
---
After months of trying to adapt to the new way of living, we now have something happy and cheerful to look forward to. With the upcoming festive months, we finally have some excitement and positivity. It is also beautiful to see how nature changes with the season and teaching us how to change and adapt. So let's make the most of this current situation and start prepping to welcome Ma Durga to our humble abodes.
This is the time to spruce up our houses and here are a few tips to do that with greens. With kids still at home and no holiday-travels happening, it's the best time to involve them in creativity and DIY decor. This year let's all pledge to buy local and support our local artisans .

The basics
As we begin with the basics, don't forget to let your decor bring out who you truly are. For starters, let's begin by making a checklist of all spaces, nooks and corners you'd like to revamp.This will help you to plan and not make you get into an unnecessary online shopping frenzy.
They say that first impressions are important and with most of us meeting family members after a long time, there's no better time than now to make a new impression. Pick out some nice planters, colour-coordinate or go all funky and arrange them neatly on either side of your entrance, or even make an aisle out of it. If you live in an apartment, glam up your stairs with some good planters and voila you're good to go.

Cosy corners
We all have that spot we love the most and it's truly not right to deck it up only for a festive celebration. Pick that corner of yours, make room, add in a couple of throws and floor cushions and transform it into a lovely cosy corner, inviting enough to unwind and get into long hours of adda of meeting up with loved ones after such a prolonged period.
Add nature or oxygen bombs, as I fondly call them, to make your surroundings lighter. Make sure the accessories you use have an organic feel to it. Add a few tall dancing bamboos in one corner, place a rug and throw in loads of greens in all shapes and add that instant touch of colour and freshness to your room. Find a couple of old vases or bowls, and make terrariums with small pebbles in them. Place that perfect arrangement of multiple bowls, all set in the perfect assortment.

Prayer room
An absolute must that remains to be the top priority of looking beautiful is the puja room . An underrated material for deco, the earthen pot looks so beautiful if used the right way. Use them to float candles or paint them, fill them with flowers, coloured water, stack them with strings of marigold or lotus and add a few incense sticks. Give a twist to your puja room with green and natural elements, an atmosphere that will not only add to the festive celebrations but will give the right vibrations to your home.
Add a small-yet-beautiful hibiscus plant beside your puja space, along with some fragrant bundles of tuberose or rajnigandha. It won't just add fragrance to your room but will also add that splash of something refreshing. When the fragrance of the dhunuchi mixes with the moist mud that will fill in your surroundings, you will surely give yourself a pat. After all, this year calls for adding that something more in your celebrations at home.

Gifting green
Last but not the least, what's a festive occasion without exchanging gifts and bonding over them like never before? This time, skip those sweets and add a hint of something that says — "I care". Make sure your gifts include a small plant, a sapling or even a tiny sprout because even when the festivities are over, this would still remind them of you, your vibe, love and care as they nurture it.

Monika Poddar owns plant boutique Chlorofyl. Reach her on @ChlorofylKol (FB) and @chlorofyl_giftinggreens (IG) DIY Gifting Ideas
To add a twist, how about you try your hand at some DIY gifting ideas as well.
Take a brown paper and some thread. Cover your gift with that brown paper and carefully tie it with a thread around.
Now to add that green touch, run to your garden or balcony and grab all the leaves and flowers you can and carefully bunch them up. Add them in the middle, and voila, your something new and refreshing is done!