Gaon Games
As the world gets ready for the Tokyo Olympics, The Telegraph spirits us away to the diverse world of India's rural sporting tradition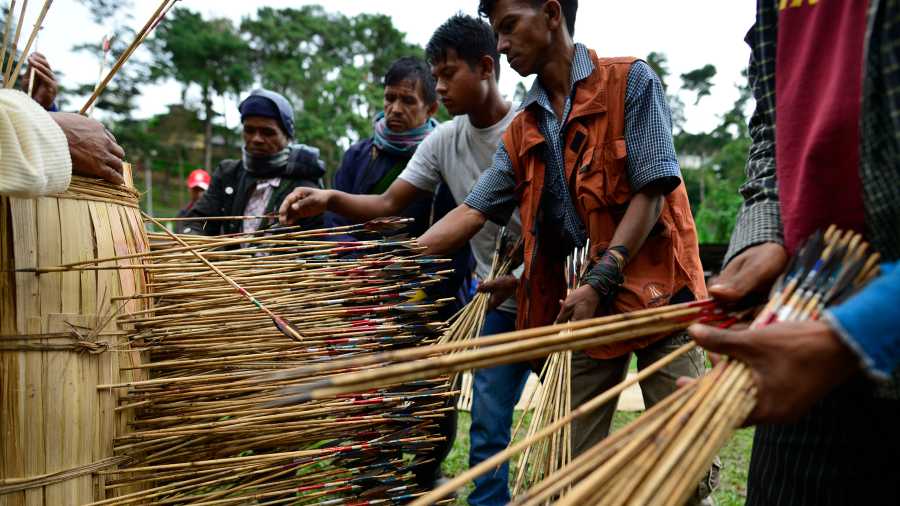 ---
---
The staging comes a year late, but India has been readying for it a while; it is sending its largest ever contingent — 119 athletes to compete across 18 disciplines — to the 2020 Tokyo Olympiad. Will they bring back more than our best haul of six medals at London in 2012? We shall see. Meantime, thousands of rural Indians will quietly continue to play games they've traditionally played in far-flung corners of the nation.
These unsung athletes will at best compete in Punjab's Qila Raipur Sports Festival, a rural sporting event in which village people gather every year for three days; or the Nehru Trophy in Alappuzha, Kerala, which draws thousands of oarsmen during the annual harvest festival of Onam. Around the same time, people of Tamil Nadu enjoy the controversial animal sport of jallikattu. And that's not all; there are many more games rural Indians play. Here's a selection.
Teer Khel
Archery or teer khel (game of arrows), an erstwhile form of defence for the Khasi tribe, is now a vibrant sport in Meghalaya in northeastern India. Many villages in the state host archery competitions. However, the sport is now more of a leisure activity and gambling has crept into the contests. The daily "teer lottery" — a form of betting — is organised in Shillong; archers fire arrows while gamblers place bets speculating how many arrows will hit the target. The sport is part of the culture of Manipur too with the added feature of speed. A well-trained archer can shoot as many as 500 arrows within a few minutes. A popular sport for the Sikkimese too, archery contests are traditionally organised after harvests. Players hit a small wooden target — 3x1 feet — from a distance of 130 metres. A skilful archer must be adept at sledging too. In Himachal Pradesh, they use arrows blunted with a piece of thoda or wood. Players try to hit each other below the knees.
Mallakhamb
Developed as a training technique for wrestlers in the 11th century, mallakhamb literally means pole wrestling. The sport, popular in Maharashtra, Madhya Pradesh and present-day Chhattisgarh, features acrobatic feats atop a thin rosewood pole greased with castor oil. An athlete can be seen performing extreme manoeuvers and dangerous balancing acts. Apart from the fixed pole, there is the moving pole and the rope, both required to pull off twists, twirls and contortions, making the sport a combination of gymnastics, aerial yoga and martial art. There are national-level mallakhamb tournaments and many states participate under the aegis of the Mallakhamb Federation of India. A troupe of 35 acrobats from India demonstrated their mallakhamb skills at the 1936 Berlin Olympic Games. The acrobats' death-defying gymnastics thrilled Adolf Hitler and he gifted an honorary Olympic medal to each gymnast.
Jallikattu, Kambala
Jallikattu is a 2,000-year-old sport. Matches are organised all over Tamil Nadu after harvest. Men run along with a bull, hold on to its hump and pluck away bundles of money tied to its horns in this ancient sport. In 2014, after a long battle by animal rights activists, the Supreme Court banned it as an offence under the Prevention of Cruelty to Animals Act and imposed penalties on its practice. But forced by widespread public protests, the state government stepped in to reverse the ban as they deemed it important for the "survival and well-being of the native breed of bulls and for preserving cultural traditions".
Kambala, or buffalo race, is held in coastal Karnataka before the paddy harvest. Farmers play it to propitiate the gods for protecting their cattle from disease. Bailgada sharyat, or bullock cart race, is held in Maharashtra, defying the ban on animal sport. It is associated with the Ganpati festival and is seen as an integral part of the state's culture.
Vallam Kali, Nouka Baich, Nao Khel
The snake boat race or vallam kali of Kerala is organised every year during Onam. Each of the 150-foot wooden boats, crafted through the year, is steered by over 100 oarsmen. If it were in the Olympics, vallam kali would be the world's largest team sport. There are at least 20 teams competing in the marquee race held at Alappuzha in Kerala. Known as Champions Boat League, with a prize money of Rs 5 crore, the boatmen compete here for the prestigious Nehru Trophy.
The tradition of nouka baich, or boat race, barely survives in the riverine districts of West Bengal — Murshidabad, Nadia and North and South 24-Parganas. The sport is more popular in Bangladesh, which is blessed with wider rivers such as the Padma and the Meghna. Assam also has a tradition of boat racing, particularly in its eastern regions. Locally known as nao khel, speed fests similar to snake boat racing in Kerala are organised in Guwahati, Hajo, Sualkuchi and Barpeta. 
Kushti, Pehlwani, Kukha, Mukna
Malla-yuddha, or freestyle wrestling, has been a part of the culture of Haryana, Punjab and pockets of western Uttar Pradesh for centuries. The ancient sport was not governed by any rules — breaking joints or pummelling the opponent mercilessly to death was the norm. After the 13th century, the Mughals encouraged the synthesis of Persian style koshti-pahlavani with the native malla-yuddha, refining the sport practised in traditional akharas or wresting seminaries. The participation of wrestlers from this region in the Olympics has transformed pehlwani, though. Mud clay arenas are being replaced by artificial mats or turf surfaces, and gender barriers are breaking down as women wrestlers are taking up this predominantly male sport. 
Several forms of traditional wrestling exist in different regions of India, especially the Northeast. Warrior Nagas wrestle their way in kukha played on grassy meadows to resolve disputes over land or women. Now annual championships are held in spring, wherein players don coloured waist cloth, called pfhephre, and try to topple opponents. Mukna, a combination of wrestling and judo practised in Manipur during the Lai Haroba festival, is governed by strict rules. Gando makal pala, a form of wrestling in Meghalaya, however, is free of much discipline — two wrestlers simply try to pin each other down to the ground. In Tamil Nadu, the ancient form of malyutham or gushti includes some amount of boxing and grappling. It's all mostly done for fun and entertainment, as most sport should be.