Film from our far east
A look at the Manipuri industry whose fortunes mirror India's identity crisis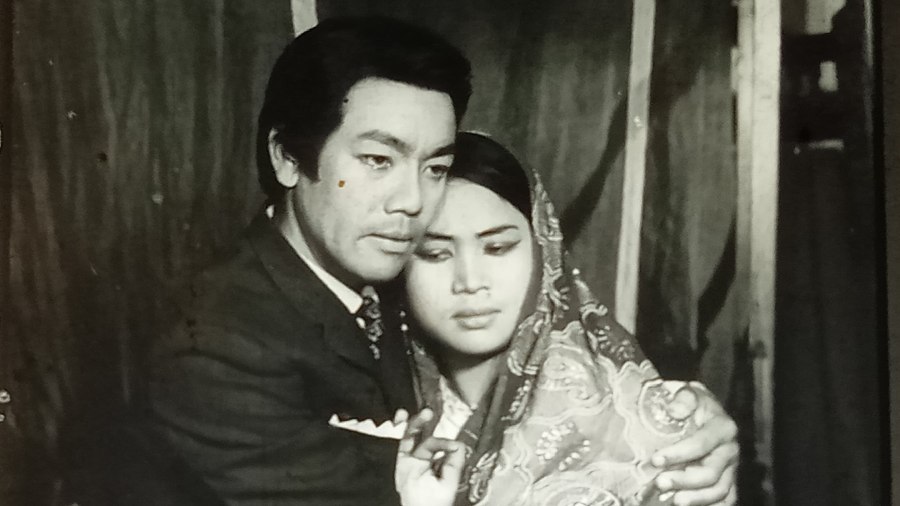 FIRST CUT: A still from Brojendragee Luhongba (1972)
Courtesy, S.N. Chand Cine Archive & Museum
---
Published 24.04.22, 01:54 AM
|
---
Would you have heard of Manipuri cinema? And yet, its 50th anniversary celebrations are on. Imphal just hosted the Eikhoigi Imphal International Film Festival. The S.N. Chand Cine Archive and Museum was inaugurated last year, and the first ever Manipuri film never to be completed has reached the final stages of restoration. And all these efforts are courtesy the Manipur State Film Development Society. 
The history of Manipuri cinema, right from the time of its birth immediately after Independence to its long stutter into the 1970s, says more about the rest of India and legacy notions of mainstream and don't-stream than anything about the northeastern state.
The real story lies between the reels. The first Manipuri film, Mainu Pemcha (1948), is a string of many nots. It was not directed by a Manipuri. It was never finished. And it is not the film associated with these golden jubilee celebrations.
In his book Living Shadows, acclaimed director Aribam Syam Sharma writes, "There was a boom in Manipuri theatre just after the Second World War. Many theatre productions came up... There were many talented theatre artistes who wanted to and dreamed of acting in films. The general public also wanted to see a Manipuri film." But, Sharma writes, it was felt a Manipuri story with a Manipuri cast made in Hindi would be more "marketable all over India".
By market diktat, the film was directed by a Bengali, the male lead was played by another Bengali and the dialogues were in Hindi. The disconnect would have been lost on the film's stakeholders, but Sharma, who lived close to where the film was shot, remembered how — he must have been 11 or 12 years old at the time — "vaguely humorous" it was to see local artistes speaking in Hindi. He also noted that he could not forget the sight of the non-Manipuri crew eating boiled eggs for breakfast, given that those days households in a predominantly Vaishnav Manipur did not allow eggs in, "let alone eat them".
Not many people even in present-day Manipur would have seen Mainu Pemcha, though going by reports two of the nine reels filmed were screened a couple of times. Rajkumar Johnson, who is a film conservator at S.N. Chand Cine Archive and Museum, tells The Telegraph how the reels were recovered a year ago. "It was all stuck together. We unwound and sent it to Chennai to be scanned. But it was in such a fragile state. Then we got in touch with Shivendra Singh Dungarpur of the Film Heritage Foundation in Mumbai and he did a set of chemical treatments. It can be scanned now. We will be able to see it in 4K sometime."
"I do not know the real reason why the attempt failed," writes Sharma of Mainu Pemcha.
In his article A Glimpse Into The Manipuri Cinema, film critic R.K. Bidur is less enigmatic. He says the project ran out of funds and remembers to cite Manorama Year Book 2001, according to which the hasty wrap-up had to do with "the rampant cheating and swindling in the Calcutta studio".
The film that technically qualifies as the first Manipuri film came more than two decades after Mainu Pemcha. Like its predecessor, Matamgi Manipur too was based on a Manipuri play. The film was directed by Debkumar Bose, son of the well-known Bengali film director Debaki Bose, and the greater part of it was shot in a studio in Calcutta.
So there was no film coming out of Manipur at all in the years between? "No," says Johnson. "People thought it was too expensive a business. Also, technical expertise was wanting," he adds. The crew of Mainu Pemcha as well as Matamgi Manipur was outsourced to Bengal. To put things in context, since the 1930s, there was a growth and profusion of film studios in Calcutta. The 1950s and 1960s are considered the "golden era" of Bengali films. As for Hindi films, in 1960 Madhubala was lip-syncing to Pyar kiya toh darna kya in a Rs 1.5 crore production called Mughal-e-Azam.
"The first Manipuri film by a Manipuri director was Brojendragee Luhongba by S.N. Chand. It too was made in 1972," says Johnson. This film reel, too, has only recently been recovered from a filmmaker's house, but in restorable condition, and is being digitised.
Sapam Nodiachand or S.N. Chand quit his government job and sold his assets to fund his dream film. He had begun his project before Matamgi Manipur but was delayed by a lack of funds. Brojendragee Luhongba was shot in Manipur and showcased the local culture.
"Chand produced, directed and acted. He was like a one-man army," says Johnson. While Chand has passed into Manipuri film lore, most people working in the Manipuri film industry still seem to multitask, but out of necessity.
Meena Longjam is an independent filmmaker; she got the National Award for her documentary Auto Driver in 2015. She says, "Today, of all the northeast states, Manipur makes the most films. But we have limited resources. When I make a film, I am the cinematographer, I am the producer, and I am the writer. Film productions in other states are huge institutions with big budgets. Here, feature films are made on budgets of Rs 5-15 lakh." When Mainu Pemcha was abandoned in the 1940s, close to one and a half lakh rupees had been spent.
Sharma had wondered about that first film, "If it were a success then subsequent productions may well have been easier." Meena says, "We are celebrating the golden jubilee of Manipuri cinema, but the glorious years of Manipuri cinema are yet to come."