Family Ties
Read more below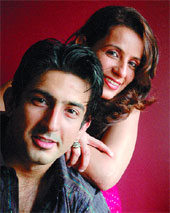 ---
Published 05.08.06, 12:00 AM
|
---
Aslam Khan shot to fame playing the cool dude in Nayee Padosan. Though the film didn't do well, Aslam went on to sign other projects like Dil Bechara Pyaar Ka Maara and Iqrar - By Chance. Though he'd really like to do comedy, Khan says that for the time being he wants to do a variety of roles. Right now, however he says that he's taking it easy and not going on a signing spree. He says, "I am sitting back, going through scripts and meeting people. But at times you have to be straight-forward when dealing with people from the industry, and stand up for what you believe in," he says.
His actress-sister Afshan Khan made her screen debut much earlier in 1995 with the serial Dastan on Zee TV. After the success of this serial, she went on to do a number of serials like Amanat (Zee), Parivartan (Zee), Remix (Star One), Tujh Pe Dil Qurban (Sony). Currently, she's concentrating on the serial Shanno Ke Shaadi on Star Plus. Afshan got married in 2000 and has a four-year-old daughter Kashish.
ASLAM:
I have three other sisters besides Afshan but we are both very close. Since I am the youngest in the family, I am the pampered one. But I must point out that I was not spoilt by my sisters. In fact, compared to the others Afshan was the dominating one. She was very protective towards me and took great care of my studies.
The one quality that I like about her is that she's very straightforward. If she doesn't like something, she'll tell you straight to your face. Still she doesn't try to impose her views on you and tries to understand what you have to say. When I decided to become an actor she outlined the pros and cons of it. I really value her suggestions because she came into this industry much earlier in 1995.
Like all siblings, we do have our share of fights. She's very argumentative and in the end she always wins. I remember once during our exams I was watching TV with my group of friends. Afshan was not at home and we watched for hours on end. We were so engrossed watching TV that we didn't realise that she had come back. She was very angry to see that I wasn't studying and a big argument followed. I still remember that she was so angry that she gave me a tight slap in front of my friends. Though it hurt my self-esteem then, today I understand how concerned she was about my studies.
Things have changed a lot today as Afshan is married and has a 4-year-old daughter. She has her own priorities too and so we don't get time to spend together. Though she stays close to my house, her work keeps her busy most of the time. But when we meet on special occasions, we make it a point to go out for family dinners. Since she's older than me, I listen to her suggestions, both professional and otherwise. She's advised me to go slow on comedy films and to consider doing offbeat roles. But what I like best about my sister is the fact that she's so down-to-earth and simple.
AFSHAN:
Aslam was not very interested in his studies and therefore I used to keep a close eye on him all the time. Since he was the youngest in the family, he used to get away with all the nice things. But I wouldn't say that he was a spoilt child.
Often people ask us whether we have any disagreements and differences of opinion. Disagreements are bound to happen since as individuals it is normal to have our own opinions. But over the years, we have realised our strong points and our weaknesses. I know his forte and he knows mine. Therefore whenever we have arguments we discuss both our flaws and plus points.
What I appreciate about Aslam is his drive for work as he's very passionate about films. He's extremely hard working and tries to learn from his mistakes. As far as my support is concerned, I am always there for him whenever he needs me. Since I came to this industry in 1995 I have developed a few contacts over the years.
Though whatever he has achieved is because of his own merit, I too helped him to develop his contacts. Right from childhood, he has been a self-made individual and he was even reluctant to accept gifts on his birthdays. What I don't like in him is the fact that he's a big prankster and tries to pull my leg. Sometimes when we meet on family occasions, he makes fun of us. He can go at any length to make you laugh.
On the whole, he's a family person and always tells us what he's working on. The competition today is far fiercer as we have so many talented actors around. I always tell him to be positive in life and continue doing the good work. I am my brother's biggest critic and always point out his mistakes. I know that Aslam has the talent to make a mark in this industry and I wish him best of luck.
Photograph by Gajanan Dudhalkar