Entergainment
The Bengali film industry is in the news every other day now as actors slip in and out of political parties with more alacrity than they slip in and out of roles. Mulling over the star rush at the political turnstiles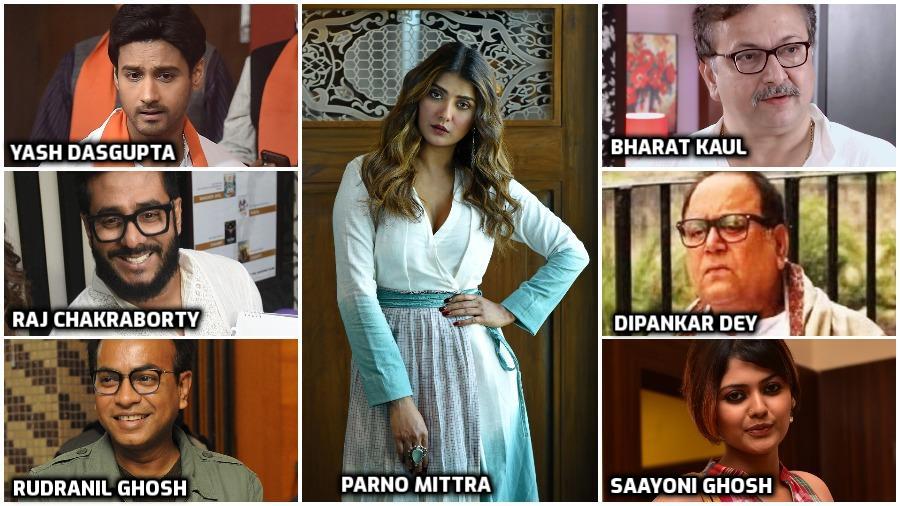 ---
Published 28.02.21, 01:09 AM
|
---
We are undeniably going through topsy-turvy times; and it's not just the pandemic that is causing all the turbulence. In Bengal, tergiversation seems to be the name of the game. Film artistes and, indeed, those involved with television and OTT platforms, seem to be vying with each other to acquire a political umbrella of some sort. Some of them are changing colour in a manner that would put the chameleon to shame.
What is intriguing is the fact that a majority of these artistes and "cultural personalities" have never expressed their views or acted in a manner that showed their political consciousness; what is worse is the fact that some of the personalities have had no qualms in jumping from one bandwagon to another.
I suppose it all began (in right earnest) with film actors and actresses, not to mention some "postmodern singers" being recruited by one party as showpieces in the Assembly and Parliament. Here too, some of the artistes suddenly seemed to acquire an air of being ultra-responsible in the socio-economic context. That the party in question was utilising their popularity to increase its votes was obvious to many. And if winter comes, can spring be far behind? The other political party too started fishing in cinematic waters and did come up with a few gems and some not-so-precious stones.
Now, it's the other way around. People in the cultural arena seem to be desperately seeking refuge under a rival political umbrella. And having switched sides, the so-called artistes seem to be displaying an extraordinary fervour in exhibiting their support for the new party.
It is not as if artistes and cultural personalities have not been in the political arena. Tamil Nadu has witnessed a symbiosis between the silver screen and the corridors of power. C.N. Annadurai, M. Karunanidhi, M.G. Ramachandran, J. Jayalalithaa have all been in both worlds. But their cases were different; it was a natural process in Tamil Nadu, with films being made on overtly political material and, later, media and production houses belonging to one political family or the other being involved in devising entertainment content.
Hindi film personalities such as Dharmendra, Hema Malini, Rajesh Khanna, Shatrughan Sinha and even the redoubtable Amitabh Bachchan have had their innings in politics with mixed success. But never has the desperation been as much as now. And that, too, in Bengal where thespians such as  Uttam Kumar, Chhabi Biswas and Suchitra Sen eschewed any overtures made to them in their day. Soumitra Chatterjee may have been ideologically motivated but was not directly associated with any political party. Anil Chatterjee and Biplab Chatterjee did become involved but they were exceptions.
It all changed beginning the 2000s and today it has reached a flashpoint. It is becoming quite difficult to take today's entrants seriously. Be it acting, directing or politicking, the perception is largely one of doubt and subtle confusion. If the purpose of foraying into politics is just a means to come close to power or the agents of power, it seems rather gross and self-centred. Media watchers, too, will find it difficult to take the endeavours of this new breed with any degree of seriousness.
It is not as if there is anything improper or incorrect about being a film personality and also a political activist. Latin America has seen personalities like Miguel Littin (Chilean film director) and Fernando Solanas (Argentine film director) straddle the twin worlds of cinema and politics. In their cases, their cinema was directly political: an offshoot of the famous manifesto, "Toward a Third Cinema" authored by Fernando Solanas and Octavio Gettino. Moving into a political trajectory, one that became a meaningful protest against totalitarian regimes, is understandable and even awe inspiring.
In the late 1960s, the Sorbonne '68 movement had as one of its vociferous supporters the truly redoubtable Jean Luc Godard — French-Swiss film director, screenwriter and film critic. Quite recently, a whole host of Hollywood celebrities came together to condemn several of Donald's Trump's policies and comments, when he was President of the United States. These artistes have been equally vocal in condemning patriarchy and patriarchal hegemony by supporting the "Me Too" movement. Intellectuals such as Regis Debray and Jacques Derrida, at separate moments in history, have been a part of the French political discourse.
All of this has happened against a certain context, and a definite understanding of the existing socio-political scenario.
One can understand the osmosis between artistes and political personalities if the intent is genuine and not self-preservation; if the purpose is authentic protest against the establishment.
Unfortunately, the present scenario is quite different from the cases cited earlier. If one were to probe the reasons for this propensity to align oneself with a political party, it is apparent that there is some sort of insecurity governing the decision. The same insecurity may be the cause for some of the tergiversations that we have witnessed of late.
It would not be preposterous to suggest that some personalities may have received favours disproportionate to their accomplishments or achievements. Moreover, moving within the orbit of a political party could grant some persons a veneer of respectability. Such persons may be doing what they are doing, hoping for some sort of immunity. Only in this case, they don't have to get vaccinated at the earliest. Or is it that the political arena is the ideal place for a display of histrionic talent?
Let us try and analyse other reasons for this insecurity. It is apparent that in the aftermath of the pandemic and the lockdown, the entertainment industry has been seriously affected. Consequently, a sense of desperation and, indeed, frustration may have crept into the minds of many. For some, the bait sent out by political parties might be interpreted as a panacea of sorts. For others, the desire to become politically relevant (albeit in a wishy-washy sort of way) may be the result of the perennial temptation to take the easy way out. After all, playwrights and theatre activists have become extra-constitutional centres of power once they were granted one portfolio or the other.
The problem is, the general public is quite aware of what is going on; and it is going to be near impossible to pull the wool over their eyes. With news channels overtly conveying their preferences, impartial and unbiased reporting is a thing of the past. Hence, the public is beginning to take this spate of political hobnobbing with a pinch of salt.
It could also be that the lockdown and all its restrictions are inducing this "Alice in blunderland" kind of situation. But then, it would be quite erroneous to dismiss all that is happening just because it seems somewhat dreamlike, even crazy. Perhaps Lewis Carroll could have the last word:    
Twas brillig, and the slithy toves
Did gyre and gimble in the wabe:
All mimsy were the borogoves,
And the momraths outgrabe. The writer is a National Award winning filmmaker
ROLE CALL
THEY PARTIED
Anil Chatterjee, independent candidate supported by the Left Front
Biplab Chatterjee, CPI(M)
Sandhya Ray, TMC
Biswajit, TMC, now BJP
Madhabi Mukherjee, TMC
Nayana Bandyopadhyay, TMC
Satabdi Ray, TMC
Debashree Roy, TMC
Mimi Chakraborty, TMC
Nusrat Jahan, TMC
Dev, TMC
Soham Chakraborty, TMC
Moon Moon Sen, TMC
Tapas Paul, TMC
Roopa Ganguly, BJP
Locket Chatterjee, BJP
Rudranil Ghosh, TMC, now BJP
THEY DIDN'T
Uttam Kumar, Chhabi Biswas, Suchitra Sen, Subhendu Chatterjee, Aparna Sen, Pahari Sanyal
THEY LEANED
Bhanu Bandyopadhyay, Utpal Dutt, Goutam Ghose, Tarun Majumdar, Soumitra Chatterjee, all had/have Left leanings. In the 1950s there were many from the film industry who had joined the Indian People's Theatre Association affiliated to the Communist Party of India. Among them were Salil Chowdhury and Ritwik Ghatak
This is not an exhaustive list