Diamonds and Dust
The backstory of a forgotten grave in Murshidabad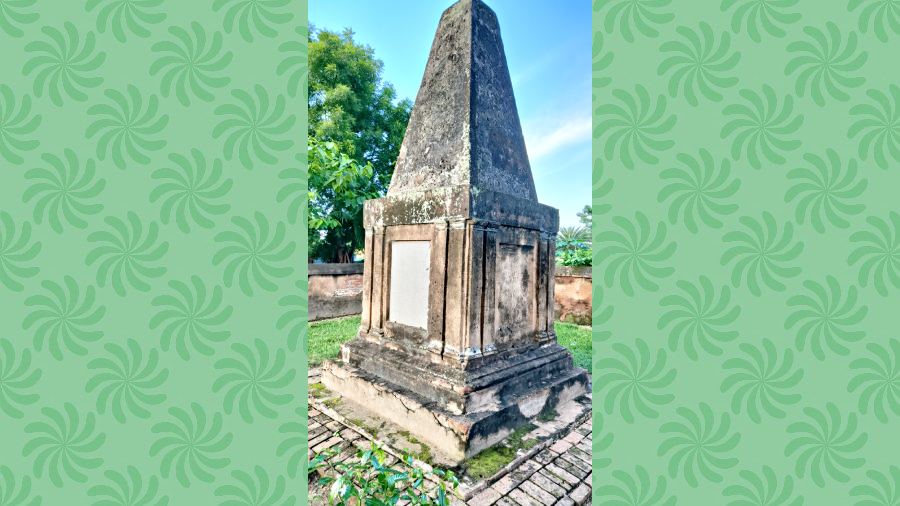 EARTHLY REALM: The grave of Lyon Prager in Cossimbazar.
Photograph by Alamgir Hossain
---
Published 02.10.22, 04:09 AM
|
---
In the British Cemetery of Cossimbazar in Murshidabad lies buried Lyon Prager. The grave is in a state of neglect. The inscriptions on it, engraved in English, Persian and Devanagari, are barely readable. But the descriptor of Prager is clear and it reads thus, "Diamond Merchant and Inspector of Indigo and Drugs to the Hon. East India Company". His dates are 1746 to 1793. Yes, he was 47 when he died.
Prager had come to Calcutta in 1786 on behalf of a London firm of Israel Levin Salomons, an Ashkenazi Jew. Diamonds were just one of the things Salomons traded in his India business; pearls and drugs were others.
In The Activities of a Jewish Merchant House in Bengal (1786- 1798), Walter J. Fischel writes, "Salomons submitted on August 3, 1785, a request to the Court of Directors of the East India Company in London asking them to allow him to send to India two gentlemen to reside at Benares for the purchase of diamonds on commission or otherwise with a view to the re-establishment of the trade."
But why Benares?
After Marco Polo visited India in the 13th century, he remarked that diamonds were found in abundance here — they could be found lying on the riverbed and they were also found in the droppings of birds. But in Prager's time, the scenario was very different. India had by then lost its diamond clout; all that was left was a polishing industry in Benares.
Amitabha Bhattacharya, who is an expert on Benares, says, "Nearly 400 years ago, Benares was where all the diamond cutters were. It is a very difficult art and needs a lot of karigari."
It seems a family of diamond cutters had come from Gujarat in the 17th century. They had settled down and set up a diamond-cutting business in Benares.
Bhattacharya says, "Soon, Benares gained the reputation of being a great diamond-cutting centre. Merchants from all over India would come here."
The way it worked is this — boatloads of polished or cut stones went from Benares to Calcutta, from where these precious stones were shipped out, in the case of Salomons's firm, to London.
Salomons sent to India Prager, who was his nephew and an Ashkenazi Jew himself. Prager's father was a diamond merchant and Prager had worked in Holland, Belgium and even London.
At the time, Bengal was closed to all European merchants except Company officials and a handful of influential others. So when the Company allowed Prager to reside in Bengal for seven years, it was, as they say, a big deal. But the Company was not being entirely charitable. The diamond trade proved lucrative for them, not to mention Salomons.
Prager used the riverways to do the to-and-fro between Calcutta and Benares. "One could cover the Murshidabad-Benares route in about a week's time and go back to Murshidabad in four days. This was far easier and cheaper than taking surface transport," says Bhattacharya.
According to records, when Prager's term ended in 1793, he sought permission for a renewal of the contract for another seven years. His request was granted.
On May 7, 1793, Prager wrote to his sister about setting out for Benares. From Calcutta, he left for Cossimbazar, which was an important trading centre as well as port. According to Fischel, Prager arrived at the house of Thomas Brown, the commercial resident of the United Company of Merchants from London Trading to the East Indies, on May 12. But while there, he suddenly took ill and a day later, died.
After his death, his brother George shifted the business from Calcutta to Benares. The facts are a bit hazy about what happened to the business thereafter.
Cut to present-day Murshidabad. The grounds of the Ingrej somadhi, as the graveyard is known locally, are unkempt. They are supposed to be maintained by the Archaeological Survey of India. Apart from Prager's grave, the cemetery also houses the graves of Warren Hastings' first wife Mary and their daughter Elizabeth.
While the Hastings' graves are a draw with tourists, Prager's grave mostly goes unnoticed.