Devdutt Pattanaik: The master story teller
Pattanaik on exploring a new format, his need for travel and why generosity, more than gratitude, is what we need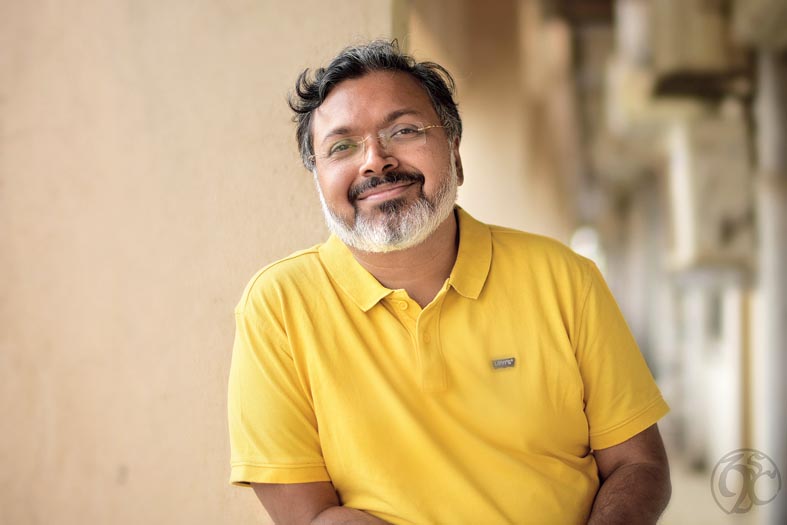 ---
---
It is heartening to hear the concern in Devdutt Pattanaik's voice as he asks me about our well-being, before I can launch into my questions for him, two days after cyclone Amphan wreaked havoc in Bengal. The prolific mythology decoder and author of a great many books like The Pregnant King, Sita: An Illustrated Retelling of the Ramayana, Myth=Mithya, and My Gita, Pattanaik is calm and composed amidst the busy schedule that is keeping him on his toes in the middle of a lockdown. Online sessions aside, the author has also tied up with Audible Suno, an audio content app, to record the narration of Mahabharata in under six hours, spread over 18 episodes, both in Hindi and English. Called Suno Mahabharata Devdutt Pattanaik ke Saath, this show is an exclusive project that has been an immense learning curve for the author. He takes us through the process of recording from home and pushing his boundaries as he urges us to exercise generosity. Excerpts from the chat.
How has the lockdown personally affected you?
Every day for the last 64 days, at 4pm, I have been doing a session called Tea Time Tales where I talk to people directly to motivate them. I give a lot of lectures, right? And I realised that I don't get to interact with people other than during festivals. I was already exploring oral storytelling with a retelling of the Mahabharata and my sound engineer was stuck with me when the lockdown was announced. So we thought of taking advantage of the situation and conceptualised Tea Time Tales. I have learnt a lot about structuring and managing time — that has been the biggest takeaway for me. I see people collaborating on digital platforms and that gave me the impetus to understand time management better.
I have rarely been in my house for longer than five days at a stretch. For the last 30 years, I have been on the go. I think, the last time I stayed home for this long a period of time was during college. And here I am home for over 60 days. In Bombay, stepping out anywhere involves three hours of commute! But to be missing even that has been a surprise for me — this need to step out.
But is that a pleasant emotion?
I have been lucky to have a friend with me so I have not been completely isolated and I may be an introvert with not too exciting a social life but I realised that despite cribbing about the travel, I thoroughly enjoy it.
You have always drawn parallels between your conversations and mythology. Is there a similar comparison in your mind about the current situation?
I feel like we are on Noah's ark because everything is flattened out, literally, and it is a rare situation where the entire world is affected and not just a country. Like right now, the devastation you are going through is unique to Calcutta and it's not something I have experienced. The one thing we have in common with our friends and family around the world is the lockdown and we will be talking about it for years, and this is the great flood. We are just on the ark without Noah and we are managing our own ark. Leaderships have been questioned as have our lives and now we are just waiting for the water to recede and our lives to go back to normal.
On the topic of leadership or its lack thereof, you have been quite vocal about your opinions while managing to not put a religious colour to them. Did you feel that the environment is hostile to such a narrative?
I don't like being confrontative and I don't think confrontation solves any problem — it's just theatre. I like to solve problems and I do critique and use oblique references. And confrontation especially doesn't work when the person opposite to you is completely incompetent. When you are talking to such people, how will being loud help?
Thankfully, leadership in Maharashtra has been exceptionally good in current times. The people in my building have been amazing and I am trying to be thankful for the things I do have instead of complaining about what I don't. If you belong to the set of people who are solution-oriented, one need not worry about supposed repercussions to your opinions. I do not appreciate the yelling, screaming mindset of complaining. People tend to valorise that but it doesn't work.
Interacting with people from all sorts of background, do you feel that people will emerge any differently after this crisis is over?
I think it will be a bell curve. There will be people who will change and ones who won't at all. I know of a friend who went through a major accident and we were all convinced that he would be a changed man but he continued being the jerk he always was. And I have seen people change their priorities after going through a major life event. There are both kinds of them.
But I feel the world is not going to be the same. An entire generation has been told to behave and act a certain way and it's not even close to being "over". The virus is going to have a second wave and we know that there will be deaths. Right now the poor are suffering but as the country starts to open up, it will affect everyone. Our privilege will not be able to save us.
We are the Pandavas in the forest and we have been thrown in at the deep end.
Coming to Mahabharata being narrated by you for Audible Suno, how was the experience different from writing about it?
When you have a book in your hand, you can go back and forth and shift, turn, underline the text. However, when you are telling a story, you just go on and on. That is why oral stories have repeat episodes. Our main challenge was telling this gigantic epic in six hours and how do you tell it in a single story without making it seem complicated. Mahabharata is not as complicated as it sounds and the whole idea is to provide a short and simplified version. And I have been given freedom from the Audible team to tell the story my way so there is no copy pasting happening here. I try to show people the underlying structures that exist within our scriptures.
This is my third or fourth retelling of the epic but my first oral one and it was quite challenging. Every morning I would wake up and write everything down in Hindi and in English. We would record it in the studio set-up in my house and record each sentence two-three times to let them choose the best option. It was a learning process.
The sound of reading is very different from the sound of hearing. Shakespeare can't be read, it needs to be heard. Whereas Jaya is written to be read and not to be heard. Even though there exists an Audible for Jaya, I feel like audiobooks and audio-storytelling is quite different. I can go on and on but with a strict timeline, I will not wait to discuss how she looked and what she was wearing; instead I will jump right into the story. I have written Boys Who Fought for children and I have written Jaya for adults but this Audible was a different experience as it creates a different kind of energy.
Could you describe your target audience when you are writing?
My children's books are for children above the age of 10, my adult books are for young adults and adults of course, while this audible was designed for a family experience where everybody can sit together and listen. I know it happened in the middle of a lockdown but irrespective, I want them to sit in a group and I imagine myself as a storyteller sitting in front of that room telling that story. And I want them to have conversations around this. I don't want it to be intimidating because I don't want to impress anyone. I want them to understand the text. I don't like telling stories that appear larger than life, which Mahabharata is. Be it Shiva, Bhishma or Draupadi, these are people I know. They are not drum-beating, flag-shaking supermen as we all know, all supermen have clay feet.
And what books do you turn to in a time of crisis?
For me, that would be the Upanishads. Mythology is my go-to place for all my solutions, from childhood. I found all my answers in mythology, so when I write, it is a very personal experience. Everything that helped me, I am bringing it out on the table and that's why the authenticity comes out in all my talks, lectures, and books. Because it is not like "Bhagwan ne bola hai to yeh karo", it's just how I feel. On Twitter, I am doing something called Ramadan Tales and in Tea Time Tales I speak about world mythology. Religion doesn't matter, it's mythology that matters to me. I am reading academic texts on the Brahmanas now. I am currently reading something called Brhaddevata and these are things I know nobody would be interested in (laughs).
I like to see what I learn from this and then share what I learnt with people, in a more palatable way. The originals are really written in an unpalatable way because it's written in a different context. I am not here to be an academic, academicians are doing their job. I am enabling people to tell stories that were written by people like us. There is some sort of a magical space that people try to put historical beings in. But they too had their own versions of lockdown, crisis, storms… and jealousy, hatred, anger and misery. Mythology is talking at a very existential and primal level. Mahabharata and Ramayana are far more popular than any Bollywood story, ever.
Bollywood brings us to the visual medium. Would you ever consider writing for it?
I don't think I have the skill to write for visual media. I consult writers who do, I have been consulting with Star TV for five years but I don't think I can do writing myself. They are more interested in TRPs than mythology. If someone were to approach me to make my book into a movie, I would give them full liberty to do it themselves. Creativity is such a complex process, I don't like to control it. So I would urge them to say it is inspired by Devdutt Pattanaik's book or based on it! The visual medium has its own demands. Jaya and Audible Suno's Jaya can never be the same thing.
Would you have any advice for this generation stuck in the middle of a crisis and dealing with constant anxiety?
I think, people have to focus on 'generosity', that is all. I keep hearing this word 'gratitude' but it's such a hollow word. It's almost a relief that 'I am privileged, I am entitled'. It is not a call to action. So when someone is telling me to be grateful, I say "why?". I don't want to be grateful and I would rather be provoked into generosity and question what stops me from being generous. And that is a place of figuring out our insecurities. What prevents us from being generous is where we will discover our darkest fears. What stops Duryodhan from sharing five villages for the sake of peace? What is it that would compel you to plunge an entire civilisation into war? And that is where spirituality is located. And that is my focus area. I want people to question what is preventing them and their parents to be generous to our staff, employees, labourers — that is an area of introspection. And that is one point that I have been harping on as it would reveal so much about our lives, our existence, our yearnings, and our aspirations — it all comes down to one word, generosity.