Designs on you
Read more below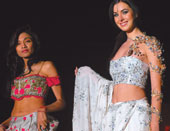 ---
Published 26.11.05, 12:00 AM
|
---
(Above) Natalie Glebova (right) with Sanjana Jon at the latter's show; (right) Sunil Karer, Josef W Eisele, and Christophe Clivaz, director of Times for SA, Geneva (left to right) at the release of Time for India
It was an irresistible combination for fashion connoisseurs. New York-based designer Sanjana Jon came armed with a collection of skirts (both long and short), evening gowns, stoles and also accompanied by the most beautiful woman in the universe ? Natalie Glebova. The reigning Miss Universe walked the ramp at Jon's show ? just one of the several events she's made an appearance at during her visit to India. It was all for a good cause and part of the International AIDS Awareness Tour that's been organised by Sanjana's event and marketing foundation, IG International.
Just who is Sanjana Jon, you ask? Well for starters, she's the sister of well-known Hollywood designer, Anand Jon. But more significantly, Sanjana debuted on the international ramp last year at the Cannes Film Festival, then surfaced at the New York Fashion Week this year and also walked away with the International Rising Star award at the Vancouver Fashion Week. Now she's poised to launch a store in Delhi in league with the Satya Paul fashion house.
At the Delhi show, Sanjana's line was unveiled by six models (Miss Afghanistan, Bida Samaidzai included) who accompanied her from New York. And on a rather wintry evening, they walked the ramp in minuscule skirts, tees, embellished gowns and evening dresses. The colours were a riot of hot pinks, crimsons, blues and blacks as Jon's mantra for the season is to keep it bright. Allan Solly's presentation of its winter line sadly went unnoticed in the wake of Jon's collection.
The showstopper, worn by Glebova was the Rs 4.5 crore bracelet (that started out as a ring and coiled all the way up her arm and shoulder). The glittering creation by Ishis, blazed with diamonds set in white, yellow and pink gold.
In step with style
Don't like my designs? You don't have to", screamed posters at the Olive Bar & Kitchen in Delhi recently. The posters were put up by designer Manish Arora who's known for his wild and wacky clothes. This time round, however, he's moving in an entirely new direction and has tied up with Reebok India to launch a new line of footwear.
Called the Fish Fry Collection, the new line in a riot of colours is aimed at party freaks willing to wear shades like violet, blue, pink, green and yellow on their feet. Arora dubs it the 'ethno fluoroscent' range and the prices range from Rs 6,000 to Rs 20,000. The line will be available in Reebok stores across the country.
"Reebok is amongst the leaders in athletic shoes and apparel. Through this partnership, I will garner an international audience," said Arora who has recently returned from a showing at the Miami Fashion Week.
At the event, he gave away shoes to close friends including Aparna Chandra, Feroze Gujral, Ambika Pillai, Noyonika Chatterjee Singh and Priya Paul.
(From top): A Satish Gupta painting; Paramjit Singh (left) and Jehangir Sabavala at Sakshi Gallery; Manish Arora with footwear from his new collection and a style from the same line
Work and worship
After visiting several places of worship around the world, artist Satish Gupta decided to use his paintings to depict religion as the great unifier. Showcasing the interface between different religions, man and cosmos, the exhibition called The Cosmic Matrix was inaugurated in Delhi recently. The event also witnessed the launch of Gupta's book I am the dew drop I am the ocean, and filmmaker Ashutosh Gowariker did the honours.
"Through the ages, religion has been misused by people and has always created a divide. This division has made it look ugly, but if you go deeper you'll find it holds humanity together," said Gupta who is a sculptor and poet as well. Also present were interior designer Raseel Gujral, socialite-artist Shalini Passi, Naresh Kapuria, artist Paresh Maity and army chief J.J. Singh among others.
The playful Krishna performing a circular dance with the gopis; a thousand Buddhas from the Alchi monastery in Ladakh; Laxmi and Saraswati, the 99 most beautiful names of Allah and the magnificent shivalingams of the temples of South India are some of the many religious themes Gupta has captured on canvas.
For Gupta each and every painting is dear to him like a child. "It always gives a painter immense satisfaction when his work turns out to be very close to the image he had formed in mind," he said. What about his favourites? Gupta goes with the Mahavira painting and the painting depicting the names of Allah.
Back to nature
Nature has always "formulated" the imagery in senior artist Paramjit Singh's works. And so it was in his recent exhibition too that opened at Sakshi Gallery in Mumbai recently. According to the 70-year-old artist, the current group of works with its luminous and delicately lit woods draws on images associated with his earlier life, when he spent days sketching the ridges in the dense Keekar forests. And while there are a variety of hues merging on one set of canvases, a few stand out in stark contrast.
Singh, who was present at the opening, last exhibited his works in India 11 years ago and he also held another show in New York three years ago. Not surprisingly, the opening drew other senior artists like Jehangir Sabavala and Akbar Padamsee. Also present were Anju Dodiya, Jitish and Reena Kallat, Sudhir Patwardhan, Sameer Mondal and film director Shyam Benegal.
Just in time
Besides chocolates and cheese, the Swiss have long been known for their world-class watches. Now watch-lovers can look forward to an anthology of Swiss watches with the launch of a book, Time for India. Released in Mumbai recently, it is a collector's issue and a valuable reference work.
One look at the book and you can get information and pictures of the most high-end Swiss watch brands. Priced at Rs 2,500, the book is conceptualised by Geneva-based publisher Time for SA and Heinz J Heimann, the editor. Watch Market Review (the Indian horological magazine headed by managing director and publisher, Sunil Karer) is in charge of distributing the book in India.
The book showcases some of the best luxury watch brands like A Lange and Sohne, Omega, Rolex, Panerai, Montblanc, Chopard, Baume and Mercier, Cartier and Gucci among others. It deals with the evolution of designs and materials, the history of watch-making and evolution of jewellery watches. The models presented illustrate the technical knowhow in the field of horology.
At the event, Time for India was officially released by Josef W Eisele, consul-general of Switzerland. Sunil Karer, who was also present said, "Swiss watches have been treated as precious heirlooms and therefore, this book will definitely appeal to watch- lovers in India."
Photographs by Jagan Negi, Rupinder Sharma and Gajanan Dudhalkar