Dear Virat, freedom of choice really is a thing
Kohli goes into damage control mode after some petty nationalism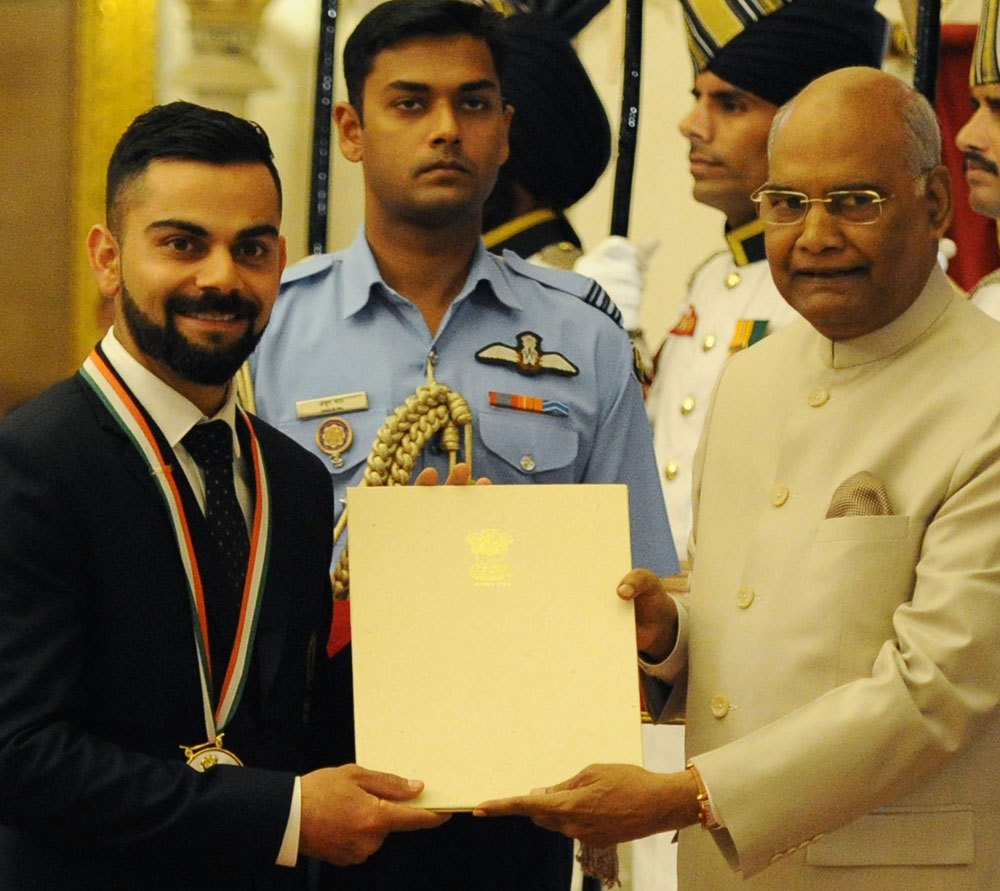 Virat Kohli receiving the Rajiv Gandhi Khel Ratna Award from President Ram Nath Kovind
Image: Prem Singh
---
Published 11.11.18, 04:21 AM
|
---
Appy Birthday
If only people would stick to what they do best. Yes, yes, we are talking about Virat Kohli. Ace batsman, skipper with the Midas touch and all that, and then he goes and makes that kind of a comment. In case you were keeping up with Yogi's naming spree or tracking the US mid-terms and did not stay abreast, here's what happened.
Un ki baat
He launched an app on his birthday; basically I-me-myself types — Virat stats, Virat quiz, Virat merchandise, Virat fitness challenges. All well till here. And then he went ahead and released some promotional videos. In one such, he is seen reading a message from a fan. Message: "He [Virat Kohli] is an over-rated batsman... I enjoy watching English and Australian batsmen more than these Indians." Without so much as batting an eyelid, Virat retorts, "I don't think you should live in India then..." In the meantime, the All India Gaming Federation urged PM Modi to confer on Virat the Bharat Ratna.
Sui Dhaga
Virat is, of course, known to the PM off-pitch too. Only some months ago they engaged in friendly banter on Twitter. Kohli threw a fitness challenge to the big man, who accepted and rose to it. Before that, there was that post-wedding photo op with the PM. Given the wide grins and the canoodling — please refer to the photographs — it is unlikely the PM would have reprimanded him for choice of venue. But then Tuscany is not Orbassano. As social media erupted in indignation over Virat's petty nationalism, the cricketer got into damage control mode. Suddenly he was turning the other cheek — "...guess trolling isn't for me guys, I'll stick to getting trolled". Fair try, you could say. Suddenly attempting to stitch together an apology: "I spoke about how 'these Indians' was mentioned in the comment and that's all." Fair enough. But then bungled it up with — "I'm all for freedom of choice. Keep it light guys..."
P.S: Dear Chikoo, your endorsement and the fit-brigade's doings notwithstanding, freedom of choice really is a thing. And any violation of it in thought, word or deed cannot be taken lightly. Score away.