Danger: Men at Work
Undeterred by interruptions, natural and man-made, this mountain-crazy lot forged on. Tracking their adventures, base camp to base camp, peak to peak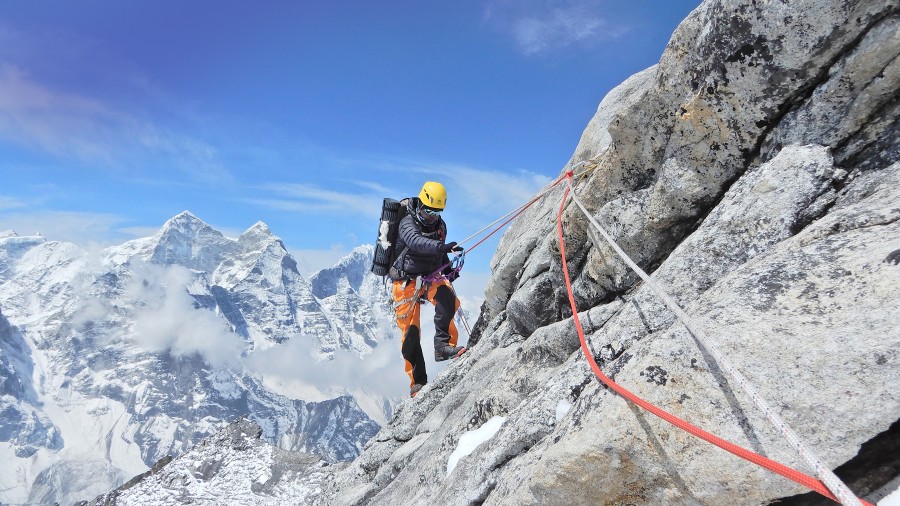 Debasish Biswas just below Camp 2 of Mt Ama Dablam
Photographs, courtesy Debasish Biswas
---
Published 23.05.21, 12:06 AM
|
---
All men dream, but not equally. Those who dream by night in the dusty recesses of their minds, wake in the day to find that it was vanity. But dreamers of the day are dangerous men, for they may act on their dreams with open eyes, to make them possible.
— T.E. Lawrence
Our parts abound in such "dangerous men". These men, a breed of daredevil mountaineers, get their thrill out of surmounting peak after peak across continents, inadequate alpine equipment and meagre monetary resources notwithstanding.
Last November, when the first wave of Covid-19 began to show signs of waning, four such men — Debasish Biswas, Satyarup Siddhanta, Malay Mukherjee and Kiran Patra — set out from Calcutta to explore the Himalayas yet again. Because the first three had already scaled Mt Everest, they set their eyes on Mt Ama Dablam, a 6,812-metre peak known for its sheer grandeur and considered a technically more challenging climb than the highest peak on Earth. Its knife-like ridge, a perpendicular face leading to the top and the dangers of avalanches and rockfalls have killed over 35 climbers in the last six decades.
When I called Debasish ahead of the expedition, he said, "While walking up to the base camp of Mt Everest, we had marvelled at the chiselled structure of Mt Ama Dablam — once described by Sir Edmund Hillary as unclimbable. We vowed to return to climb the peak the Sherpas know as 'Mother's Necklace'."
Forever smitten by lofty mountains and ranges, this bunch can't sit home for long. Sometimes they take hefty loans, or even mortgage property and family heirlooms to fund expeditions. In the summer of 2016, 11 climbers from Bengal set off for Mt Everest. Two others attempted the neighbouring peaks of Lhotse and Dhaulagiri. Several succeeded, but four of them perished in the attempt.
Malay was among those who made it all the way and back. He said, "After staying locked up at home for nearly 10 months, we decided to give the peak a shot when the Nepalese government resumed giving permits to climbers." The Nepalese government had stopped issuing permits for any spring-summer expeditions due to the pandemic last year. "We happened to be the first foreign team to approach them for permission."
The climbers were well aware that an expedition of this nature during a pandemic wouldn't be easy. The biggest challenge was to find sponsors; the trip would cost close to Rs 16 lakh. The next hurdle was the mandatory quarantine, a week, no less, in sanitised confinement in Nepal. More was to come. Their flight got cancelled at the last moment. The team set off from Calcutta by train to New Jalpaiguri on November 1 and then travelled 500 kilometres to Kathmandu by car.
The trek from Lukla, the high-altitude landing station, towards the base camp of Mt Ama Dablam went smoothly. Every morning I would wake up to check their progress as spectacular pictures of the Himalayan terrain, accompanied by notes, arrived on my smartphone. They came from places like Namche Bazar, Pyangboche and Tyangboche. Eventually the team reached base Camp 2 at 6,000 metres. But then the weather suddenly turned treacherous; they had to wait for a week for the high winds to pass.  Kiran, who runs a nursing home in Howrah, didn't have time to wait. He decided to quit and return home. A few days later I received the following messages from the team: "Reached Camp 3 area at 4am... then we crossed stiff ice slopes... but then high freezing wind started... wind grew stronger, but we continued for 4 hours... reached the last hump, 100 metres to go... can't carry on further, we have to quit... somehow reached Camp 2 at 8pm, 29/11."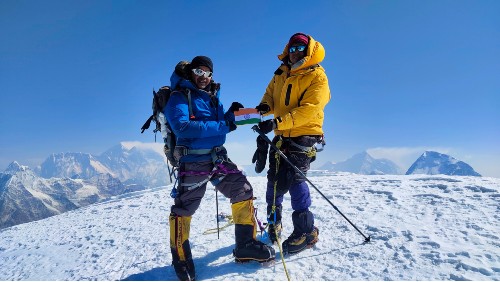 Hostile weather forced the climbers to abort their expedition the next day. Later, news arrived that Satyarup had to be rescued by a chopper after his limbs turned numb with cold. He had to be treated for hypothermia in a hospital in Kathmandu. He wrote: "It was difficult to climb down, taking the treacherous route with the strength of my fingers reducing." That was December 1.
On the morning of March 18, 2021, I received a longish text from Debasish: "The call of the Himalayas again. Preparing to venture out again... this time our target is five peaks: Mt Mera (6,476 metres), Mt Island (6,119 metres), Mt Pumori (7,161 metres) and finally Mt Ama Dablam... leaving tomorrow."
I understood that their real target was Mt Ama Dablam, even though spring is not the ideal time to attempt it. When I called, he told me this time he had a flexible plan — from scaling the relatively easier peaks to the most difficult towards the end. Only Kiran would accompany him; Satyarup and Malay had other engagements. He added, "I learnt a lot from the last attempt. I want to use the lessons to summit this time in a graded manner." One of the mistakes, he pointed out, was that he didn't have a thermos flask during the "summit push". He said, "A Sherpa carried away the flask with some other essential goods by mistake. If I could take a few sips of water from the bottle I might have conquered the peak."
His co-climber Kiran, however, had modest ambitions of scaling the first two peaks only. The 61-year-old is actually a seasoned trekker who started climbing rather late in life. "I have scaled several 6,000 metre peaks including Mt Elbrus in Russia, but Mt Ama Dablam is quite tough for me."
On March 28, I started receiving pictures of their journey with notes on their progress. Within a week they were on top of Mt Mera. Four days later, Debasish climbed Mt Island, but Kiran couldn't make it past a sharp-edged rock face that had lost ice cover. He abandoned the mission and returned. Debasish went on to scale Mt Lobuche on April 13. His next, and ultimate, target was Mt Ama Dablam. For the next few days, we waited with bated breath for news from him.  On the afternoon of April 29, I received a call from Malay, "Debasishda has made it! He'd called me from Camp 2 from a satellite phone on his way back." He sounded ecstatic.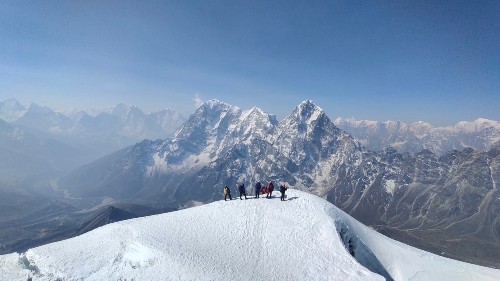 Four peaks in a month including Mt Ama Dablam was an outstanding feat. Later Satyarup, who has climbed the seven tallest peaks across all the continents, said, "It is a great achievement, especially in these turbulent times. Mt Ama Dablam is one of the toughest peaks to climb, often compared with Matterhorn in the Swiss Alps. It's full of knife-edged rocks and can get pretty cold. Last time I had to give up after crossing the technically tough zones due to a cold injury."
On May 2 — when Bengal was tuned in to the poll results — Debasish quietly returned home. When I called him the following day, he said, "I could make it because I didn't have any fixed plan. I didn't think of Mt Ama Dablam until I had climbed the first three."
Then he explained why his expedition hadn't been easy. In addition to wild winds, mountaineering in many parts of the Himalayas is becoming riskier because of climate change. "Warming has thinned the ice and snow cover, resulting in frequent rock-falls and landslides," he said. Recently, four climbers at Mt Island were grievously injured due to the thinned ice. Climate change has also triggered deadly avalanches.
While climbing this time, Debasish also learnt something new from the Sherpas. He was told that the first person to scale Mt Island and walk along this area was a Bengali mountaineer called Gopendranath Dutta. "Apparently, he set foot on top in 1931. I am trying to gather more information on this gentleman of yore," he said.
In other words, the first "dangerous man" to explore the zone was Dutta. "People like him have served as the guiding light for mad mountaineers like us."
Unto the next bout of madness.