Like many youngsters, Anurag Asati too wanted to do something that would contribute to the betterment of society. But even his wildest dreams did not involve waste management.
Asati is one of the founders of The Kabadiwala, an online platform that collects dry waste from homes, sorts it and delivers it to recyclers. All one has to do is book a time slot, either on the WhatsApp number or from the website. The Kabadiwala will arrange to pick up all your scrap from your home, weigh it and pay you for it. Its sorters go through all the scrap collected and divide it into different types — glass, paper, plastic, metal and so on. Each of these categories is then sold as raw material to manufacturers. "Of all waste, 77 per cent ends up in landfills. We wanted to reduce this figure. And the only way is to recycle every possible bit," says Asati.
A World Bank study reveals that India is the world's highest waste-generating nation and the annual waste generated is likely to touch 387.8 million tonnes in 2030. To put that in perspective, the landfill needed to accommodate it will have to be as big as the sprawling city of Bangalore.
As of now, The Kabadiwala operates in Bhopal, Indore, Raipur, Lucknow and Nagpur. Don't live in any of these cities? No problem. Similar online platforms operate in most cities. There is Kabadi Express in Delhi-NCR, Kabaddiwallah Connect in Chennai, ScrapTap in Hyderabad, Bintex in Bangalore, JunkArt in Mumbai and SNGreenovation in Calcutta, among others.
Says Sujata Nandy of SNGreenovation, "When I came to Calcutta in 2016, I was very happy to see how clean the roads were. Then I realised that the municipal corporation had bought expensive compactors to decrease the amount of garbage sent to landfills because we were running out of space." So she went from housing society to housing society, encouraging people to segregate waste and compost kitchen waste.
"Segregation is the first step to recycling and a habit that must be encouraged," emphasises Nandy. When sufficient people started segregating, the need arose to find a way to recycle the dry waste — mostly thin plastic bags, plastic and foil containers, tetra packs and packets of everything from biscuits to masalas. "These are things traditional kabadiwalas do not take because separating and sorting them is a hassle," explains Nandy, who has tied up with Bintex to recycle the dry waste SNGreenovation collects.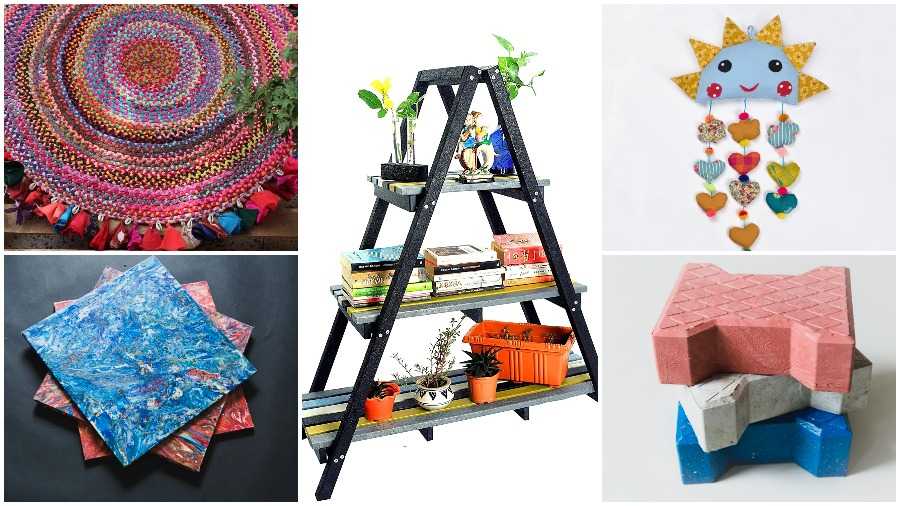 CAN TRASH: Items manufactured from waste Sourced by The Telegraph
Thrifty Indians have always believed in recycling, much before recycling and upcycling became such a major global trend. Selling newspapers, old bottles and metal parts to kabadiwalas was the norm. But with constraints of both time and space, modern households now prefer to throw things out instead of hoarding them until the local kabadiwala comes around. The online kabadiwalas have solved both these problems.
Raj Kumar Rai, who lives in Katara Hills, Bhopal, has been availing the weekly pick-up of The Kabadiwala for more than four years. He says, "People from The Kabadiwala come at a time convenient to you, are transparent about the weight and the price and also wrap up the process quickly."
So where does that two-litre bottle of cold drink you sent off with your online kabadiwala end up? They could end up with Paras Saluja of Shayna EcoUnified in Noida that uses plastic waste to manufacture tiles that line footpaths. Then there is Econiture in Amravati, Maharashtra, that uses plastic waste to manufacture stylish furniture.
"We are solving two major problems with this," says Madhur N. Rathi, one of the four friends who started Econiture. "Furniture is usually made of wood or metal. Using plastic will reduce not only deforestation but also metal mining. Second, because it is made of waste, plastic pollution will be reduced," he says.
If, like Rai, it is e-waste you sent, it will end up in the huge recycling factory of Namo eWaste in Gujarat. If it cannot be recycled, it will be disposed of following the correct procedure, assures Akshay Jain, managing director of Namo eWaste. "The first thing all recyclers need to do is make their business profitable," says Jain. "We cannot just look at how much good we are doing if we want to keep doing it in the long-term."
Anything else you put in that garbage bag — from old cassettes to discarded fabric — may end up with Meenakshi Sharma of Use Me Works, an upcycling shop. Sharma and her team of 25 women keep at least 200 kilos of waste away from landfills every month. They use scrap fabric to make everything from banners to curtains to rag rugs to bags.
Perhaps it is time you downloaded an app for your scrap.