Cradlewise
A district initiative rolled out last year in Odisha is all about happy and healthy beginnings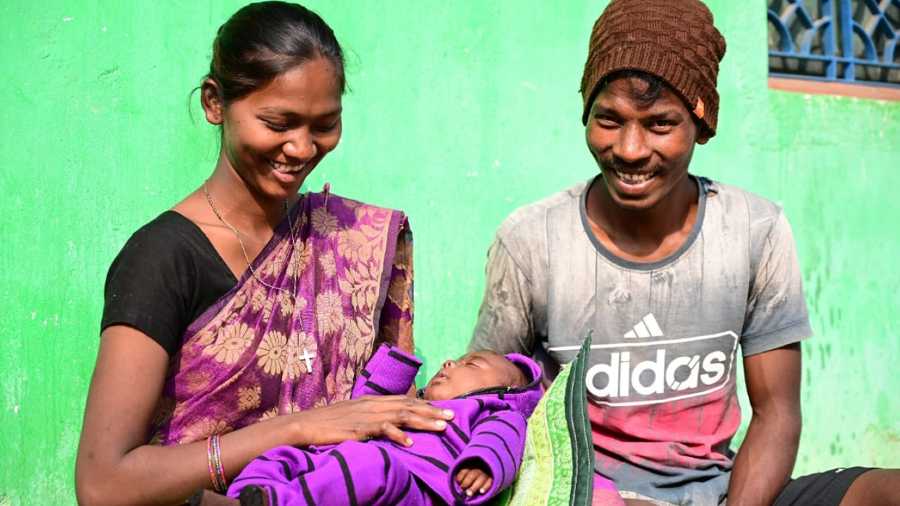 BUNDLE DELIGHT: A Matrujyoti beneficiary, Rashmi Kerketa, with her husband and child
Sourced by The Telegraph
---
Published 14.11.21, 12:11 AM
|
---
Sashmita Kujur would not be watching her little girl smile were it not for an unusual healthcare scheme. Neither would Asrita Dungdung. Both are residents of Sundergarh district of Odisha.
Situated on the northwestern tip of the state, bordered by Chhattisgarh and Jharkhand, more than half the population of Sundergarh belongs to tribal communities. While being rich in natural resources — iron ore, limestone and manganese — it is one of the backward districts of India. To be specific, it was named one of the 250 most backward districts in 2006 and continues to receive the grant earmarked for such places.
Sundergarh has a District Mineral Foundation Trust. It was set up according to the Mine and Minerals Development Regulation (Amendment) Act of 2015, wherein mining companies in the district pay a percentage of their royalties. The state has earmarked 60 per cent of this fund for healthcare and nutrition. In 2020, the trust decided to sponsor a scheme that aims to make hospital births popular and possible, thereby bringing down maternal and infant mortality rates. They called it the Matrujyoti Scheme.
The district administration has tied up with six government hospitals and 45 private laboratories to carry out tests free of cost — including routine ones such as blood pressure, sugar, haemoglobin, HIV as well as four USG scans — right through the pregnancy.
A USG scan saved the life of Kujur's daughter. "We scraped together the money and got the first USG done at a private lab. Everything was fine then," says Jagdish Bhengar, Kujur's husband. Any more scans were beyond their reach but, fortunately, they came to know about the just-launched Matrujyoti Scheme from Ramamanjaree Sahoo, a local anganwadi worker. Samita Bag, an ASHA worker, accompanied Kujur to the lab for every scheduled test, including the last USG scan. That is when they came to know that the umbilical cord had somehow got tangled around the baby's neck.
Bag informed the headquarters of this critical case and helped take Kujur to the district hospital in Sundergarh. There, doctors chose to go for a Caesarean section to ensure a safe delivery. Without the USG scan, Kujur would have probably had a normal delivery and the chances of losing the baby were high. "It is only because of the Matrujyoti Scheme that both mother and baby are now healthy," says Minati Mahapatra, child development project officer, Bargaon.
When asked about the unusually high number of USG scans recommended — the copybook advice is one USG scan per trimester — Dr Saroj Kumar Mishra, the chief district medical officer of Sundergarh, said, "Four ultrasound tests provide the opportunity for timely intervention and provide advanced healthcare services to the mothers. Especially, the fourth USG, close to the expected date of delivery, helps diagnose complications."
Still unable to understand the need for so many scans, for which the district is paying private operators, The Telegraph kept quizzing Dr Mishra, who finally explained that while there were many private labs all over the district, it was not as easy to access government doctors. These reports were being digitised so that doctors could access them at their convenience, thereby enabling them to treat even those women who lived far away from any government healthcare centre.
Whenever there are any complications, either physical or geographical, the pregnant women are moved to one of the 20 Matrugruhas," says Nikhil Pavan Kalyan, collector and district magistrate of Sundergarh. Matrugruhas are not unique to Sundergarh; each district in Odisha has 3-4 of them. But yes, this is the only district with so many.
When Kalyan talks about geographic complications, he means patients who live in such remote areas that ambulances cannot gain access. It is for such areas — the mining-affected Koira, Gurundia and Rajgangpur blocks — that the district administration has arranged bike ambulances to ferry patients.
The underprivileged women of Sundergarh work as daily wagers. Even a day away from work means a pay cut, which is why many of them might not opt to go for tests under the Matrujyoti Scheme. To counter this, the state government offers these women a wage-loss allowance as well as logistical support to go for the tests. "Our aim is to bring every pregnant woman in the state under this scheme," says Kalyan. In the last year that the scheme has been functional, it has helped nearly 30,000 women.
According to the Sample Registration System Bulletin put out by the Office of Registrar General in 2020, maternal mortality rate in India is 113 in one lakh live births. The Odisha figure is 130. The maternal mortality rate in Sundergarh was lower than the state average. In the first six months of the Matrujytoti Scheme, pandemic notwithstanding, it dropped even more drastically.
"We have had nine deaths among young mothers in these six months," says Dr Mishra. "But they were not due to pregnancy-related complications."