Comicbabu
The Telegraph remembers the versatile Bengali actor Bhanu Bandyopadhyay on his birth centenary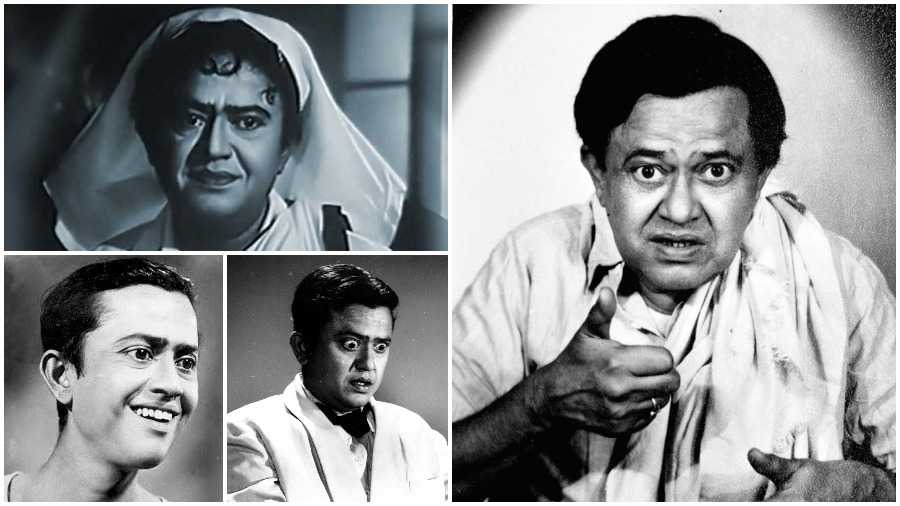 ---
Published 22.08.21, 12:06 AM
|
---
Given the decades of dominance of Hindi films on the Indian psyche, it is unlikely that Bhanu Bandyopadhyay had any pan-India recall during his lifetime, much less today. But if Laughter were to choose a human form, it would be Bhanu's. In fact, Bengali comic book characters such as Handa Bhonda, Batul The Great, Nonte Phonte — all created by Narayan Debnath in the 1960s — seem to have an element of Bhanu in them. Goggle-eyed, boyish visage, an aura of simplicity.
"Beginning the 1960s and right through to the 80s, Bengali cinema had some of the finest comic artistes," says thespian Manoj Mitra. The 83-year-old continues, "Jahar Roy was greatly influenced by Charlie Chaplin. Bhanuda had his own gharana." Bhanu and Jahar made a great team act and their contemporaries among Bengali comics were Shyam Laha, Nripati Chattopadhyay and Nabadwip Halder. Tulsi Chakraborty was their senior, Rabi Ghosh, Santosh "Jatayu" Dutta and Utpal Dutt were slightly junior.
In a career that began in 1941 and lasted over four decades, Bhanu worked in 300 films, 30 radio dramas, countless plays and jatras. But what might be of most interest for readers today is the fact that he had popularised stand-up comedy as we know it now.
His daughter Basabi Ghatak Bandyopadhyay says, "The pioneer was Ajit Chattopadhyay. But yes, my father along with Jaharkaka took it to its heights." Bhanu's stand-up acts, known as koutuk naksha, highlighted the humour underlying daily life.
"Bhanu acted as a social sync," says writer and film expert Sanjoy Mukhopadhyay. He elaborates, "The 50s was a decade of upheaval. Bengal was divided, refugees were pouring in, political uncertainty prevailed, Subhas Bose was dead... At such a time, Bhanu as a source of laughter offered some sort of solace."
Bhanu was born in 1920 in Dhaka. His father Jitendranath was the mokhtar, or lawyer, of the nawab's estate there. His mother Suniti Devi was the first woman inspector of schools of the Bengal Board. 
Bhanu graduated in commerce from Dhaka University, joined the master's course but left it midway when he shifted to Calcutta in 1941. Those days, he was a member of the Anushilan Samiti and there was a warrant for his arrest. Says his eldest son Gautam, "He was closely associated with the freedom fighter Dinesh Gupta (of the Binay, Badal, Dinesh triumvirate) and was only a boy when he would go with him to Sadarghat — a ferry ghat in old Dhaka. They would keep vigil on who came in and who travelled out of. Oftentimes, he acted as a courier-cum-messenger. Once he also delivered a revolver to someone."
Back to Bhanu's comedy. Gautam says his father gleaned his witticism from life itself. There is one story Bhanu loved to repeat — it had to do with the kuttis, or coachmen, of hackney cabs who ferried passengers from Sadarghat to Dhaka city. It goes thus: a tourist asked a kutti, or garowan, why the Ganges was locally known as Buriganga. Buri is the Bengali word for an old woman. The kutti replied, "Who can say for sure? Perhaps because she has aged while journeying from Gaumukh to here." Bhanu's first comic gramophone record was called Dhakar Garowan.
Madhabi Mukherjee, universally known for her role in Satyajit Ray's Charulata, shares an anecdote about Bhanu's wit off-screen. She says, "I once promised to call him up for something but forgot. That evening, he came around to my house, apparently to enquire after my health. I was perplexed. After a while he placed four annas on the table and said, 'You poor thing, you are going through a bad patch. Keep the money, you will need it.' And I got it. Those days, it took four annas to make a landline call. Bhanubabu was using his humour to reprimand me for not keeping my word."
Other facets of Bhanu the person emerge; random things, which nevertheless say something about his comedy. In early 1969, he was blacklisted by the Bengali film industry when he alongside Soumitra Chatterjee and Anup Kumar sat on protest demanding an increase in salary for technicians. When Ray's Goopy Gyne Bagha Byne was to be released ahead of some other films, there was a protest against it led by no less than Uttam Kumar. Most film artistes backed the protest, but not Bhanu. That the superstar and he were quite close in real life evidently did not matter in this case.
Some fond Bhanu films are Bhranti Bilash, an adaptation of Shakespeare's Comedy of Errors. Bhanu plays the servants, Dromio and Dromio. Sharey Chuattar is a romcom where he has a supporting role. Mind you, in these films and others, the star appeal of Uttam Kumar, Suchitra Sen, Sabitri Chattopadhyay, do not take away from Bhanu's performance. In Personal Assistant, the comedian is the hero, PA to the heroine, and there is a parallel storyline wherein he applies his typing forte to the piano. Mukhopadhyay brings up Jamalaye Jibanta Manush, which he describes as "a social satire, an interrogation of the heavens".
Bhanu would speak in Dhakai Bangal, an East Bengal dialect. The directors would want him to and the scripts were prepared accordingly. But why? Did the unfamiliar dialect add to the comic effect? Or was there a politics to it? Says Mukhopadhyay, "It was possibly because the refugees were a huge market for films." The other theory is that the dialect was a theatrical tool that allowed Bhanu to critique society from a neutral place.
Bhanu's radio days spanned from 1951 to 1980. His initial radio plays, however, are lost to posterity. Nikhil Ranjan Pramanik, a college teacher by profession and a Bhanu researcher by passion, explains, "Those were the years when radio programmes were broadcast directly. There was a scarcity of tapes and one recording would be superimposed on the other." 
Director Tarun Majumdar remembers how Bhanu would take exception to directors who would request him to act funny. He says, "Some of the directors had no idea about what they wanted out of Bhanubabu." This ties in with what Manoj Mitra says about Bengali cinema of those days and how everyone seemed to have a certain expectation of comedians. Mitra says, "Shobar ek rokom chai. Kintu Charlie to kokhono ek rokom chaiten na… Everyone wants the same thing. But Charlie was not for repetition or sameness."
Mitra ends with a Bhanu anecdote. The two met for the first time on the sets of Tapan Sinha's 1980 film Banchharamer Bagan. Mitra played the lead, Banchha, while the senior actor had a scene wherein he played a purohit. Says Mitra, "We got talking and he was telling me how in his lifetime he had never received any awards, when Tapanbabu came in to ask him if he knew the mantra for Kali Puja. Bhanubabu replied in the affirmative and Tapanbabu left. The camera started to roll. It was a puja scene with plenty of festive drum roll and in the background Bhanubabu was apparently chanting. Only I could hear him say — 'God give So-And-So that award, and give So-And-So the other award etc. etc.'. Shot done, he turned to me and said, 'See, done to perfection' and with that walked out of the room in characteristic style, without so much as a backward glance."