Screen space saga
Without taking away from SRK's charm, it was the portion where Tiger Salman Khan sprang to join hands with Pathaan that really energised the screen and drew the maximum whistles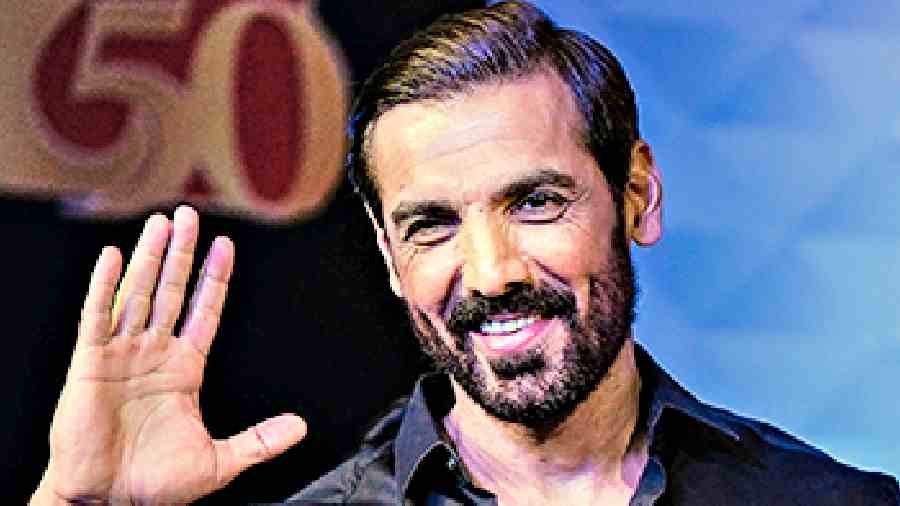 John Abraham
File Picture
---
Published 05.02.23, 04:20 AM
|
---
A time seems to have come when even the biggest of Hindi film heroes have accepted that solo star power no longer magnetises the audience. Without taking away from SRK's charm, it was the portion where Tiger Salman Khan sprang to join hands with Pathaan that really energised the screen and drew the maximum whistles. Earlier, Brahmastra had got the heroics right when it had bolstered Ranbir Kapoor with the presence of Shah Rukh Khan, Nagarjuna and Amitabh Bachchan. But, unlike Brahmastra, which pitted weak Mouni Roy and two nondescript stooges against the stack of big-ticket heroes, Pathaan got it right all the way when it got another big-screen star like John Abraham to stand up to Shah Rukh.
It is a recipe that the South had figured out ages ago. Baahubali Prabhas came out that much more victorious when he had the equally hunky Rana Daggubati challenge him. Like Arjuna vs Karna in the Mahabharata. Epic battles require epic forces on either side. S.S. Rajamouli followed up Baahubali with RRR where two testosterone heroes, Ram Charan and NTR Jr, tripped each other fiercely for a good length of time before teaming up against a common enemy. A solo hero wouldn't have had the same double-engine impact.
Similarly, the audience awaits the second edition of Pushpa to see Allu Arjun wrestle with Malayalam star Fahaad Faasil, who was brought in when Pushpa's swagger was beginning to slack.
Recognising its potency, Rohit Shetty borrowed from Hollywood's Marvel Cinematic Universe when he made his cop universe. Singham Ajay Devgn, who carried off a solo show in 2011 and 2014, had to arrive to give Ranveer Singh's Simmba a hand in 2018. And let's face it. Single heroes were losing their sparkle by the time Akshay Kumar's Sooryavanshi came along in 2021. The entry of Singham and Simbaa provided the adrenaline boost to Sooryavanshi.
Following Shetty, Dharma's Astra Verse and YRF's Spy Universe have been created with a fair amount of success. Devgn's Bholaa too will have an interesting star addition at the end to take forward this franchise in March. Shah Rukh's next, Jawan, which is helmed by Atlee from Tamil cinema, will get its extra padding of stardom from Vijay Sethupati, the big draw of Chennai. And when the third edition of Salman's Tiger comes along, Pathaan will jump in to give the audience another double blast of Khan power.
However, at the first media interaction by the Pathaan team, for reasons other than obvious, there was no question of a friendly appearance by Tiger, who lives down the road from Taj Lands End, the venue for most of SRK's events since it's a hop, skip and jump from Mannat. Shah Rukh, Salman and John star-powered Pathaan but there was no way the trio would share the same stage.
Here's why.
Resembling a Rahul Gandhi BJY speech more than the PC of a hardcore action film, love, hugs and kisses were lavishly splashed on stage, even between SRK and John. But what escaped notice was that in the film, all the action clashes and other exchanges cleverly avoided any interaction between Salman and John. They never shared a frame. As most people know, Salman has had a longstanding feud with John that dates back to an international stage show, in which John had stood up to Khan. Thereafter, the two have never worked together, even if they happened to be in the same film. Like Ravi Chopra's Baabul (2006), where the second hero was cast much after Salman had agreed to lead the film. After failing to rope in a suitable name, Ravi had finally got John on board. Salman didn't want to stir trouble for Ravi, so he agreed to stay on. On the clear understanding that John and he would never be featured together in any scene.
It's been the same with Pathaan. SRK-Deepika-John work and fight together. But at no time does Tiger meet antagonist Jim anywhere in the film.
There may be much love in the Pathaan air but some people are still to kiss and make up.
Bharathi S. Pradhan is a senior journalist and author