Coffee with Javed
Lavishly produced by Manjul Publishing House and its English imprint Amaryllis, Jadunama by Arvind Mandloi, is literally a heavyweight coffee table book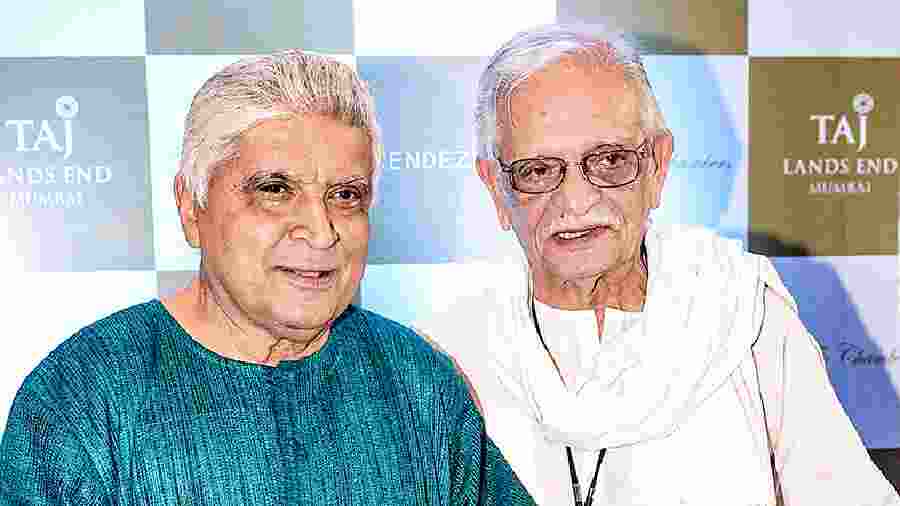 (L-R) Javed Akhtar, Gulzar
---
Published 15.01.23, 03:07 AM
|
---
It was a strange phone call. "Listen to me," said Javed Akhtar in Hindi. "Don't interrupt me while I have my say."
In his long say, punctuated with my, "But Javed, you've dialled the wrong number, this is me, not your publisher…," he said firmly but politely that he'd be there wherever they wanted him, that he made no demands but everything must be in writing. "Then it won't just be my word, it'll be my commitment," he emphasised, ignoring all attempts to draw his attention to the person he was talking to. I don't think the veteran writer is still aware that he had this conversation with me and not who he thought he was talking to from a publishing house.
So two days later, when Shabana Azmi texted a personal invite for the launch of Jadunama, a collage of quotes, interviews and views that chronicle Javed Akhtar's incredible journey, the news about a new book didn't take me by surprise. What did was the magic in the air that evening when two brilliant minds, Javed and 88-year-old chief guest Gulzar, matched wits and word skills and kept the audience hanging on to every word. As an exhilarated Shabana said at the end, "Wasn't it unimaginable?" Even Gulzar and Javed couldn't have scripted it better.
The Internet is replete with videos of the launch, which had the grand turnout of a premiere of yore. The Azmi-Akhtar family itself is studded with the talented and the famous. It's all in the family when wife Shabana and son Farhan Akhtar take turns reading out excerpts from the book in Hindi and English respectively, passages sprinkled with heart and humour. Lavishly produced by Manjul Publishing House and its English imprint Amaryllis, Jadunama by Arvind Mandloi, translated by Rakhshanda Jalil, is literally a heavyweight coffee table book, a copy in each hand could be used as dumbbells.
In the front row was niece Farah Khan (she is Javed's first wife Honey Irani's sister's daughter) sitting next to her favourite actress Tabu, who is Shabana's niece (cousin's daughter). Next to them was daughter Zoya Akhtar, who has completed the entire shooting and has Netflix chomping at the bit to release The Archies, her Indian adaptation of the iconic Archie comics in which three celebrity kids — Amitabh Bachchan's grandson Agastya Nanda as Archie, SRK's daughter Suhana Khan as rich miss Veronica Lodge and Sridevi's daughter Khushi Kapoor as the less privileged Betty Cooper — make their debut. Yes, yes, said Zoya to me, The Archies has all the classic characters like Big Moose, Jughead and Reggie too.
For just a second, it reminded me of Raj Kapoor, who once showed me his personal stash of Archie comics. He was a huge fan of the franchise first published in the 1940s but popular right through the 70s.
To return to the enchanting evening, atheist Javed won't agree but it seemed blessed by the gods as even Covid-19 striking compere Feroz Abbas Khan, director of runaway theatre plays like Tumhari Amrita (with Shabana and Farooque Shaikh) and the spectacular Mughal-eAzam, didn't dampen spirits. TV host Atika Farooqui, who stepped in just the night before, knew her Urdu and her poetry to pull it off with professional ease.
Apart from the wit and the depth in the banter between the two writers, a good takeaway was Gulzar's observation that Javed could be occasionally miffed, "rooth sakte hain", but his sense of humour always intervened to ensure that he never got angry. Spot on. Though Honey Irani and Shabana may have a different tale to tell as spouses are wont to.
Also in the front row was Urmila Matondkar sparkling in all white. She who played Shabana's daughter in Masoom when she was nine years old, was like family too. An old and timeless YouTube video has Urmila dancing rhythmically to Shola jo bhadke dil mera dhadke with Javed. Divya Dutta, also as good as family, even changed her flight to clinch her attendance.
Javed sat signing copies for an unending queue of admirers. He turns 78 on January 17. Happy birthday to an irreplaceably gifted man.
Bharathi S. Pradhan is a senior journalist and author